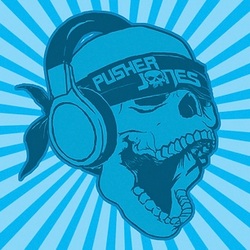 _
PusherJones: GROUP DEBUTS FIRST SONG "COUNT ME OUT" ON SOUNDTRACK FOR THE FORTHCOMING MOVIE!
'THE AVENGERS' OUT MAY 1
LISTEN TO "COUNT ME OUT" EXCLUSIVELY ON ROLLINGSTONE.COM!
REAL LIFE BAND FEATURES MEMBERS OF VELVET REVOLVER, QUEENS OF THE
STONE AGE, WEEZER and SCARS ON BROADWAY
The brainchild of Velvet Revolver guitarist DAVE KUSHNER and The Simpsons Creative Director DAVE WARREN, PusherJones is a virtual rock band originating from Los Angeles that is backed by real life musicians including FRANKY PEREZ of Scars on Broadway on vocals, DAVE KUSHNER of Velvet Revolver on lead guitar, JOEY CASTILLO of Queens of the Stone Age on drums, SCOTT SHRINER of Weezer on bass and DAVE WARREN ("The Simpsons") on rhythm guitar. The rock supergroup--whose members have sold over 17 million records worldwide, garnered 3 Grammy Awards and 8 nominations, 2 MTV Awards and 10 MTV Award Nominations--will release their debut single "Count Me Out" on May 1 via Hollywood Records and iTunes as part of Avengers Assemble, the soundtrack for the star-studded new film The Avengers. The film features Robert Downey Jr., Scarlett Johansson, Jeremy Renner, Samuel L Jackson, Mark Ruffalo, Chris Evans, Jeremy Renner, and Chris Hemsworth and opens nationwide in theaters on May 4. The soundtrack's full track listing is below; for more information, visit: http://www.avengersalbum.com.
Starting today (Tuesday, April 17), fans can listen to PusherJones' "Count Me Out" exclusively in full on RollingStone.com here: http://www.rollingstone.com/music/news/velvet-revolvers-dave-kusher-forms-new-cartoon-band-pusherjones-20120417. The pre-order for Avengers Assemble is now available exclusively via iTunes. In addition, fans who visit www.avengersalbum.com today can tweet and listen to a 60 second preview of "Count Me Out," which unlocks an image of one of the characters in the forthcoming film The Avengers.
Co-creators KUSHNER and WARREN currently have a TV pilot for the "PusherJones" animated series and a music video in development while the band is putting the finishing touches on an as-yet-untitled 5 song EP to be released in early summer 2012. "Dave and I had a mutual love of music and animation and wanted to mash up the two," explains KUSHNER. "We asked ourselves, what if the Gorillaz were more like Guns n' Roses? We took it a step further and merged a real band and music with a fictional storyline and characters that are entertaining, relatable and funny. The music, art and the story has to co-exist in the same world while being able to kick ass on their own."
Co-creator WARREN adds, "Kushner has all these amazing, crazy stories about growing up in Hollywood, working at Tower Records and eventually touring the world with Velvet Revolver. We'd get together and swap stories about the music and television worlds and laugh our asses off. We realized this is our own life story, our experiences in the crazy world of show biz and we started to imagine this 'South Park on the Sunset Strip' idea which became this imaginary band from Hollywood called PusherJones."www.pusherjones.com
www.facebook.com/pusherjones
@PusherJones
@AvengersAssemble
The full track listing for Avengers Assemble (Hollywood Records) the official soundtrack for the film The Avengers is as follows:1. Live to Rise - Soundgarden
2. I'm Alive - Shinedown
3. Dirt and Roses - Rise Against
4. Even If I Could - Papa Roach
5. Unbroken - Black Veil Brides
6. Breath - Scott Weiland
7. Comeback - Redlight King
8. Into the Blue - Bush
9. A New Way to Bleed (Photek Remix) - Evanescence
10. Count Me Out - PusherJones
11. Shoot to Thrill - Theory of a Deadman
12. Wherever I Go - Buckcherry
13. From Out of Nowhere - Five Finger Death Punch
14. Shake the Ground - Cherri Bomb
*Additional track on the international release:
*15. Pistols At Dawn - Kasabian
---