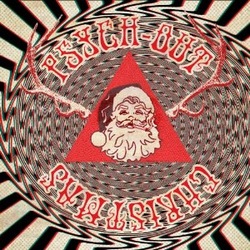 Psych-Out Christmas – Various Artists – Cleopatra
By Jeffrey Easton
Let's get this straight, this isn't your grandparents Christmas album, you know, the one they got courtesy of Firestone. This is a mind trip, a stoned out tribute to the jolliest time of the year and who knew you could get high to Christmas. This CD features some of the best down tuned fuzzed out artists, past and present including The Fuzztones, Iggy Pop, The Cosmonauts as well as Eli Cook. The intro is corny but so retro which is the idea behind this pop culture centerpiece and it leads right into the low key but poppy Christmas Time by Elephant Stone. The 60s fuzzed out feel kicks in hard with The Cosmonauts' Its Christmas Day and Sleepy Suns' What Child Is This. This is a mind trip, this locks you into a holiday feel that you probably have yet to feel. Silent Night is the stand out early in the album, a sick almost James Bond soundtrack sounding base line before the moog kicks in and sickly delivers the mind altering melodies. The Vacant Lots delivers a Doors meets Jefferson Airplane sounding No More Christmas Blues before Sons Of Hippies belts out one of my fav songs, Time of The Season. Not a Christmas song but very appropriate on this disc. The disc does take a fuzzed out blues turn with Eli Cooks' Christmas Tears, a true standout with the pedal board baked solos. The Fuzztones deliver the high watermark with Santa Claus. Close your eyes and it is truly 1968, this band has transported you with their sound and its Christmas before 1970 hits. They are truly their own band and they have really made this CD a must buy. Quintron & Miss Pussycat takes a heavy keyboard approach to Jingle Bell Rock before The Candy Store takes you back to 1965 with their poppy, bouncy version of Frosty The Snowman. The disc closes out with the master, Iggy Pop and his rendition of White Christmas. You will never hear this song the same way again after Mr. Pop invades your eardrums. This is an interesting trip into traditional Christmas music and one that you need in your collection. You will thank me later.
BUY Psych-Out Christmas!
BUY Psych-Out Christmas On Vinyl!
---