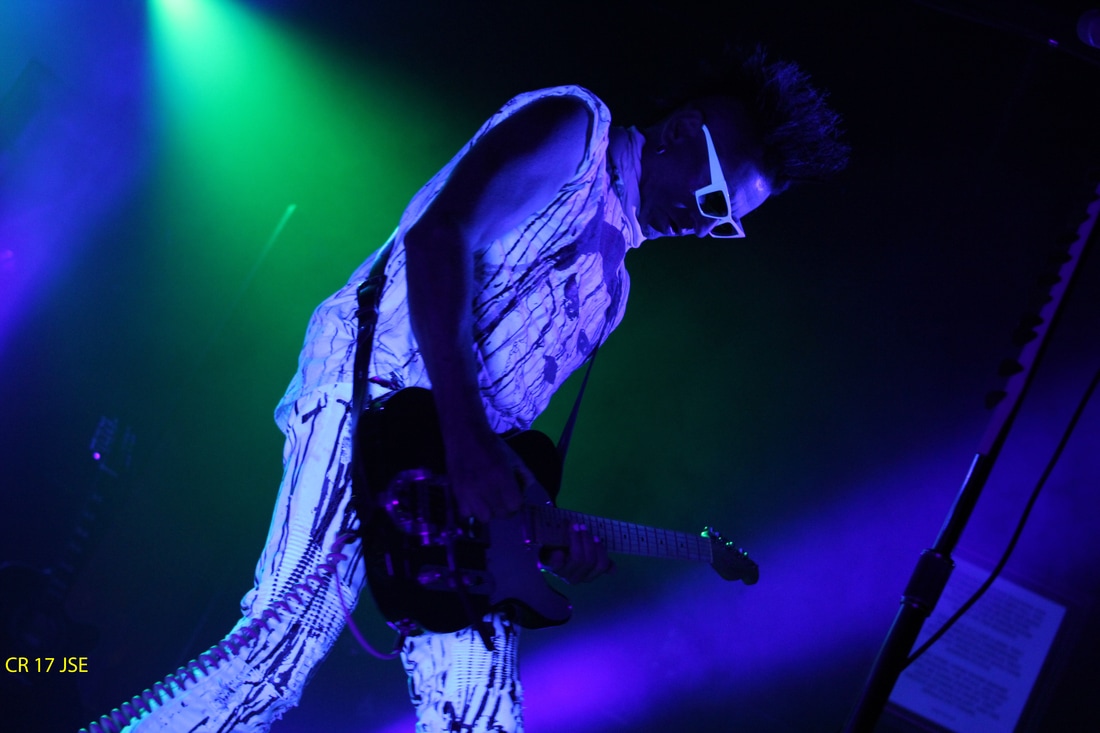 Poptone/POW! – Ace Of Spades, Sacramento, CA 6/17
By Jeffrey Easton
Daniel Ash is a legend, period. The mark he has left across music history with his different bands as well as solo is still felt today across many genres. Whether it was Bauhaus, Love & Rockets, Tones On Tail or his deeply dark solo albums, Daniel had something to give to his fans and still does. This tour with Poptone is a celebration of the career he has put together with his perineal drummer Kevin Haskins and the ethereal bassist Diva and what they gave Sacramento and this whole tour is nothing short of stunning.
Opening the night was something that was just as different as the headliners, SF and LA band POW! Not since the days of Blondie, Berlin, Gary Numan and early Brian Eno has a band come on stage and been so musically diverse, fun and completely off the wall. If you missed the days and the sound that CBGB spawned to New York and then the world then you have to see this group. They have a few albums under their belt, most recently Crack An Egg, which is a perfect blend of darkwave synths and crashing, unruly guitars. They dropped Cyber Attack, Here Comes The Spade, as well as Eye Sight amongst others and by the time the last note dropped they had converted another venue to the POW! way of thinking.
Now, it was time. Daniel Ash, Kevin Haskins and Diva were going to inhabit the stage and drop the bliss that was their legacy and Sacramento was ready. Daniel has always been the consummate performer and tonight was no different. Coming out wearing pure white clothes with the look of splattered blood and playing doused in black light gave Daniel an even more fiendish look and feel before the first note dropped. And when that note dropped, it was an odd choice as you could hear the strains of Heartbreak Hotel leave the amps. I know tonight was a celebration of legacy and it was as he made that song completely his own, Elvis would have been happy. Then we dove into the life of Daniel Ash and Kevin Haskins, a legacy riddled with inspired music that people still bow to to this day, albums that inspired a multitude of bands to form and start their own path to immortality and all of that started with Bauhaus and tonight's opening salvo, Ok, This Is The Pops. Tones On Tail meant so much to so many and that band was well represented tonight as if given that second life. Coming across so darkly was Lions, Performance, Movement Of Fear, There's Only One as well as GO!. It has always been hard for me to pick what era of Ash's career that meant the most to me as he never slacked on anything he did and that's what made tonight that much more special as most of it was given to me in one shot. Love And Rockets was another part of their career that was amazing and whereas most people remember So Alive, it was much more than that as Sweet F.A., No Big Deal, Mirror People and An American Dream were just as good as that hit and drew just as loud of a reception as that would have. It may be 2017 but inside the Poptone bubble it is a different era, a different feel and that continued with Slice Of Life from his Bauhaus days, a surreal piece of music that seriously set the night on its ear. Bauhaus meant so much to so many and every band that took a darker path owes everything to them. Daniel did slide one solo track into the nights proceedings and that was Flame On, a distorted, very ugly affair that was one of the highlights of my night and it shows off his very diverse writing style. Tonight was a true celebration of a career and I hope Poptone continues and makes its own mark in the music world.
Official Poptone Site
Official Daniel Ash Site
Official POW! Facebook Page
---