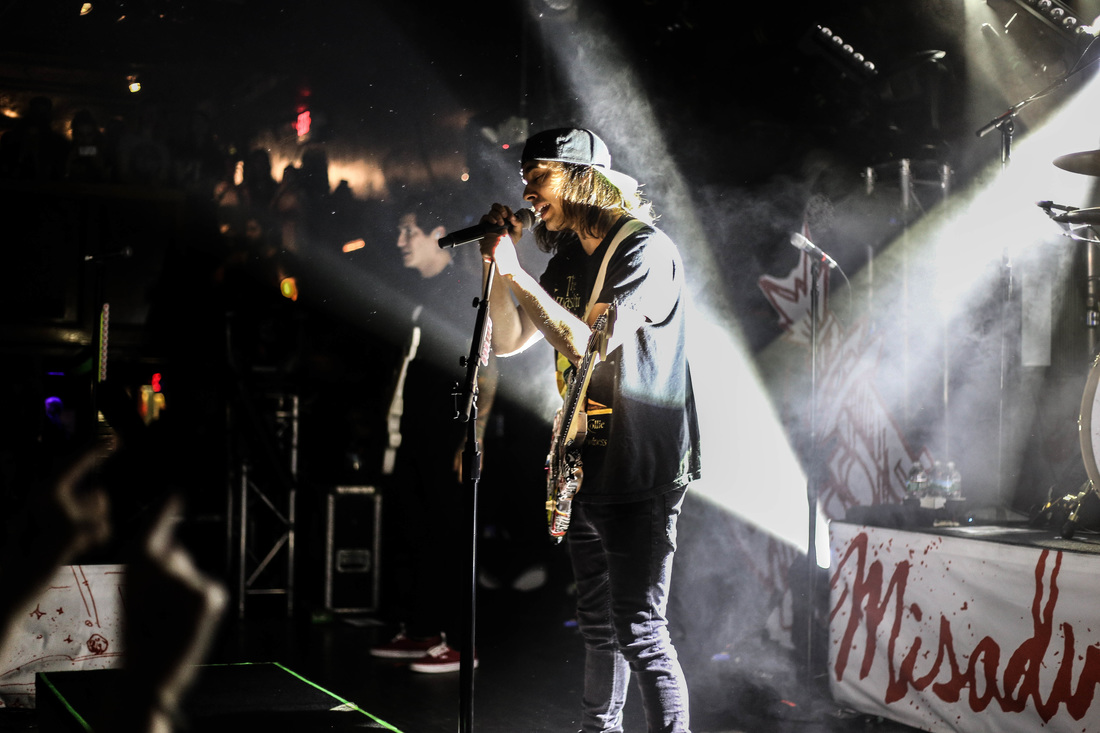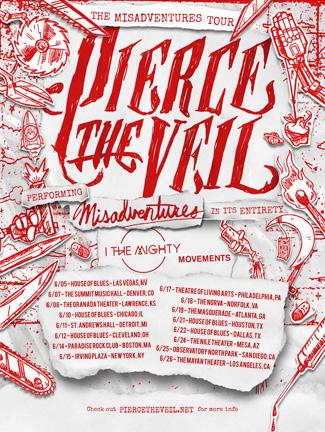 Pierce The Veil/ I The Mighty/Movements - Paradise Rock Club, Boston, MA 6/16 ​​​​
By Rickelle Tavares
"You can't go wrong with Boston" – Vic Fuentes. That was by far one of the truest statements I've heard. Besides the show being sold out and the line wrapping around the building it was going to be a great night.
Getting things going for the night was a band called Movements. I personally hadn't heard of them so I was a little eager to see what they were all about. They just recently released an EP titled Outgrown Things, and they started off with a song called Worst Wishes. They sounded completely organic and raw, it was a bit of a Being as an Ocean feel but unique to them. You could really feel and see the emotion in the songs and connect with, there were a good amount of people singing along with them as well. It was completely unexpected to see a band like this on tour with PTV but it was a very pleasant surprise. It was extremely refreshing to see something new and unique and unexpected.
Headed to the stage next was I The Mighty, I was familiar with them from their popularity but I have not really listened to them before. Getting right into it they started playing Lady of Death, which is seriously popular for them. A lot of people were screaming all the words along to it, it was off of their 2015 album Connector which has nothing but great reviews. One thing that really stuck with me about them is their energy on stage. Front man Brent Walsh and Chris Hinkley were quite the pair, from playing their instruments in the air to leaning into the crowd while playing. Everyone seemed to go wild for them, not one person was standing still thorough the entire venue. They then took a moment to slow things down with a song called Slow Dancing Forever, it was a very sad song but it was played and sang beautifully. Everyone was swaying and singing along with them, I personally love intimate moments like these at concerts because they're so rare. Moments after they went right back into the swing of things and played their last song The Dreamer, and things got beyond rowdy. Crowd surfers one after another, a pit opened up, everyone was jumping up and down. They definitely went out with a bang.
The main attraction for the night was the headliners Pierce the Veil. They are my no means a small band that not a lot of people know, millions of people absolutely love them. There were actually girls crying about how much PTV meant to them before they even came on stage. Besides an ever growing fan base they have top chart albums and had just released a new one titled Misadventures. It was literally brought to life in front of everyone's eyes that night. Before anyone came out they had revealed the stages setup and it was exactly identical to the Misadventures album cover. Once the lights dimmed and Vic, Tony, Mike and Jamie came out it was nothing but an uproar of screaming fans. They opened up with Dive In, not a moment was wasted it was incredible. A cannon of confetti blew up, Tony was playing right in front of us and Vic's voice was just incredible. I'd never seen them live in my life before but I've been missing out, just their entrance alone was great. I don't think I've ever seen people go so crazy for a band out of all the shows I've been too. You have to understand that the people at the show were mostly girls who have been positively impacted but the band, all ranges of ages and all different issues. They mean something to them and it was just something they've been waiting for, PTV hasn't hit the road in a while so it was way over due. Tony and Jamie were often switching places and standing up on the podiums getting everyone hyped while Vic sang and everyone sang along. Everyone was going nuts, the sold out venue seemed like it wasn't even big enough for the amount of people in there. So Vic played Today I Saw The Whole World acoustically, I've never heard the song before but it was such an intimate moment with him and the fans. I cannot stress how much I love the small venues where bands can connect one on one with fans, that's something we will remember and continue to pay for each time a band comes. I was genuinely enjoying this moment but it was time to get down and for things to get crazy again. It was their last song, Song For Isabel and everyone was trying to get a chance to touch each band member. I'm going to say about 30% of the crowd was flying over my head while the other 70% were singing their hearts out. As the song wrapped up people were already screaming for an encore! They still headed off stage while everyone was chanting, minutes later they came back out. Now if you PTV and I mention King For a Day, you can't not know the song. It features Kellin Quinn of Sleeping with Sirens and it's a huge hit, even I would put it on tv and jam out to it. This is what they chose as an encore, as soon as the first notes came out we all screamed with excitement. Vic, Tony, Mike and Jamie have so much energy while playing that even if you were exhausted you were jumping up and down and screaming. You can't help but just love a band that can share their energy and hype with you and put on an amazing performance. I'm going to just guesstimate that it had been about 3 minutes after the song was over and everyone was still screaming with excitement. For my first time seeing PTV it was incredible, a performance like that will assure I won't miss them the next time they come back. Do yourself a favor and do not miss the Misadventures tour.
Official Pierce The Veil Site
Official I The Mighty Site
Official Movements Site
---