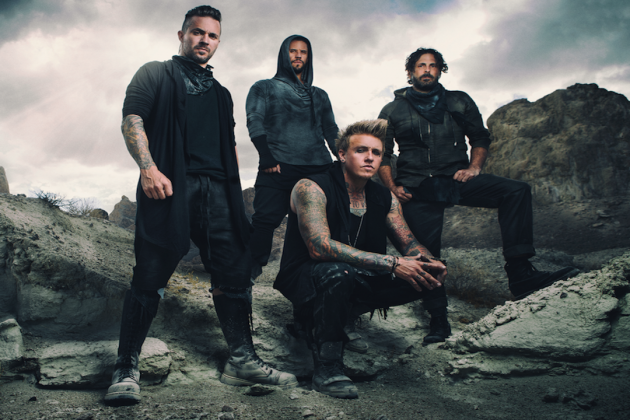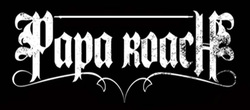 Papa Roach is an American rock band that hails from Vacaville, California and consists of the amazing talents of Jacoby Shaddix singing vocals, Jerry Horton on guitar, Tobin Esperance on bass, and Tony Palermo on drums. Jacoby and Jerry are original members of the band. The band members have an amazing chemistry and respect for each other that is apparent during the one on one interviews. I am grateful today to have gotten the opportunity to speak with Tobin to get his personal insight about where the band has been and where he feels they are headed with their newest release. I was slightly shocked that he pin-pointed the town I'm from just by my Southern drawl. Their new album came out on January 27, 2015 and is already slaying some rock and roll ass. "F.E.A.R." (Face Everything and Rise), the album's title track, is one of the most played and listened to songs on the many stations. People can't get enough of it. This album forces us to take a open look into some of the darkness that has haunted Jacoby and the band over their many years together. Most of the songs on this album convey lyrics that will drag you down to the blackest pits of that darkness, where the pain eats at you from the inside out. It's rich in emotion with the intention to prove that even when you're at your lowest of lows, all is not lost. Look those demons straight in the eye and tell them to kiss your ass. Then you can push that fear aside and rise above the ashes; above all of the pain and everything that has tried to destroy you. As if the lyrics aren't enough to take you on the journey with them, throw in the hard core riffs and monstrous melody that we all know and love about Papa Roach and damn, you're in for a wild fuckin' ride. It's a mind blowing display of musical talent and artistry right from the start.
Interview with Tobin Esperance of Papa Roach
By Leslie Elder Rogers
Metal Exiles:
There is nothing but great things happening with Papa Roach so how does it feel to be Tobin Esperance right now?
Tobin:
That's funny. It feels good. I am super happy and excited and feel grateful and blessed. The new record is out and it's being well received. The tour is going on and we're packing houses. People are excited and everyone is in a good mood. Everyone is healthy so I really couldn't ask for anything more. I can't complain. I'm living the dream.
Metal Exiles:
With this album dropping literally 15 years after your first big album, and y'all are still doing so well, that says a lot about you as a band. You're very well received as a band and have a huge following.
Tobin:
Yeah, the longevity of it is really the most amazing part for us. Just the fact that we've been doing it this long and things are still going good. It almost feels like we're going up again.
Metal Exiles:
With such a massive catalog what did it take to make FEAR such a different undertaking and why did you approach making the album the way that you did with nothing written beforehand?
Tobin:
Well, there's a lot of things that we tried for the first time when making this record. I think, leading up to us going in and writing this record, it just seemed that the time was right for us. We were focused and everyone was in a good mind frame and everybody was on the same page. Everybody was healthy and there wasn't the looming drama that sometimes tends to hang over us when we've been home for a while and we're about to go make another record and do it all over again. This time there was a sense of excitement and creative challenge in the air. Stepping into the studio on the first day, we didn't have anything prewritten. This was a decision that we made to go into the studio without anything prewritten, with no preconceived notions of what was gonna come out. We were working with a brand new producer, in a studio in Las Vegas. It was really exciting for me. It was a creative challenge for sure but it was really exciting. I know Jacoby was super nervous about it and felt quite pressured at first because he didn't know how the creative flow was gonna turn out but as soon as we finished the first song and we heard it back, we were just blown away. We got our confidence and we were like, "man, we just gotta do that 10 more times and we're good". I think once we took a step back and listened to the record as a whole, we felt like it was actually coming out way better than we thought. This feels bigger than anything that we've done in a long time and the minute you're done with the record and you hand it over to the fans and the listeners and you get the reaction from them, it has all the meaning and all the purpose. You see how it affects other people and I think that's the biggest part about this record. It just hits home with a lot of people.
Metal Exiles:
Tell me the idea behind F.E.A.R. and the inception of the idea because as I listen to the songs, they're about things that bring you down and getting rid of the negativity in your life?
Tobin:
Definitely on the personal note, especially for Jacoby because when he's writing the lyrics, it's like therapy for him to write about what he know and his feelings and all. He's the type of guy that wears his heart on his sleeve. The music always seems to come first with this band and when we go into the studio the music will be completely done pretty much and then Jacoby listens to that musical idea over and over again and that kind of speaks to him. He writes personal experiences down and tries to relate it somehow and it's something very personal to him. That's just how he write lyrics. The thing that is so amazing about that is that it's a universal thing that everybody, all over the world, can relate to. We get a lot of people just thanking us and saying how much the songs help them get through this and how meaning they are. It's a trip. It's really cool. It just makes everything seem that much more important and meaningful to us as opposed to being a band that just writes songs about girls and cars and stuff like that. I mean, that's cool too, but we've just stumbled upon this thing that has a lot of positive energy going around it and it feels good.
Metal Exiles:
The video for the title track sets such a dark tone for the rest of the album. What do you want your fans to take away from that clip?
Tobin:
Well the video for "Face Everything and Rise" was directed by Jacoby and a partner of his named Ezio Lucido. He actually got the idea for that video when we were in Las Vegas making the record. It was the last place we wanted to go to make a record but we decided that we were gonna just suck it up and stay focused and stay away from the distractions and the strip and any of the clichéd Las Vegas-isms. He was out in the desert at this beautiful place called "Red Rocks' out there. He said he'd just wanted to go for a walk and go meditate and kind of clear his mind and get away from the studio for a little while and that's how he came up with the idea of the video. It's just kind of weird how sometimes when you are by yourself and you are in this atmosphere that's just completely barren and there's nothing happening around you, you just start to think about things you're dealing with; just you, yourself. There's nothing around to help you. There's no one around to distract you. It's just about accepting and learning how to overcome and deal with whatever madness has been going on in your life. I feel like he just associated that moment in time with the video so we just tried to portray that visually the best we could for the viewer and the listener of the song. I think it comes out in its' own way. It's pretty cool.
Metal Exiles:
I can't wait for other videos to come out. I'm excited to see what's in store for us after the amazing job with the video for "F.E.A.R.".
Tobin:
Yeah, we're gonna go shoot a video for "Gravity" coming up here in about a week and we've got Maria Brink from "In This Moment" coming down and we're gonna shoot it in our hometown, Vacaville, where we all grew up. None of us live there anymore. I haven't even been there in a few years. I think it's gonna be a trip going back.
Metal Exiles:
Speaking of Maria Brink, she's a different kind of person altogether. What about Gravity made you guys want her guesting on that track?
Tobin:
First, we go way back with Maria and In This Moment. We've toured many times in the past with them. Maria's such a beautiful person and has such an amazing voice. She has such a unique style all of her own. The fact that we were in the studio together just kind of worked out. In This Moment also works with Churko which is who we made this record with. Toward the end of our recording process it was time for "In this Moment" to come in and start work on their next record so we were overlapping for a few weeks. When Gravity, which was the song we were working on was coming to fruition, we were all like "dude we should get Maria on this track and totally come in and do the woman's point of view in this relationship". We thought that would be fuckin' perfect; it'd be awesome. When we brought it up to her and she was into it, it was great. We didn't know what to really expect but when we heard the final outcome, well, it was awesome. At first I wasn't even sure how it was gonna work because the song was so different. It was so unique and so scary. It was weird but the more and more I listen to it, the more and more I love it. It's one of my favorite songs on the record. She has such an intense and driven personality and it comes across in the way she performs her vocals. She has an amazing and unique style for sure so it's really cool.
Metal Exiles:
As dark as the material is there seems to be light with tracks like "Hope for the Hopeless" and "Never Have to Say Goodbye". Was that the mentality as the writing went on?
Tobin:
The mentality, from the start, was just about seeing what happens naturally and where these songs take us as we're in the moment writing and what not. About half way, we stop and access what we've done and see what's missing and what we need to add to this record to make it have all of the best qualities that Papa Roach brings to the table. We had a really good batch of heavy rock songs that were just in your face energetic. We wanted to try to do something a little different so that's where songs like "Gravity" and "Never Have to Say Goodbye" and "Devil" started to come in. Once we finished that we had to work on the last, missing piece that we needed for this record so we came up with a couple more songs to tie the record together as a whole. It's your art and you have to spend time to make it right. You have to be really conscious and think about all those things. Once you're done making that record and you put it out, it's there forever. It's like a stamp in time and it represents us as a band for the rest of our lives so we really pay attention to everything and every detail.
Metal Exiles:
As a prolific bassist, how do you approach material as intricate as the stuff on FEAR and what goes through your mind as you record it?
Tobin:
I try to keep things interesting and unique but at the same time simple. I always want people to be able to move to it and listen to it even if it's a simple repetitive thing. A lot of times people, especially in heavy music, get ADD of making music. This part changes and then another part changes and then they change into another part and it's just all this craziness. We have this thing where we like to lay out a bit of a groove and a bit of a foundation I everything that we do. We try to imagine what it's going to be like for the listener live and how we will have fun performing it so it's really just about playing what's right for the song and making it fun. Those are the two most important things.
Metal Exiles:
What gear did you use on FEAR to get that massive tone?
Tobin:
We did everything pretty much "in the box" which means, for people who don't know, we recorded in the pro tools and we used mainly plug-ins and guitar profilers by Kemper. This is the first time that we've ever done this. We used guitars that Kevin and Kane had laying around. I mean, we brought a couple of our own but we did this record completely different than we've ever done any other record and that's just part of modern technology. Everything has become so sophisticated over the years and we've embraced it now and accepted it and sonically, it's massive. Not only that but it's easy and it saves a lot of money and it doesn't weigh anything.
Metal Exiles:
FEAR is available on vinyl. As a music fan does this excite you?
Tobin:
Yeah, I'm super excited. I've actually never been a big vinyl collector because I feel like for me it takes up too much room and I am way impatient and too reckless to take care of nice vinyl but I know that the rest of the guys are super into vinyl and they are so excited to have the record out on vinyl. You know more people buy vinyl than they do CD's now because everyone is moving to MP3s and Spotify and streaming music and iTunes and all that which is cool but there's something really sexy and romantic about putting on a record and playing it. I think you're also forced to listen to the record as a whole. You're not just pressing play and listening the same song over and over again. You're sitting down and it's more like an art or a listening experience so it's very important for us to have our records out on vinyl.
Metal Exiles:
The scene that you guys grew up in is long gone but yet Papa Roach perseveres. What about Papa roach made you guys stand out and keep the torch going?
Tobin:
I think a lot of it has to do with our passion for what we do and our relationship with our fans; our live shows, our intensity and the stories that we tell in our songs. We've always just kind of stuck out like a sore thumb in a weird way. We've never really been a part of any kind of music scene or anything. We came from a small town and we've always had this kind of work horse, fighter kind of mentality with everything that we do. I think that's just always given us that extra urge to keep doing what we're doing.
Metal Exiles:
In your opinion, what has changed the most about your writing and recording style over the years especially with the new album?
Tobin:
Dynamics, I'd say. Early on, we didn't know as much about song writing, we were younger and it was more just about us playing as loud and fast as we possibly could. Sometimes we would write a lot of songs that could be rather linear and flat almost with the same tones and the same aggressiveness from beginning to end. I think now we've learned how to have fun with building things up so that they're super suspenseful only to drop back down to the most vulnerable state. It's really about dynamics, just weird musician and songwriter things. As a songwriter you learn a lot about writing songs. You want to use those tools but sometimes you just want to throw everything out that you know and you want to go with pure emotion so it's kind of a combination of the two.
Official Band Website @
http://paparoach.com/
Follow the band on Facebook @
https://www.facebook.com/paparoach
Follow the band on Twitter @
https://twitter.com/paparoach
Download/buy F.E.A.R now @
https://itunes.apple.com/us/album/f.e.a.r./id934533198
Also available @
http://www.amazon.com/F-E-A-R-Papa-Roach/dp/B00P9ZYMHS
---