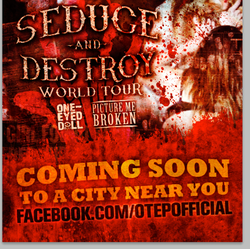 Otep/One Eyed Doll/Picture Me Broken – Ace Of Spades, Sacramento, CA 3/13


By Jeffrey Easton/Sasha Bohatch
The devil induced this tour as there was nothing holy about it, it's called the Seduce And Destroy tour for a reason ya know.. . Otep Shamaya and her band of merry mongrels ooze evil as they prowl the stage and they and this tour came to and did, destroy Ace Of Spades.
Picture Me Broken, fronted by the stunning Brooklyn Allman, came out to screams by their die hards as they landed to the sounds of Torture, the lead off track to their EP Mannequins. Mannequins is just a taste of what is to come next for PMB but it I sinister as fuck. Brooklyn has amazing stage presence with a stunning voice and as they crept through the set she had more and more people wrapped around her little finger. After giving the fans a taste of the EP with Torture and the title track they revisited the debut Skin & Bones as well as Dearest(I'm So Sorry) as well as a deafening cover of Heart's Crazy On You. They have a huge future and metal is so much better for it.
One Eyed Doll is an interesting band, if you can call it that. I don't know if, to me, its more theater or music. Kimberly Freeman, the frontwoman of One Eyed Doll, has a wealth of albums and deviant material to pluck from them but it seems as if the focus on what she can create visually and mentally with her emotions, body and words. Her ability to communicate with the fans is on a different level and I was honestly looking for a straight jacket as part of her needed props for her show. You would have to be there to get the reference. Her signature song, as far as I am concerned, is Committed and that is what she opened with to the delight of her sickest followers. She descended into her catalog with Plumes of Death as well as the pleasurable Be My Friend as everybody should be. If you ever needed a psychotic episode in a rock club, this is it.
The show stopper has arrived, Otep, possibly one of the evilest groups out there, hit the stage finally and it brought down the joint. Otep Shamaya is a maniacal frontwoman and her ghoulish band were enough to put off the most die hard metal head. Their songs are foul and her screaming bark can rival any guy in any band, period. Their demented material that polluted the atmosphere ranged from Eet The Children, Crooked Spoons, their mind numbing cover of Breed and from the new record, Hydra, Apex Predator and Hag. Further igniting the crowd was Warhead, Blood Pigs and closing the show was the infamous Rise Rebel Resist. If you have yet to see Otep live you have not seen a metal show that can crush your head like Otep can.
Official OTEP Site
Official One Eyed Doll Site
Official Picture Me Broken Site
---