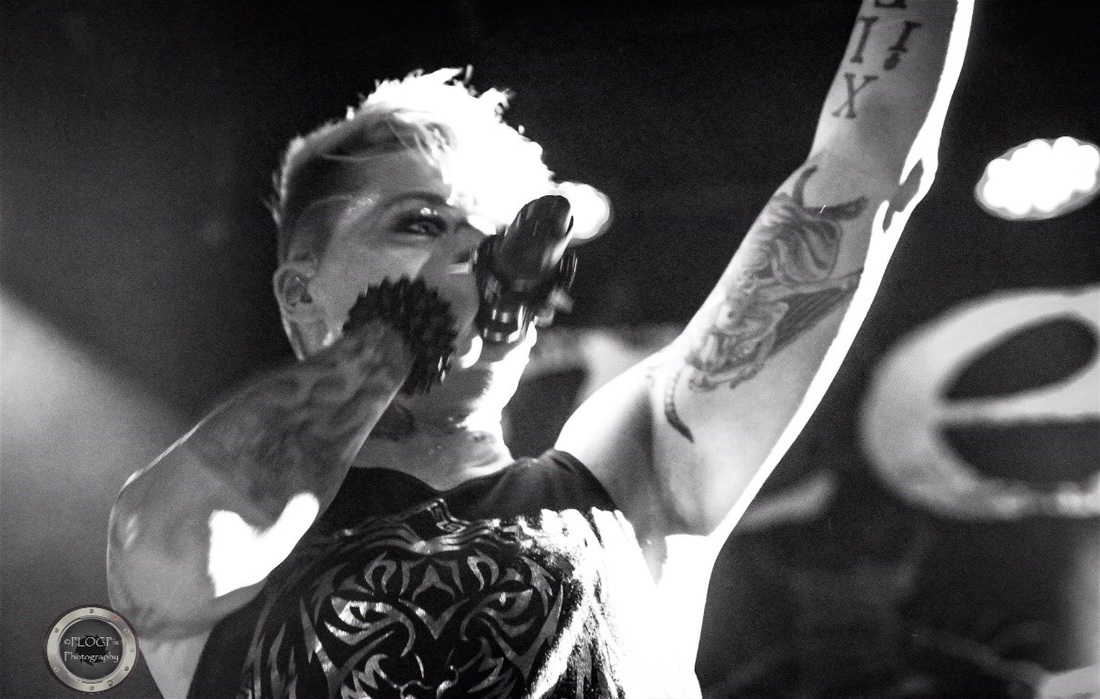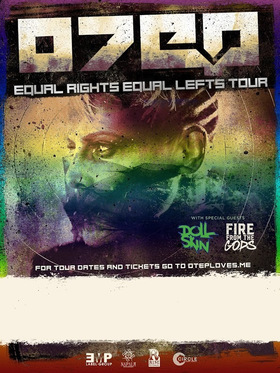 Otep/Doll Skin/Fire From The Gods/Mosura/Sever – Cox Capitol Theater, Macon, GA 8/16



By Leslie Elder Rodgers
Doll Skin formed in Phoenix, AZ in 2013. Though all members are very young, with ages ranging from 16-19, they are exceptionally talented and show true promise. The all female band consists of vocalist, Sydney Dolezal, guitarist, Alex Snowden, bassist, Nicole Rich, and drummer, Meghan Herring. They were discovered and produced by Megadeth's own David Ellefson as he was a celebrity guest judge at their high school battle of the bands. They are signed to his label, EMP. Talk about a hell of a backing to get you started. Their stop tonight, in my home town of Macon, Georgia, nears the end of the summer tour for these gals. They've been touring amongst the greatness of Otep since July and it wraps up at the end of August.
There were several opening bands tonight. First up was was Sever, a local band from Macon with five years under their belt. They classify their sound as Post Grunge/Alternative Metal. The three-man band that clearly has a desire to produce great music. Members Nate Jackson who is the vocalist and guitarist, Austin Anderson on bass and vocals, and Jesse Blackburn on drums provided an entertaining short set. Nate has a very distinctive tone. I have high hopes for these guys as they promote themselves and have toured heavily in the Southeast area.
Next we got a heavy glimpse of Mosura, a three year old group from Atlanta that consists of vocalist, Jimmy Mendoza, guitarist, Tyler Blalock, bassist, Jonathan Benitez, and drummer, Austin Massingill. I was not expecting the sounds that Jimmy was able to create vocally. One minute he has a deep, throat wrenching growl, and the next, he has a ear piercing scream with high notes that people would kill to be able to hit. It was literally like having two vocalists battling each other inside one small little body. He had so much eneregy as he bounced around the stage and the band completely complimented his style with out fail. They were great to watch and had a stage presence that excited the crowd. Props to these guys for giving us a great show.
Fire From the Gods, from Austin, Texas, was third in line. I'd seen them almost a year ago in Atlanta at a much smaller venue that didn't prmote them like they should've so the turnout was miniscule, to say the least. Vocalist, AJ Channer is the newest member who was added last year upon the dismissal of their previous vocalist. They are signed with Rise Records and are about to release their debut album "Narrative" August 26th. Their single "Excuse Me" from this album is already getting great air time on XMOctane. AJ is powerful and his vocal style is diverse with a mix of metal core and rap that draws you in. He commands the stage. He directs the crowd in a manner that invites respect and attention.. The band has chemistry that spills over into the crowd as we watch them together, playful but with serious intention. If you haven't given their music a chance, by God, you should.
We are up to Doll Skin now; the band I was here for. I'd only recently learned about them when I heard HellYeah discussing how awesome they were to tour with earlier this year. I was excited and honored to get to cover them live. They came out with brightly colored hair that might I add, probably mirrors each one's individuality and personality. They originally formed classifying themselves as "Glitter Punk" but have recently decided they want to take a more rock edge. They want to make a statement. I think they will. These girls really rock. They are young and full of energy and charisma on stage. Listening to Sydney and watching her, Alex, Nicole, and Meghan play, it is easy to forget they are so young and fairly new at this. They bring emotion; raw, hard hitting emotion to their music as they live out the lyrics on stage right in front of us. We learn about the troubles they've had and the problems they've faced as we are taken down the road to recovery and redemption through visual and musical interpretation. It is sad that in this industry, these four young ladies feel the need to openly request that people are respectful of and mindful of their age in an attempt to derail any derogatory or sexual advances from their fans. Just because they are all very beautiful young women who are working hard to make it in the music industry, it does not mean that they have to welcome vulgarity amongst the patrons at their shows. Though some may have seen this public request as arrogant or boastful, I saw a group of women standing there who want to give the best show possible without the added worry of people hitting on them just because they are beautiful and oh yeah, they can perform like vixens. They love what they do and it is absolutely obvious. Give these girls mad support cause they sure as hell deserve it. Tonight we heard "Let's Be Honest" which really gave the crowd what they were looking for; great guitar riffs and significant drums beats. All of a sudden, a familiar melody began as they gave us an incredible interpretation of "Uninvited" originally by Alanis Morissette. WOW, is all I can say. As if it wasn't obvious already that they were amazing, this was further validation for them. It was as beautiful and haunting as the original and did not fail to give me chills. In addition to the glimpse we'd already gotten into their new album,
In Your Face (Again
), Sydney belted out "So Much Nothing" and "Furious Fixation" before ending their set. Watch out because this group is going to blow it up!
Otep was the headliner tonight. With most recent lineup changes, the band, which got its' start in 2000, now consists of dominant and fiesty front woman; vocalist, Otep Shamaya, Guitarist, Ari Mihalopoulos, Bassist, Andrew Barnes, and Drummer, Justin Kier. After being prominent in the industry for the past 16 years, there is no sign of stopping for this band. Faced with multiple obstacles that have proven to be challenging throughout the years, Otep has overcome them all with boundless leaps. Otep has made the necessary changes and sacrifices to maintain while keeping the momentum to push further with lineup changes and new music that is sure to inspire. Some changes are inevitable. Some changes are for the betterment of the entire group. Otep has definitely taken it all in stride while keeping that fierce attitude that got the band where it is today and will continue aiding with their success. Singer and founder, Otep Shamaya has a strength and presence that stimulates those who hear her and watch her perform. She pulls; she pushes; she stabs you with blatant lyrical genius that is encouraging, inspiring and motivating. Of course she pushes limits with wordage that could easily be offensive to the faint of heart but when you disect all of the meaning behind her verbage, you get calculated perfection within her lyrical genius. After stepping on stage and lighting a fireball in her bare hands, no one here tonight would settle for anything less bold or fearless. There is a shock and awe mechanism that faultlessly intrigues the fans. Immediate value was given to each and every person in the room when she said "Macon, you are small but you are mighty". During "Zero", off of the latest album,
Generation Doom
, the crowd was encouraged to jump along with her with middle fingers held high. After all, no one gives a fuxx. The lyrics convey that people are too damn sensitive about everything these days. Grow up. Get strong. Be your own person with your own will and own motivation. They reitterate that we, as people, dictate our own fate so we should stop whining and stop blaming others for our failures and inadequacies. Along with "Zero" we heard several songs from the new album such as tour title track "Equal Rights, Equal Lefts" which allows us to endulge in their musical diversity. The lighting was very dim with bursts of red, yellow, and green throughout the entire set which creatively aided to darker side of each song's depiction. She hung several masks upon her stage props during the set, a female face, then the horror themed pig mask as she perfomed "Blood Pigs". There is an unwavering ability to systematically encourage the crowd with hand gestures, body movements, and intense facial expressions . There was no refuting that everyone enjoyed every aspect of the show tonight so as the flawless performance came to an end, I was shocked that the normal encore plea did not ensue. It was over; done, and all of the excitement that was filling the room moments ago was slowing pouring out of the venue doors.
What a night this was. Macon doesn't see a artists like the variety we received with open arms tonight. I am glad I was able to witness it and throw my two cents in. Thank you to Otep, Doll Skin, Fire From the Gods, Mosura, and Sever for bringing your talent and energy to our beloved Cox Capitol Theater.
All band website info:
Doll Skin @
http://www.dollskinband.com
Facebook @:
https://www.facebook.com/dollskinband/
YouTube @:
https://www.youtube.com/user/dsrich
Instagram @:
https://instagram.com/dollskinband/
Twitter @:
https://twitter.com/dollskinband
Otep @
http://www.otepmerch.com
Facebook @:
http://www.facebook.com/otepofficial
Twitter @:
http://www.twitter.com/otepofficial
YouTube @:
http://www.youtube.com/otepvevo
Instagram @:
http://www.instagram.com/otep_shamaya
Fire From the Gods
Facebook @:
https://www.facebook.com/firefromthegods/
Twitter @:
https://twitter.com/firefromthegods
YouTube @:
https://itunes.apple.com/us/album/narrative/id1133325670
Instagram @:
http://instagram.comdirefromthegods
Mosura @
http://mosurametal.reverbnation.com/
Facebook @:
https://www.facebook.com/mosurametal/
Twitter @:
http://www.twitter.com/Metal_Mosura
Sever @
https://squareup.com/store/sever
Facebook @:
https://www.facebook.com/severofmacon
---