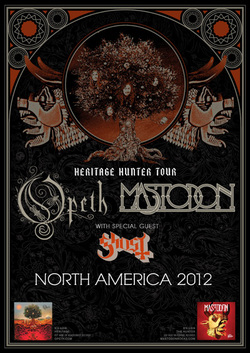 _
Mastodon and Opeth to Invade The Gibson Amphitheater!
The darkest of tours will hit L.A.'s Gibson Amphitheater April 26th when Opeth and Mastodon touch down with openers Ghost in this Live Nation Event!
Opeth need no introduction as they are the pure purveyors of cold feelings that are channeled through their songs. They are currently touring on the monstrous Heritage record and after witnessing the first leg of their outing I came away amazed at how well they convey the new record to the ardent fans. If you have yet to witness Opeth Live then now is the time.
Mastodon have been churning out off the keel and blisteringly hard records for a decade now and with The Hunter they now have a complete discography. The Hunter takes everything they have strived to be and takes it over the top. With Mastodon you never know what to expect and that keeps the fans off balance but that makes for a great experience. Live, they are an aggressive sonic attack and the perfect foil for Opeth.
Ghost are a strange anomaly that have released a darkly strange full length in the form of Opus Eponymous that takes you into a sinister void. They perform in hooded robes, keep their identities truly secret and give off an eerie feeling as they perform. Perfect set up for the masters in Opeth and Mastodon.
This is THE tour package of the year and when they descend on Los Angeles you Better be in your seats as Live Nation gives you a double barrel of live metal.
BUY Tickets!!!
Official Mastodon Site
Official Opeth Site
Official Ghost Site
---