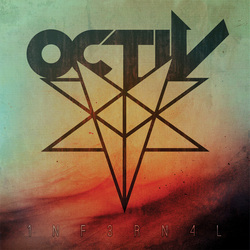 Native
Detroit
Artist/DJ
OCTiV
has released
INFERNAL
, a 6-track EP featuring collaborations with both
Celldweller
&
ForeverKid
set to an epic mythological storyline, available now from FiXT.
"
'INF3RN4L' is a high energy fusion of modern bass music and heavy metal set to a complex story both sci-fi and and metaphysical alike
". -
OCTiV
The 6 track EP constitutes the groundwork of a broad, multi-media narrative drawing on sci-fi futurism, religious mythology, and existential philosophy which draws inexorably to a cataclysmic crescendo.
If your last hope was the deepest evil, what would you choose? The Black Magic Galaxy awaits your decision.
Track List:
01. Vitcode
02. Die Tonight
03. Death Twerk (feat. ForeverKID)
04. Dark One
05. Infernal (feat. Celldweller)
06. Eden (feat. 'O')
Buy/Stream
OCTiV
INF3RN4L
EP:
FiXT
|
iTunes
|
Beatport
|
Amazon
|
Spotify
Connect with
OCTiV'
:
Facebook
|
Twitter
|
Soundcloud
|
YouTube
Detroit native OCTiV brings the rock & roll arena show to the party by playing electric and MIDI guitar while performing his own tracks and remixed crowd favorites, live on stage. By triggering most all of his recorded synthesis with a six string or midi guitar OCTiV is ushering in a new era for performance oriented bass music.
"By pushing the limitations of technology for live performance and live recording capability, OCTiV is leading the charge for a new breed of live electronic musicians."
---