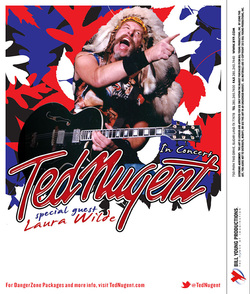 Ted Nugent/Laura Wilde – House Of Blues, San Diego, CA 7/13
By Heather Vandemark
Laura Wilde was the opening act for Ted Nugent and I admit I had not heard of Laura Wilde until I saw her on the Ted Nugent bill. This 23 year Aussie is one bad ass rocker. Old school, real rock that reminded me of Lita Ford, Joan Jett, and Slash rolled into one. Her debut album, Sold My Soul, was released in 2012 and it's in my CD player, now, and will be there for a long time. She put on an amazing performance commanding the stage. For us women, it's awesome to see a beautiful, humble, talented woman, working her ass off to do what she loves and succeed. For the guys, she is smoking hot and she shreds. Go get her CD and check out her show.
Uncle Ted asked if there were any Ted Nugent virgins in the crowd. Yes, I admit I was a Ted Nugent virgin before the show at House of Blues in San Diego. After 40 years, it's about time I saw this legendary musician perform in person.
The stage was set up with a few animal skulls with red glowing eyes and huge American Flag backdrop. Mick Brown, former drummer for Dokken, was sitting high and killing the drums. Greg Smith was jamming on bass guitar along with the amazing Derek St Holmes jamming rhythm guitar and vocals. St Holmes is amazing with his bluesy rock vocals and I would pay just to see him perform.
All of the favorites were played, Wango Tango, Great White Buffalo, Free for All, Cat Scratch Fever, Wang Dang to name a few. The crowd was going crazy and singing every word right along with them. Uncle Ted has a lot to say. "Ain't that some Bullshit" seemed to be the line of the night. He went on and on about the "criminals in the White House", gun rights and how killing animals cleanses the soul. If anyone says anything abut it, he kills 200 more deer just to piss them off. Take California back, Take America back. He said if there was anyone in the audience on welfare to get the fuck out right now. If anyone on welfare went to a Ted Nugent show they are seriously just stupid. He also dedicated a song to George Zimmerman, congratulating him on getting off. Really? Musically, he is still phenomenal although using the stage for his political platform is quite annoying and tiresome. We came to hear the music. Shut the fuck up and play some fucking music! He ended the night with the Star Spangled Banner and said San Diego, Take California back! Take America back!"
Official Laura Wilde Site
Official Ted Nugent Site
---