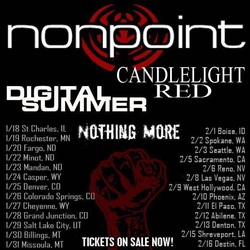 Nonpoint/Candlelight Red/Digital Summer – Ace Of Spades, Sacramento, CA 2/13
By Jeffrey Easton w/ Sasha Bohatch
Nonpoint are survivors. Coming out of a music scene that is virtually nonexistent these days, they have created their own world, one that continues to crank out great records and demand the attention from hordes of fans. They go on tour, they pack the house and Ace of Spades was no exception and sweet shit it got loud tonight.
Digital Summer is supporting the tour and they brought a seriously fun vibe to the show and brought all of the early arrivers into their set with the first note. Digital Summer is out supporting their new disc, Breaking Point and whereas they have a few good albums under their belt, this kills them all. Live, this album comes alive with Dance In The Fire, Cut Me Open, Forget You and the title track. Their brand of melodic aggressive hard rock will hook you in a heartbeat and they deserve massive recognition.
Candlelight Red are becoming road vets, having packed clubs with some of the best rock bands out there as well as having opened for KISS. There is no place like the road and with their massive records The Wreckage and Demons under their belt, why stay home? The freaks at Ace Of Spades knew who they were and they pushed the decibel level up when they hit the stage In Your Hands and the nasty sounding Cutter. Their catchy metal kept the party going as they dished out Medicated, Demons and one of their sinister singles in Closer. This band is still growing and they will grace our stages for years to come.
Nonpoint, the reason we were all here, came and gave a show nobody will forget anytime soon. They mix a sense of urgency and demolition in their songs and to bring that to the stage is coming correct. Their new S/T record is ballistic and they opened with Lights Camera Action, perfect track to drop at the beginning and the crowd blew up. They went out of their way to make the new record as sick as possible and the material they dealt from it proved that. That Day, Left For You, I Said It, Ashes and Pandoras Box all dropped from the new disc and the crowd gave their approval in spades. They also gave the fans In The Air Tonight, What A Day, Bullet With A Name and Miracles because you can't leave the old shit out. Nonpoint continue to shell out amazing records and the new S/T is no exception, get it and blow out your speakers.
Official Nonpoint Site
Official Candlelight Red Site
Official Digital Summer Site
---