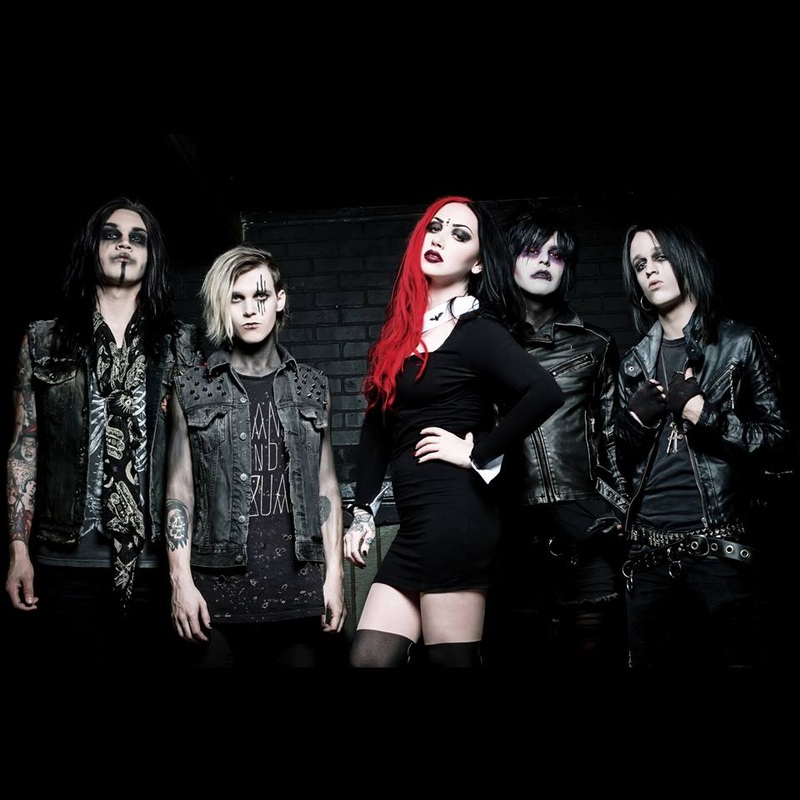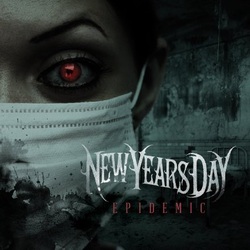 From the bowels of So. Cal rose New Years Day and there was no stopping them. Ash Costello had a vision and that vision is finally seeing its fruition. After several albums and EP's, label changes and lineup changes New Years day is finally a formidable and devastating band and there is no stopping them. Headlining their second go round of Warped and about to drop Malevolence for Another Century, they are on top and 2015 is their year. At a recent Warped stop, I had the opportunity to kick back with Nikki Misery and Nick Rossi of NYD and they spilled it all.
An interview with Nikki Misery and Nick Rossi of New Years Day
By Jeffrey Easton
Metal Exiles: I just saw you guys get the fuck off on stage, what does it take to make it happen on stage for you?
Nikki Misery: I get angry, something always pisses me off and that's my stage show.
Nick Rossi: I don't necessarily get angry, I just reach down and that's what I find. I have the best job, I get to bash the hell out of shit and get the anger out.
Metal Exiles: This is your second Warped tour so what do you hope to gain from this time around?
Nikki: I take things on Warped by the second. I never know what to expect day to day, things can go right or wrong and I just make the best of it.
Nick: Every hour is different when you do warped. You are at the venue doing something different whether its meeting fans, other bands, press or those who are running the tour and that's whats makes it unique.
Metal Exiles: I know you guys are still out on Epidemic and you are getting your next album ready so what do you want out of Warped?
Nikki: I just want to put on a kick ass show and have the fans say "holy fuck did I just see that?". I want them to watch us play and be blown away by what we do. We want every show to be better than the last, every song we write to be better than the last record. Moving forward we just want to deliver everything we can, make it entertaining, make it accessible. We want them to hear the record and have them come see us and Deliver.
Metal Exiles: So you basically want to do what KISS should be doing right now?
Nikki: Yes, that's it.
Nick: We grew up listening to some bad ass rock and roll, that inspires us to do what we do. When I was a kid I would look at the posters on my wall and I would think those people were untouchable and we want the same for us, that larger than life rock personality.
Metal Exiles: Like I said you are still out for Epidemic and that EP just had a raw personal feel. I know you had a lot going on but what went into making this so personal and dark?
Nikki: Its anger, that's what it is. We are musicians and one of the reasons we are musicians is that we are emotionally unstable. If we were emotionally stable we would probably be doctors or lawyers or some bullshit corporate asshole. We are mentally messed up or emotionally unstable so we just pour that into an album and then Erik Ron who produced the album just dug into our gut and got it out of us.
Nick: And we are excited to get it out. Erik helped get everything out and where we might have been hesitant to say something he told us to say it, just get it out.
Metal Exiles: What are we going to see on Malevolence?
Nick: A lot of teeth. Epidemic was a great teaser for the next album. You are going to get new everything, it will be us taking Epidemic and reaching further down.
Nikki: You can really hear our influences on this album. There are some anthems but there are some very sexy songs on it, I mean a stripper could get down to them. There is also some stuff on it that you can hear the punk and metal influences but still with that poppy feel because if you can't dance to music what are you gonna do?
Metal Exiles: Sit there and stare at the wall?
Nikki: Yea exactly, stare at the wall.
Metal Exiles: You guys were dropped by Century but now you have resigned to Another Century, their offshoot, isn't that ironic?
Nikki: Its very ironic and it was an odd thing to do but they made some mistakes and at the time we begged for them to drop us because we had it, we are one of the hardest working bands out there. I am not just saying that.
Metal Exiles: No you are. You guys are always out, you work yoiur asses off.
Nikki: And everything is hands on with us. Ash pretty much single handedly ran the Angel Eyes video and to see her win that Kerrang Award was amazing. She really deserved it more than anybody I could think of.
Metal Exiles: And you guys have gotten some great tours, The Birthday Massacre, Motionless In White.
Nick: Escape The Fate in Europe.
Metal Exiles: The Motionless In White tour was just insanity. What stood out from that tour for you?
Nikki: It was family from the beginning and their production was just so insane. I had seen them live once before and to see them every night and just learn from them because what they do is just on such a higher scale. We just wanted to see how they do things and just soak it in.
Metal Exiles: Well you have your look, with the antics and the horror and Nick you have your look and beating the hell out of the drums, you guys are garnering your own attention.
Nick: On any tour, you just go out and do your thing and stand out. Everything we do on stage is instinct, its like MIW or any of the bands out there today, just be you and they will notice.
Metal Exiles: So this summer is Warped, you drop the album in the fall and then what do you have planned?
Nikki: Some wild ones. We have wild plans but that's all I can say right now.
Nick: We have some big plans and we are super excited about them.
Metal Exiles: And Century is behind you guys 100%?
Nikki: Another Century is behind us and they have been great, everybody has been awesome and supportive. I can see why things fell apart before but that's all in the past and we are looking toward the future now. I am excited about the team working with us. It's all positive.
Metal Exiles: I was shooting your performance and I saw your crowd and I saw the line up for your signing. Are you guys shocked that you have that big of a following now or did you know it was going to happen?
Nikki: I am always in shock. I just feel like a dork sometimes, like I am this overly made up dude in girls tights and I wonder why people would want to hang out with me and watch me do my shit? I am shocked, I am humble and appreciative because without them I would still be in some garage somewhere doing Ace Frehley licks.
Nick: Its always a shock to me that people show up, its insane. You grow up dreaming of doing something like this and for it to be happening. If it was half the crowd it would still be a shock to me and I would still be thankful for it. Someone out there gives a shit about us which is super cool.
Nikki: I remember watching bands that I gave shit about on Warped Tour like Bad Religion and NOFX and now I am doing it to on the same stages.
Metal Exiles: Yeah, you guys made the main stage this year.
Nick: Yeah, thats just crazy. I looked at the pics out there on the wall and think that Robert plant played here, Mick Jagger did his shit here, its just crazy. In the amphitheater behind us I was unlading the truck this morning and I stopped on the stage and I thought, Joe Perry stood here, Robert Plant was here, its nuts.
Metal Exiles: I thought the same thing when I saw the pics out there, like I am shooting in the wrong era but then I can shoot bands like you guys and for that I am grateful.
Nikki: I think the same way, I was born in the wrong era but then I get to weird people out in my own way so its all good.
Nick: That's the cool part, people like Mick Jagger was weirding people out in the 1970s.
Metal Exiles: And so was Mr. Cooper there. (I was gesturing to the button on Nikki's jacket.)
Nikki: I know that Mr. Cooper is a fan of ours. He mentioned us in an interview when he was asked about the modern bands. He said he liked New Years Day.
Metal Exiles: It is cool that you guys are carrying on what he did with the theatrics.
Nick: I was always told guys don't wear makeup but I would see KISS and Alice Cooper do it so it was nothing for me to put on makeup, it just wasn't a weird thing to me. I mean they did it so why can't I? All the guys that I thought was cool did it so I am going to do it too.
Convinced that New Years Day is YOUR band? I know you are and they will be. Malevolance is the new album and you will buy it when it drops.
Official New Years Day Site
BUY Epidemic
---