NAMM Show 2010 - Anaheim Convention Center - Anaheim, CA 01/10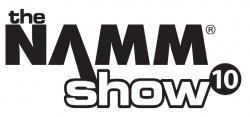 Photos and words by Jeffrey Easton
It was NAMM Show time again and economy be damned, tens of thousands were out in droves in support of the music industry. It is a hard time for the music business on both sides of the coin, performance and retail, but is a resilient business that has stood the test of time and it will bounce back. That being said NAMM 2010 was a success for myself with making great connections and discovering what the business, big and small, had to offer the consumer for 2010 and beyond. From the moment I entered the main hall I noticed the big players came armed with stand out booths and great products and 2009 was going to be left in the dust. One of my main stops throughout the convention was Warwick basses for a few reasons. Growing up and even today I am a huge of Funk and their artists and basses can deliver that sound in spades. Bootsy Collins, what more can I say. Nobody but nobody can lay down bass lines like he can and with his signature Infinity (Black And Orange Star) he delivers them with a louder thump. He was also on hand signing and performing which made the trip to Anaheim even more to savor. TM Stevens also has his own signature Warwick in the form of Thumb Single Cutaway and considering his resume, which includes the amazing Vai record Sex And Religion, he needs a Bass that delivers and this truly does. His live performance was one of the best memories of the show and it makes me want to plunk down the money for his signature bass. I opened this article talking economics and the business that we are in. That being said one of the cool things that Washburn is offering for the newer axe slingers Guitar /Bass packs that feature the guitar, amp, picks and assorted necessities to start a long career. The packs are the WI14, X10 and the T12 which all feature quality instruments at a price point that is affordable to any budget. Schecter is an amazing guitar company and their presence at NAMM is always a welcome one. My forte is metal and they seem to want to make that their niche with the artists they book and the guitars they craft. One of the standouts for me was the Blackjack ATX V-1FR. A stunning looking Flying V with Seymour Duncan Active Blackout's for that fat sound they produce. If you are in the market for a metal guitar, this is for you. Speaking of the metal artists, Jeff Loomis from Nevermore endorses Schecter with his Loomis-7 inlayed with Active EMG's for that tone that lets you know instantly you are listening to Nevermore.

Celebrating 35 years in business this year ESP is riding a huge wave of innovation with their instruments. Willie Adler from Lamb Of God supports ESP and with the roaring sound that LOG generates he needs ESP. His Will Adler BC series is at the top of their lines with his custom camouflage finish and the brutally loud Seymour Duncan's nestled in the Mahogany body it is a guitar that is not to be missed. While we are on ESP one of my favorite bands is Children Of Bodom and ESP fuels their singer/lead guitarist Alexi Laiho. His half V, the Alexi Scythe, has powered many COB albums and will continue to. It's fierce sound is produced by EMG's and is deft fingers across the custom fretboard. Orianthi made a name for herself as Michael Jackson's guitarist as well as a solo artist now and where did she get that sound that was needed to power Jackson's sound? It came from a Paul Reed Smith and most notably the Custom 24. The maple top formed with PRS 57/08 pickups gives her the tone that makes the guitar her own. Taylor took the opportunity to have Serj from System Of A Down come into their booth and unveil his newest guitar, the acoustic/electric T5. This stunning guitar feels great in the hand and has an enormous tone. The controls are on top of the body so they are easy to get to and the fret board is easy to play.
We have taken the trip through the guitars that impressed me the most but what is it that drives the backbone of the song? Yes, the drums and without them you just have an acoustic piece in my opinion. Pearl, what more can you say about a drum kit and a company. I first saw the name Pearl when I saw KISS on TV when I was but a kid so I have always held them in reverence. This year I checked out their MasterWorks line which you can completely customize to Your desires, even down to how the shells are constructed, not what is in a spec book. You know that Pearl uses top of the line hardware so making your dream set happen starts with Pearl. Joey Jordison uses them and to hear how he propels Slipknot is unnerving. DW caught my attention next with their Collector's Series of drums. Everything down to the color of the hardware connecting your drums is your choice. My favorite was the Collector's Series Maple SSC set in Deep Rich Red. The looks were amazing and the sound was unreal, a drummers wet dream. One of the last sets that made me want to check them out was built by Taye Drums. The Taye StudioMaple is made from Sugar Maple wood and the sound they create is earth shattering. With so many different lines and shades there is something that will make you want to take to them and bash your way to the top of drumming heap. The BR line with the 4 different toms and the sinister 7 brain shelling cymbals made this one of the top sets at NAMM 2010. To make your kit happen, you have to have the right cymbals but with so many how do you know what is right for your kit. There are drum companies that co-mingle and match their sound, like Paiste to Ludwig but you have to do what is right for you. Speaking of Paiste, their system of developing cymbals is second to none as they put so much into developing their product and even inviting their top artists to help them refine their product. That being said you will find some of the top drummers, from Nicko McBrain to Nick Mason to Scott Travis beating their hardware on record and tour.

Now I cannot mention Cymbals without breathing the word Sabian. They have been around for years and there is a reason why, they deliver. The Sabian B20 Bronze, which is built to absorb stick shock, is one of the toughest metals in cymbal making. I hear so much about cymbals breaking but rarely with Sabian. They deliver a stunning sound and that is why they sit at the top of their game. Slap one of the cymbals from the AA line, which has more of a 60's or 70's classic sound, and you will know why they are at the top of what they do. Speaking of hitting your drums, you have to have the right stick. One of the coolest at NAMM 2010 was HipTrix, the glowing percussion company. They create stunningly durable drumsticks that glow in the dark for that performance that you want your fans speaking about over and over. I have even seen these used on The Fresh Beat Band TV show, definitely an eye catcher. For long life in beating your drums over and over with the same stick it has to be Vater. They come from either maple or hickory and the shape is custom to your needs as a drummer. I have enjoyed using Vater whenever I have sat down at a kit and it is one of the few I would recommend. Now, to top off your drum kit I suggest Remo, one of the best drumheads out there. Their use of the right size of Ebony Mylar for tone makes them the go to drumhead for any set, period.
Bands over the past 3 decades have used electronics to juice their sound and effects pedals are at the forefront of that need. Source Audio had some tasty pedals in their Soundblox Pro line and I was enthusiastic with their Classic Distortion pedal. What I like is the delivery; it does not overdo it to drown out the natural tone of the guitar. For you bass players, you are not left out with their Multiwave bass distortion, which thickens your bottom end to keep up with the tone of your axe slinger. They do come in a less expensive line for the more budget minded musician. Still in the idea of distortion but want something different that will standout in tone and in title? Then you want Visual Sound's slickly titled Angry Fuzz distortion pedal. You have three levels: Volume, Fuzz and Anger. Yes, I said anger. Blend these the right way with your Bright Switch and then your tone is perfect. I would say for originalty and tone I would say Visual Sound would take the cake for NAMM 2010. Now for those who need a full display of effects in one then DigiTech is the way to go. The DigiTech RP Multi-Effect processor has up to 99 presets as well as a built in drum machine and you can even edit the settings with your mac or PC. The distortion is unbelievable but with the range of effects with compression, delay and reverb and the many avenues under each one this is the all in one you need.
Amps, where would a musical artist be without them. There are so many out there with so many tones to fit the instrument that you use and to the space that you have for it. On that note, ZT Amps offers some of the smallest amps but with the loudest tones. The ZT Lunchbox has 200 Watts of power that you can take to the gig and blow the doors off. Don't believe me, get one and plug in and see what happens. They also have the Lunchbox Cab which attaches to the Lunchbox which you can turn into a stack if you will. This proves that the big money spent on the huge cabinets was a waste of time. Eden Amplification has a great Nemesis Series of Amps for the newbies who want to get in the game the right way. The first one I want to touch on is the EN8micro. It packs 40 watts in its stage sleek design with an 8" speaker and it is affordable but with the same sound as the more expensive models. For the BASS Players you have the EN8JR with 25 watts of power that plays cleanly at all levels without fuzzing out. One of the things that discourages a young player is a crappy amp and Eden helps you avoid that delay in improving your skills. So did you see Motley Crue on their last several tours and you thought Nikki Sixx sounded dirtier than ever? That was just not his Gibson bass, it was that nasty Basson B810B booming behind him. With 2,000 watts of arena filling sound behind him it is the only amp for Nikki to power the nasty Motley sound. The last trip in our Amp area is a stop with Blackstar and their HT Club 40. The 40W EL34 has a Celestion speaker that helps this powerful amp cut through so you can be heard, loudly. This is the perfect amp for the club atmosphere and where as they have the HT Stage 100 and HT Stage 60 for bigger venues, I find the HT Club 40 is perfect for my garage scenario.
One of my last NAMM stops is for the side of hearing the music. You perform it, record it and release it but what are your fans going to listen to it with? Yeah you have your speakers on your system at home but we all know that the portable music device is what is happening now and considering I jog with my Blackberry blasting in my ears I am no exception. What do I recommend first and foremost? That is easy, that would be Beats by Dre. Their precision headphones blew me away as if I was sitting in between my speakers at home. I could FEEL the music, every nuance, beat, guitar lick etc. Ear buds are old hat now that these have hit the market. If you have avoided headphones because of the limits they impose on the music you can forget that notion. If you own an apple product the iBeats are for you and the music is delivered in HD sound, unbelievable. The Powerbeats are what I am into for my running regimen and are perfect for the active lifestyle while delivering whatever you listen to in ways you have never heard before. Also on that note are the Beats Studio with Monster powered noise isolation technology. Noise cancellation with amazing music delivering abilities, never before has this been available. I can talk all day about these headphones but you have to hear them for yourselves to make you a believer.
NAMM 2010 was another unbelievable experience with so many musical avenues to take that it was hard to decide what to partake of. The musical side of my life usually overtakes every aspect of my waking experience but it is worth it when you see how the experiences are all put together under the NAMM experience umbrella. If you are in music business areas that fall under the NAMM experience and you have yet to go you are truly missing out. NAMM is an industry only even so read more at NAMM.org
---