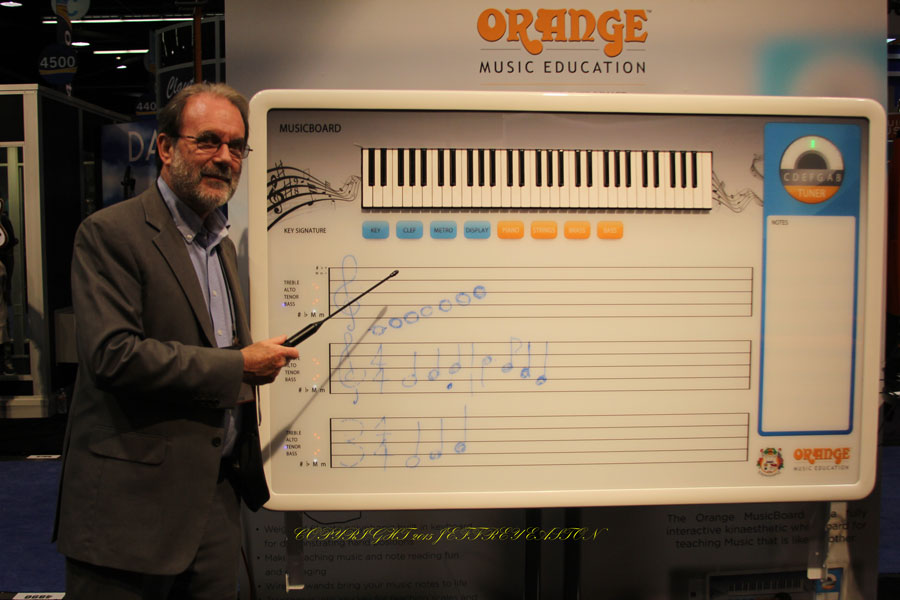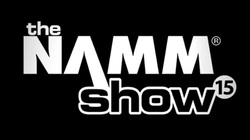 NAMM Show 2015 – Anaheim Convention Center, Anaheim, CA 1/15
By Jeffrey Easton
With Michael Knowles
2015 will stand as a great year for music and the barometer for that is the NAMM show as it seemed to me that the atmosphere was different this year. So many bands were at NAMM in full force, representing what they play, checking out new gear and making new connections. That's what makes this musical world happen, the connections you make and how you make them work for you and NAMM is the #1 place for that to happen. The gear manufacturers had some of the best stuff to date which we will get into but this year was a nonstop ear/eyegasm for Metal Exiles.
In the metal world the primary focus is the guitar and their guitar heroes. Whether it is a classic guitarist like Kerry King or Dave Mustaine or the new school with Jinxx of the BVB or Synyster Gates of Avenged Sevenfold, the fans want to know what they are playing and the eyes are almost always on their axe and rig. There were some serious standouts that grabbed my attention and we will start with Schecter and the aforementioned Synyster Gates. His custom S series is as unique as he is, not the typical guitar and the feel of the instrument is unbelievable partially due to mahogany body as well as the smooth mahogany neck. The neck is three piece for ease of adjustments and the sound is generated from a pair of nasty Seymour Duncan Invader/Sustainac pickups. If you know A7X and their sound, you know this is a destructive piece of equipment. While perusing the Schecter booth I was guided to the Chris Howorth Model, The Howorth V. In This Moment have become a major force in the metal world over the past few years so more attention is being focused on them and what they play. His custom V in metallic black finish is breathtaking to look at and the sound is crushing. The custom EMG 707 single pick up is enough to produce the ITM sound and enough for you to become the next guitar hero.
I spoke of classic guitar heroes and one of those bands that has contained many is KISS and whereas Ace is no longer a part of KISS Tommy Thayer is and his Gibson debut for 2015 stopped people cold in their tracks. The White Lightning Les Paul was THE reason to stop at the Gibson booth this year and there are reasons why. First of all it is Tommy Thayer playing it, secondly it is pure white with white and silver hardware, depending on model, and two Seymore Duncan JB Humbuckers that fuel that KISS sound. When you pick this up, you can feel the awe inspiring power that comes with holding a Les Paul nad you feel that KISS energy flowing through you. Another metal legend that I feel needs another mention is Darrell "Dimebag" Abbott. Whereas he has passed fans still clamor for his sound and everything he recorded and he did all of that with a Dean in his hands. For 2015 Dean is unleashing the Dime Razorbolt, a stunning piece of work that carries on his guitar traditions for a new era of fans. The lightning bolts running down the body as well as the razor inlay and lightning bolts on the fret board make this guitar standout visually and the DMT DimeTime neck pickup and the Dimebucker Neck pickup make this guitar blow you away sonically. This is a limited edition guitar so you have to hurry and get yours but if they are gone you still have almost a dozen Dime models that absolutely rip your face a part. Before I left the Dean booth I had to take notice of the new Dave Mustaine STRADI VMNT, an over whelming display of power under the signature of Dave Mustaine. Two different models, the Violin Burst as well as the Charcoal Burst, both with F holes to add to the enhanced look. They both come with Dave's own Seymore Duncan Live Wire pickups that give him that one of a kind sinister tone. They are both seriously limited but I am positive that once they are gone Dean might be persuaded to add to the line.
Considering my thirst for music knows no bounds I must have something to listen to it through and this year I was hunting for the perfect headphone and whereas there was so many choices there were only a few that stood out. I have noticed the last few years at NAMM that the headphone market is really growing as more people change the way they listen to music and the manufacturers are responding. This year Mo-Fi really blew me away with their 2015 inclusion, simply entitled Blue. Their booth was the perfect setup, a DJ spinning vinyl LPs for your listening pleasure so could you get the full effect of Blue's dynamic range. This is the first headphone to have a built in Audiophile amp that is matched perfectly with Mo-Fi's drivers that delivers superior performance. These headphones should have won best in show in my opinion. One of the other standouts in the headphone realm was one that also took me back to my youth and that was CAD Audio's MH210. They have the look and feel of those old school headphones of the 60's and 70's but with the sonic feel of the 2015 market. With the inclusion of neodymium drivers they offer a playback of what you listen to that is far superior to any other headphone in the price range that these guys sit in. The price point is less than 50.00 but they have the feel of those with a much more expensive price range. Every year at NAMM I have to spend time with the Roland drums, one of the best on the market and with the experience in the Roland booth comes the headphones. They use their own line to showcase their electronic drums and this year it was the RH-300V V-Drums Headphones. They were designed for the widening sonic range of their V-Drums from the low boom of the bass drums to the snares, hi hats and toms, this will replicate the sound perfectly.
One of the hallmarks of NAMM is music education and every year the strides to get kids into playing instruments goes further and further but this year Orange introduced something that I feel will take that baton and run with it. The Music Board was made available at the Media Day but for wider scrutiny it was thronged all four days by everybody interested in music education. What it is is a light board about 4x6 feet with three rows of bars that can be turned into any musical passage you want to teach your student. Perfect for music education as it is easy to place, low power and low maintenance and very interactive to keep your students' attention. As far as what NAMM wants to see in the advancement of music theory in the classroom, this was indeed the show stealer and I hope it ends up in every classroom around the world. Music Theory is intensely important, almost as important as learning the instrument itself and this will be the tool to implement that knowledge. It would also be an amazing tool for working bands that are sketching out a song in the studio and want all involved. Why hasn't anybody thought of this before? I salute Orange for their innovation and I feel as though it will be an immense success.
When you are on the floor of the NAMM show you are inundated with rows of guitars, drums, amps ect so it is nice to see something different, whether it is clothing, something to accent your practice space or just something off the wall, I am sure you will find it here. One of the standouts here was Select – A – Head, the company who takes bass drum heads as well as toms and customizes it with your favorite band logo, album art and images. Their booth was lined with examples of their work and I was stunned at what they could do. The idea is a low profile bass drum or tom face, the art in the face and set up for you to display anywhere. They have deals in place with many bands and personalities and are always working on more so if you do not see what you want on their site, request it, I am sure they can make it happen. When you go to a concert, your mind is usually on the band you are seeing, not the guys who labor behind the scenes to make that show happen. One company that does however is Gig Gear, the makers of Gig Gloves, one of the best products for a roadie I have seen. The idea is the roadie gets their hands on a lot of things so they make it easier by cushioning the gloves and adding molding to the back of the glove to minimize impact from moving amps, risers and everything else that could lead to injury. Another added benefit is peel away fingers so you can handle small tools while setting up the stage as well as tuning instruments.


One of the major draws of NAMM is the collection of rock and metal artists that put forth the time to mingle with fans, while promoting their various sponsors. As always progressive metal/rock drummer Mike Portnoy was a very active part of NAMM. Along with his Metal Allegiance band putting on an incredible live after party show, Mike also did several artist signings. To name a couple Mike did a signing at the very popular Rock-n-Roll GangStar booth, as well as a signing at the new TweetSecret booth, which is a new app that gives fans a small glimpse into a selected artists off stage life with regularly updated video clips for subscribers. Fellow Metal Allegience band mate and Megadeth bassist David Ellefson too made an appearance, signing in support of Rock-n-Roll GangStar apparel as well as the magazine Rock N Roll industries.

Current Dream Theater members, the keyboard Wizard Jordan Rudess, and guitarist John Petrucci were also very active at the NAMM show. Jordan especially as he was promoting everything from an updated musical app software called Moforte, to the ultimate portable recording software for a keyboard player known as the Xkey from Virgin Musical Instrument Company Inc. This extremely lightweight and compact aluminum keyboard can be taken and plugged in just about anywhere. It's a full 25 key keyboard that can create, modulate, or program just about any sound imaginable making it a DREAM product for keyboard players of any level. As for John Petrucci, he kept busy promoting his new custom and personally designed guitar from Ernie Ball Music Man called the JP15 as well as the Artisan Majesty guitar, a very fitting name for a guitarist of his magnitude.



Well known metal guitarists Alex Skolnick from the thrash metal band Testament and George Lynch of Dokken and Lynch Mob, made appearances in support of ESP guitars. Both guitarists performed with their own signature models truly testing the limits of each guitar. Power metal drummer Randy Black formerly of Primal Fear and Annihilator made his regular appearance at NAMM as well, in support of the Canadian drumstick company Los Cabos. This company manufactures 12 different percussion tools, with sticks made out of the finest Canadian Maple American Hickory, an alliance in a drumstick. The extremely popular booth, with a signing line that is 2nd to none at NAMM came in support of Yamaha Corporation of America. The guitarist signings presented some of the most premier playing and iconic artists in the business from bassist Billy Sheehan, Michael Anthony, and Nathan East, to the aforementioned Alex Skolnick and popular NAMM presenter Soren Anderson.


The list can really go on and on when it comes to rock and metal artists appearing at NAMM; all of which were there in support of their sponsors, but most importantly were there as a way to give back to the fans and promote the true magic and artistry of music, which is the ability to physically play an instrument - a lost art in the pop driven music industry, but still very much alive and stronger than ever in the world of rock and heavy metal music.
So another NAMM show came and went but it will not be forgotten and it's sway over what happens in the world of music for 2015 will b
Official NAMM Site
---