Music as a Weapon Tour V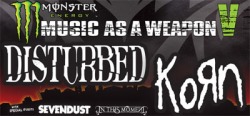 Music as a Weapon Tour V - Civic Center - Glens Falls, NY
by Mary Richardson
Nothing like kicking the New Year off right! The Monster Energy "Music as a Weapon V" Tour invaded upstate NY, Sunday the 23rd. Despite sub zero temperatures, the faithful lined up outside the Civic Center. Some bundled up like Eskimo's and others were clad in little more than tee shirts and shorts!
First band up was In this Moment. Lead singer and Schenectady local Maria Brink and crew got everyone amped up. "The Promise", "Just Drive" and "The Gun Show" all off their new album "Star Crossed Wasteland" started the night off right. Maria's low cut, torn white dress and rockin' figure along with a mike stand looked like it was salvaged from a post apocalyptic wasteland helped to set the mood. The crowd enjoyed their time with In this Moment.
Sevendust hit the stage next. These Georgia boys didn't let the cold slow them down a bit. They sweated out an active set with "Face to Face", "Driven", "Forever" to name a few. Lajon Witherspoon coerced the crowd into at least three separate mosh pits on the floor. The guitarists' were tossing pick's and occasionally stealing the drum sticks from Morgan Rose to throw out to the crowd, which the kids just ate up.
Chicago based Disturbed was up next. They started the night off with a mini movie played on a giant screen behind the drum set. It showed lead singer David Draiman making an escape from a mental institution, before he burst onto the stage and right into "Asylum". These guys can work an audience. During "10,000 Fists" Draiman brought out a camera and was filming the crowd while singing. There was also a live feed of the crowd that would flash up on the screen behind Mike Wenglen's drum set every so often. "Another Way to Die", "Stupify", "Indestructible" had the entire place on their feet.
Closing out the show was Korn. Energy wasn't in short supply here, from Jonathan Davis's antics on stage to the non-stop movement of the crowd. Whether you were in one of the many mosh pits or just dancing in the aisles everybody in the Civic Center was on their feet. "Freak on a Leash", "A.D.I.D.A.S.", "Falling Away from Me", just added fuel to the fire. There was also a mix of Metallica's "One", Queen's "We will Rock You" played in between parts of "Twisted Transistor".
All in all this was an awesome concert! I highly recommend going if they bring "Music as a Weapon V" near you. Kudo's to the Civic Center for landing such a great gig. There isn't a bad seat in the place. More concerts at the Civic Center please!!
Official Sevendust Site
Official Disturbed Site
Official KORN site
Official In This Moment Site
---