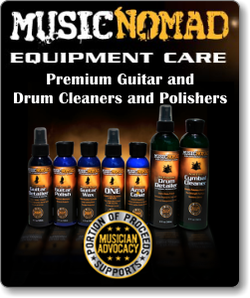 Music Nomad – Equipment Care for the Modern Musician
By John Knowles
No matter what your gear of choice is, one thing we all have in common is a responsibility to care for our musical equipment in order to ensure its longevity. Regular cleaning and maintenance is a necessity, especially for performers who need their gear to look and sound its best.
Introducing equipment care from Music Nomad. These guys continue to unveil new and innovative products for musicians who are serious about their instrument's beauty and performance. Having won the coveted NAMM University Best In Show Award at the Winter NAMM Show, 2013, Music Nomad continues to strive as an industry leader – a proven position as seen at this year's Winter NAMM Show.
Metal Exiles had the opportunity to test a couple of Music Nomad's more popular products, and found them to be worthy of all the hype. The Guitar ONE is an all in 1 cleaner, polish, and wax. The liquid contains high-quality carnauba wax as well as UV protectants. What better way to care for your guitar's finish than to add protection from oils, surface scratches and the harmful rays of the Sun? This stuff applies very easily, and only requires a modest amount of liquid to get the job done. Simply spray directly on the surface on your guitar or bass, scrub the dirt and grime off with a microfiber cloth (yes, Music Nomad makes one of these too), then flip the cloth over to buff and allow the carnauba wax to leave your guitar with a nice, polished finish. The waxy layer is just enough to allow for a soft, sleek finish while not leaving behind any streaks or thick film.
The Fretboard F-ONE is an oil cleaner and conditioner like no other. While the company has kept the oil blend a secret, users can be assured that it contains no lemon extracts, wax, or water, all things that can surely damage the unfinished surface of your fretboard. The applicator on this bottle is great, and avoids unnecessary dripping or leaking once the cap is screwed back tight. One of the issues with many fretbaord cleaners is in the application, and with the Fretboard F-ONE, you simply pour onto a towel and begin working in between the frets. One look at the towel, and it was clear that this cleaner does the job.
One of the latest products to Music Nomad family is The Humitar, acoustic guitar humidifier. Many sponge humidifiers can be cumbersome and difficult to moisture and attach. The Humitar is a sleek sponge housing that releases moisture evenly throughout the guitar. The advantage of having a large sponge, known here as the Humid-I-Bar Sponge, is the amount of water it can hold. This means less worrying about constantly moistening the sponge, and more necessary moisture to the wood. When you need to check the sponge's moisture level simply lift up on the Humitar's cap, and touch the sponge for a read. Another benefit of the design of the Humitar is that it rests comfortably and snug between the strings, allowing users to rest their acoustic in a case laying down, or on a stand. The position of the Humitar does not change so you can rest assured it is doing its job in any situation. This thing works really well. We tested it on a Taylor acoustic that was already at the perfect humidity level. The Humid-I-Bar Sponge remained moist days later, indicating that the wood was really not thirsty. Music Nomad does suggest a humidity & temperature monitor to verify the true levels of your instrument. You do not want to over humidify.
Last up is the Nomad Tool. This patent pending design is absolutely brilliant. This should be the brand's flagship product as it is something every guitarist needs. On one end of the tool is a microfiber pad, and on the other, a soft bristle brush. Both sides can be used for hard to reach places, such as in between pickups or under the strings, cleaning beneath and in between knobs on an amplifier, and even the hard to clean parts of an effects pedal. The real advantage of this tool is leverage, and by having the cleaning tools on either side of the 4-inch handle you can really get in there and get the job done right. You can even use the Nomad Tool to clean other household electronics such as your computer, or even outside on your car stereo. This is truly a standout-cleaning product like no other.
Be sure to visit Music Nomad's website, and see for yourself all that these guys have to offer. While this review has focused on guitar care, you can purchase products from Music Nomad to take care of your amplifiers, drum heads, and even cymbals, as well as a large variety of cleaning cloths.
Also worth mentioning is Music Nomad's other business pursuit; the GuitarTracker web app from MusicNomad is an online application to help you keep track and maintain your guitars, amps, pedals, etc. You use this program to log and create a database of your gears' key info (such as serial number, price paid, make/model) and upload photos from your mobile device or computer. For your guitars, the software also generates alerts sent to you to remind you of cleaning and maintenance. You can be alerted via email when it's time to restring, or humidify your guitar. You can create your own custom tasks as well, and list your guitar's specs to reference during future set ups or in case your favorite luthier ever needed to know. You have enough to worry about, so why not give this free software a try and let Music Nomad allow you to care for your guitar in a whole new way. Read more
here.
Visit Music Nomad's
Official Site.
Purchase items on Music Nomad's Official
Amazon Page.
---