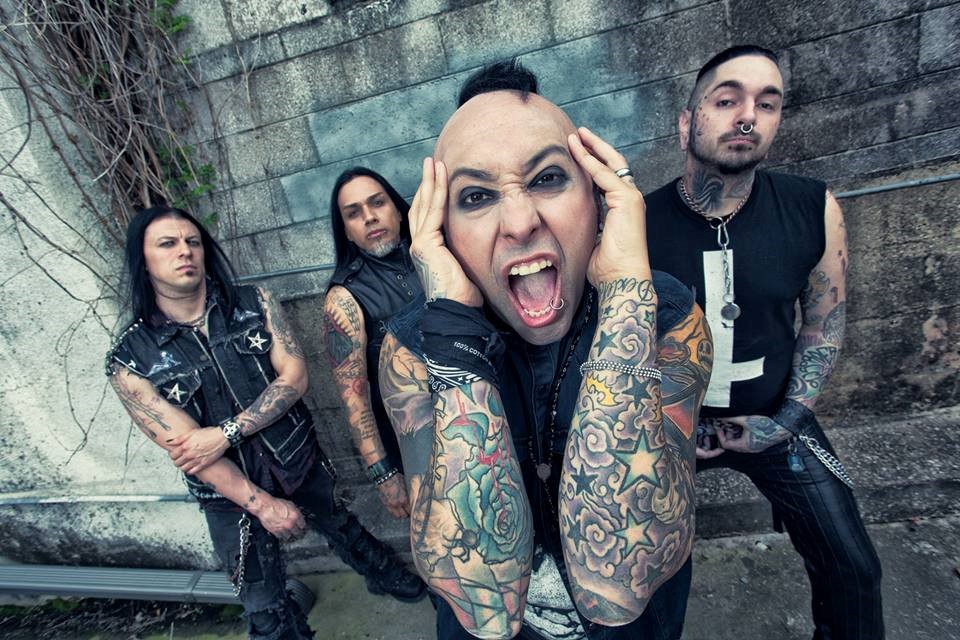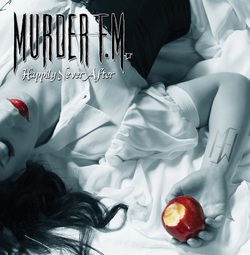 Spawned in Dallas, Texas, "Murder FM" is a band that is sure to pierce through to the deep, inner, unsatisfied core that all of us try to hide at some point. The band consists of four hell-raising members: Vocalist, Norman"The Gnar" Matthew who also plays guitar & programming, bassist and backing vocalist, J6, guitarist and backing vocalist, Matt "Xr30", and drummer, Jason "Shakes" West. The new CD "Happily NeverAfter" was released on August 7th and definitely incoporates some Marilyn Manson vibes along with hints of the vocal sound of Vince Neil in several of the songs . The power, rage, and even torment in the lyrics is undeniably present as "The Gnar" screams with intensity to get his point across. Norman was one of the most interesting people I've spoken to about music. He intriguing me as we spoke today with his positive attitude, upbeat demeanor and appreciation for a southern drawl. It was very refreshing since we deal with the "plague" that some feel has overcome the music industry as a whole. As much as I hate to admit it now, until recently, I did not have any Murder FM music in my library. I quickly realized that I had, without trying, kept myself in the dark completely about this band. These guys are absolutely amazing and they are backed by a label that has the ability to get their name out there on the front line. I learned so much about the bands journey from where they began to now and how the different elements of music are being resurrected through that journey. There is so much passion that motivates "Murder FM". That passion is not only heard and felt in the interpretation of the lyrics as the songs are belted out, but also on a personal level as Norman described what this whole thing means to him and to the band. Their love of music has seasoned over the years and their appreciation for how it can be used to express your emotions, no matter how violent or tranquil, is, without any confusion, their motivation. Music can be a venting outlet. Through the ability to say whatever it is you are feeling at that very moment through song, you can convey meaning that is far deeper than just words on paper and that's just what they do. If you've never given "Murder FM" a chance, this CD is a must. If you loved them in the past, you will crave them even more now. All I can say is support these guys. Buy their music. Their newest CD, "Happily NeverAfter" is well worth the money you'll spend. Go to their shows. The tour dates will be posted soon. Buy their merch and wear it with pride. You won't regret it. You can't regret it.
Interview with Norman "The Gnar" Matthew – Vocalist for Murder FM
By: Leslie Elder Rogers
Metal Exiles: I have to know…and I'm sure it's been put out there somewhere and I just haven't seen it, your nickname "The Gnar", where does that come from?
Norman: That came from teenage years. We were working on something in the studio and I remember the engineer looked back at me and the drummer and was like "That's Gnar man" not fully knowing my name was Norman yet and it just kind of stuck. From that point on everyone was just like "Gnarman, Gnarman", so I started making a joke saying that if "The Edge" can be "The Edge" and "Sting" can be "Sting", then I'm going to be "The Gnar".
Metal Exiles:
It totally made me think of valley girl terms like "gnarly dude". I don't hear a big Texan accent in your voice either.
Norman:
What's funny is that I live in Texas but probably have the biggest "valley Girl" accent ever. I grew up in the border town of El Paso, Texas. It's a melting of people. It was a big military town too so I don't think the Texan accent really happens in El Paso, that's for sure. I never really grabbed the Hispanic accent either. I don't know why but when I speak Spanish, it's blatantly evident but when I speak English, I sound more like a valley girl than anything else. Since I didn't grow up in Dallas, I didn't get that North Texas accent either.
Metal Exiles: After a few albums and countless shows, do you think the world is finally understanding what Murder FM is about?
Norman: It feels like it's finally really starting to happen and to connect. We started as a band a few years ago and I knew that I wanted to run the marathon, not the sprint. I wasn't particularly concerned with trying to make it quick especially with the industry in the shape that it's in. It wasn't like I needed to get a record deal in six months and I was going to be rich and famous so at that point, the product and what I was going to leave behind became more important to me than anything else. I had a lot of connections from the previous band that I was in but I didn't really want to burn anybody up until the band was peaking so I let the band grow organically, phonically, before we tore it up. Now it feels like the world is finally catching on. I think that the timing feels right for everything. I think the record is right. I think the rock world is ready for something different. I wouldn't necessarily say new. It's so hard to say that you're new. It's like saying that you've invented a new wheel but for us it's the current landscape and the way the rock scene seems to be now. We're definitely different. We stick out and the time is ready for it. We are more than ready to be the band that has to carry that weight on our shoulders. Being born in El Paso, we didn't have a big music scene. There was a hand full of us that kind of went to junior high and high school at the same time that turned into "At the Drive-in", "Murder FM", "Pissing Razors", John Moyer from "Disturbed", and Cesar from "Ministry", and all those bands right there obviously completely different from one another. We just didn't really have a scene so we weren't watching what our friends in the "scene" were doing and taking a page out of their playbook so that taught us to have our own identities from the get do; whether by design or default. That's just the way that it was. Then coming from a big city but a small music town, we had to get out to play and anybody that we could play for, we had to fight for that. That part of it in our formative years really, really, I know for me anyway, it stuck with me. Every show was like warfare because it was like the one shot that I got to be in front of you so I'm going to give you everything I've got; so I still have that small town mentality in me of going out there and destroying it because you don't know if you'll get to again. It's cool though. We were able to shed the prima donna stuff early on.
Metal Exiles: You have done the Indie route in the past so what was it about Famous that made you want to sign?
Norman: The A&R team and the label were all musicians at one point in time in their career. Our A&R guy has placed with "Black Label Society", "Device", just a bunch of big bands and because of that we felt that was the best place for us to be because they would really understand the build and really understand the band; not only from a business level but from a musician level. We get that as well. It's called the music business not music friends so at the end of the day, there's still business that has to be done and along the way, you keep your integrity intact the best that you can as an artist. It just felt like the best way to go about it. We had been so fiercely independent for a long time that to me, unless someone was really going to blow us up, there wasn't really anything that they were going to offer me. Famous kind of offered that security of the artists being behind the business just as well as the artists being behind the artists. They really understood what we wanted to do. They were fans of the band too which is really cool so to be able to be approached as a genuine fan of a band, wanting to put the band out there rather than just seeing dollar signs, that means that they're in it just as much as we are. There's elements to our stuff. I wouldn't say we're bringing back but more like resurrecting, but I grew up on Arena's. I grew up on "Mötley Crüe", "Guns N Roses", "Metallica – The Black Album" and I was not able to enjoy it as a teenager because I was too young so the only time I was exposed to live shows was if they were in an Arena or in a huge setting. It seeped into my subconscious that's the way it's supposed to be. That's kind of what you feel when you engage with "Murder FM". That's the energy that we have. That's the way that the songs were built; with big drums and big guitars, big hooks and big vocals. Again, that wasn't really by design, it was just extremely natural for us because it's the only way that I knew how to do things when it came to me writing my own stuff. I produce for a lot of bands and I write for a lot of artists, but as far as when it comes out of me, for me, that's the only understanding and the only world that I knew. Without really trying to say that we're bringing back the big arena rock, this is kind of natural and it's real. That's what's connecting with people right now. Our band is real. Our songs are big, our songs a great. I feel good listening to the record. I joke and say that this is the most positive-pissed off song album you'll ever hear.
Metal Exiles: I dig the old school metal of course so your influences are some of my favorite bands, but I tell ya' the new album does seem to incorporate kind of a Manson sound as well. I was like "wow, didn't know anyone else could do that so well".
Norman: That was just one of things again that just happened. I remember the "Antichrist Superstar" record from "Manson" and "The Golden Age of Grotesque" and for me those were really monumental when "Manson" was really kicking ass. I kind of missed that and was like "man, we need to bring some of that back, like where'd it go"? We just let the songs ripen and I let them come out the way they're supposed to be and there's nothing fabricated about it. We all wear our influences on our sleeves and at the end of the day, it's kind of like that's just what came out. We've got Tommy Lee who remixed "We the Evil" on the record as well and that was huge. We've got Will from "Evanescence" playing drums on the record, on the title track, "Happily NeverAfter". Along with our own feelings of the way things are in the music world, it's like these people got behind us as well and they're big players so we're not just putting a stamp on it. They're actually giving us the stamp of approval and it's from them directly.
Metal Exiles: Along with Famous there is some stand outs on the album, the legendary Beau Hill produced it and Tommy Lee and Will Hunt were involved. How did all of this come together and what does it mean to you to have this much interest in your band?
Norman: Well, started with Will who actually reached out to me and told me that he had some friends putting together a label and that he was going to be working with them. I didn't believe it. I'm a big fan of Wills' work and I was like "yeah , whatever dude" but it really quickly maneuvered from e-mails into texting and then the next thing I knew, I was out in Nashville meeting the CEO of the label. He was like "Will brought it to the table man. Will and I believe you guys got the next big rock-radio explosion on your hands and you're not really even aware of it". I wasn't and I still am not and it's really hard to believe and to see. It's just taken off at light-speed so obviously they knew something that I was completely unaware of and I'm totally happy about it. Will connected us with Tommy because he thought Tommy would really like our stuff and may be able to help us out. I wasn't sure how Tommy would help us out but I was like "cool, why don't you come to a re-mix of one of our songs while we're at it, sure buddy, thanks". I'm just so jaded like that and sure enough, like two days later, I'm getting messages in my inbox saying you have a new message from Tommy Lee. I was like "Whaaat"? So we started trading tracks and working on the remix and the next thing you know I'm talking to Tommy Lee twice a day, not only on a music level but as a friend and he's a supporter of the band. Beau Hill has become my mentor and my production mentor in so many ways and really taught me how to step outside of myself. Whether you're a fan of 80's records or not, Beau has sold over 50 million records without fail like "RATT", "Bob Dylan" and "Alice Cooper". He started "Interscope Records", so to have these people behind us is amazing. The fact that they were behind us after the record was done is even more amazing because they weren't part of the creative process. All they did is say they'd take it to the next level, if that makes sense. They really believed. It wasn't one of those things where we sat in the studio and we like "we gotta' make the next big rock record". I started demoing things in my studio and I didn't know that I had this sort of relief of my hands, you know. All these people grouped in and started supporting it and it's real and this is amazing.
Metal Exiles: Over the past few albums, you as a singer and writer have gotten darker it seems. What is drawing you to go in different directions from something like "As beautiful As You Are" to "We the Evil"?
Norman: Our first release that we did in the UK, it was kind of like that. I tell everyone that's our "Kill Em' All", or our "Shout at the Devil", you know. When you went from that "Too Fast for Love" to "Shout at the Devil", the band was night and day. I was still dipping my toes in what I was going to do musically and where I really wanted to depict the band. I'd had an idea but the writing hadn't evolved yet and through the course of touring so much and going overseas; watching the band grow, I really kind of zoned in on what was going to be best for us and what worked best. I think the darker tinge to the record is that I've also made it more about the "Legion" and the listener and not just about myself because if I write all these songs from the "I" perspective or the "me, me, me" perspective, I'm like, "what does that really serve the listener"? I want to give something to the listener. I want to give them "Wild Side" and "Girls, Girls, Girls" and "We are the Champions" or whatever it may be; those big anthemic songs. So that's what "We the Evil" started as "We the People" but I was like "I don't know. This one is for all of my dark peeps so we decided to call it "We the Evil" and it just kind of happened. I threw the riff and it just evolved. I don't want to come from a dark place but there is a Dr. Jekyll and Mr. Hyde kind of sting to me because in my everyday life, I'm a pretty normal, pretty chill, easy going dude, but when we get on stage, when we get in our characters, when we become who we are on that artistic side, it's a whole different person. Because I was writing this record, not for a deadline and not for a business purpose at that point in time, it was just because I love music and I love my band, and I just wanted to write songs, it kind of turned into just my natural character. I was thinking less about what was going into the songs and thinking more about just writing the songs. I stopped worrying about what people thought. Norman Matthew didn't write the record but "Gnar" did. It's cool. I like it that way because I don't like to believe my own hype and I like to leave the music on stage and still be me when I am not on stage. I don't like the worlds to collide. I've seen too many guys that start to become who they think they are on stage and then they can't operate in the real world after that.
Metal Exiles: The album title sounds like a fairytale gone wrong; what does it mean or represent to you?
Norman: That's exactly what it is. It's a fairytale gone wrong. We've all got these perceptions of how life should be and how it should turn out; go to school, work the 9-5, fall in love and get a family and everything will be happy and perfect and great. That's not really how it works for all of us or even for anybody, a lot. Not to say it like oh I'm sad but it's just being real about scenarios. This is the most positive-pissed off album you'll hear because I try to be proactive about things so a lot of the songs aren't pissing and moaning without some sort of solution. There's story telling in them or maybe the solution is the song and the listener was to grab from the song, the motivation and inspiration to get themselves through the day. You can be pissed off and be something positive rather than be pissed off and just wallow in a corner and that's kind of what we're trying to do that's a little bit different because I hate whiners. I really do. I never wanted to be one of those bands that just bitched about things. So yeah, it's just about the fairytale gone wrong and you did all the storybook things but it still fell apart.
Metal Exiles: The Cure were a seriously dark and emotional band so as an artist what did you want to bring to "Burn" by covering it?
Norman: I wanted to present "Burn" the way that I had heard it in my head when I first heard not just that song, but "The Cure" in general. Coming from the big arena rock stuff, the next evolution for me was coming into "The Cure", "Depeche Mode", 'Nine Inch Nails", you know, the darker side of things. When I was little I didn't party, I didn't have things I could write about in a song. My lyrical content was zero. There was literally nothing I could write about that anyone wouldn't laugh at unless they were ten years old. To hear "The Cure" and "Depeche Mode" and "Nine Inch Nails", even though they came from a very real place, they were presented in a little more romantic and poetic storytelling kind of fashion that makes you think the song is about one thing when maybe it's really about something completely different. This is what I get from the song, so I'm gonna' make it my own because again, I don't want people to be too into my life so I'm only going to write X amount of what's actually in me and then I'm going to try to generalize it so that everyone can enjoy it. When I heard "The Cure" and I loved how dark they were, I always wished I could hear a nice little, heavy guitar behind it, just to put the exclamation point on it. So when it came time to mess around with other songs, one day I said I've been wanting to cover "Burn" by "The Cure". We'd done it before when we played "Trashfest" in Finland. We got this crazy idea to cover it. Everyone that's a fan of "The Cure" that tries to cover them usually covers "Just Like Heaven" or "Love Song' or "Fascination Street" and I wanted to do something that not only has that but also has "The Crow" incorporated in it. The movie "The Crow" was a big part of my childhood as well. There was that dark side again; that positive dark side. "The Crow" had things happen to him in the movie. He didn't bitch about it, he got proactive on it and went out there and whipped that ass. That's kind of the same place that "Murder FM" was coming from so to put those two things together and tie it in to what we were doing, for me, was like sending a message that this is what "Murder FM" is about. That's what I wanted to do. We picked a hard band to cover with "The Cure". It was hit or miss on so many different levels because on one level it wasn't a big mainstream hit and the concept is that you want to cover something that was already a hit to bring attention to your band. We didn't really do that. We picked a seminal band like "The Cure" that if you did it, everyone in the world that is a fan is going to stomp on you. It was like a double edged sword and when I brought it up to everyone there were all "how's this really going to be great for the band"? I believed that it was going to be and I believed that it was going to be a great point on the record and become a great thing live as well and become a great moment it the show. I think it really kind of shows that as a band we have really done our homework as musicians. We learned from the past to be the future, so to speak.
Metal Exiles: It's hard to be a band these days so what is it like for a band like Murder FM to keep it going and stay on the road and releasing albums?
Norman: For us, I mean, right now it's just been an amazing time because at every show there just seems to be more people and it's bigger. There are more people that know us. There are more things that are happening. It's just growing literally every time we walk out the door. We started this band out of pure love for being a band, and at the risk of sounding cliché, that really was true. We spent two or three years playing every armpit across America and overseas. We would play for crowds where there were more people on stage than in the actual crowd but we didn't care because we loved playing music and we loved playing music with each other, especially, Matt, J, and I, the three of us, the frontline. We would get off on just listening to ourselves and that just became our discipline and we just kept playing, every night. It was never a thing. So for us now, we're really able to enjoy what's happening success wise with the band because I've already been through it once with a record deal and I got jaded there and I also learned how to be and how not to be. I'm really able to soak up every moment and right now, everything is cherry. Check with me in a year and a half and it might be different but for right now, it's a blast. It's the chaos and several years of working at it now is finally paying off.
Metal Exiles: When will the tour dates be released and will it encompass the Arena scene pretty heavily and can I expect to see you in Atlanta?
Norman: We just started August 8th in Michigan with "HellYeah", "Down", "Periphery" and "Pop Evil" at "Dirtfest". We've got a headline show tomorrow and then I think everything will be posted right after that and you can bet we'll be coming to Atlanta because that's one of my favorite cities "Hotlanta"! I love me some Atlanta. I don't know why but I just always have. There are a few bands, artists that came out from there, "Sevendust", Butch Walker, that just kind of made me fall in love with Atlanta and then when we actually played Atlanta, literally, I was in love. People would ask if I loved L.A. or you don't love this and I was like "I'm all about Atlanta man". As far as where we will be, we will be anywhere that someone will have us and then we're gonna' do it twice.
Metal Exiles: That being said what are the plans to take "Happily NeverAfter" to the fans this year?
Norman: Tour, tour, tour, tour. We are the type of band that pick and choose where we want to be. I know that's really crazy to do in the new but we like our fans, however many that may be, from 5 to 5,000, it doesn't. When we hit a city, we want people to know we were there because we wanted to be there so you should definitely come to the show because we chose to be there. We didn't have to be there. Being so fiercely independent for such a long time, we got a real take no shit kind of attitude and we're very used to us doing things our own way, at our own time, at our own pace. We won't be somewhere that we don't want to be but right now we want to be everywhere. We're excited to play this record live. In the headline shows, we've been doing it in its entirety, and on top of that, a bunch of the old stuff that we have. We've got a huge set. It's hard when you open up for somebody because there's so many songs that we want to play and so many fans want to hear the new stuff and there's the cult of fans that have been following you for years and would like to hear "As Beautiful as You Are" over and over. That was our hit from the first record but it's really cool to point out all this new stuff and bring it to life so yeah, we will get everywhere, like I said, TWICE, at least.
Metal Exiles: I'm sure this question gets asked all of the time, but is there anything else you'd like to say to the fans?
Norman: That's alright man. I love it. I do want to say "Thank you" to all of our fans. I will never get tired of saying that because this band had zero marketing dollars, zero budget, and zero investors when we came out the gate and we got to where we are because of our fans and social media and our overseas fans really putting us on the map. We are a cult. We're a legion. We're a family at this point and "thank you". Every time "Murder FM" has a win, it's not just for us, it's for our fans. Think of it that way. Every time we get a chart position, every time we get a huge opening slot or get to win some contest on a radio station, it's not just our win because it's for all of us. We're just out there plowing it but you guys are making it happen, so again "thank you" and you're gonna' get to hear us more. I've already got the next record in the chamber.
Band website:
www.MURDERFMmusic.com
Facebook @:
https://www.facebook.com/pages/Murder-FM-Official/339855065055
Twitter @:
www.twitter.com/murderfm
Instagram @:
www.instagram.com/murderfm
YouTube @:
www.youtube.com/user/MurderFM
Buy "Happily NeverAfter" on iTunes @:
https://itunes.apple.com/album/happily-neverafter/id1014344202?v0=9988&ign-mpt=uo%3D1
Also available at other outlets such as FYE, Amazon.com, and BestBuy.com
---