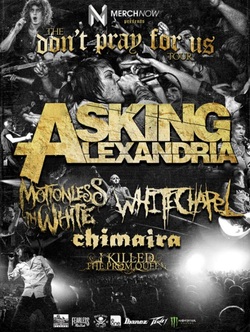 MOTIONLESS IN WHITE ANNOUNCES SPRING TOUR AS DIRECT SUPPORT TO ASKING ALEXANDRIA
Motionless In White
has announced details for their upcoming North American tour with
Asking Alexandria
. Accompanied by Whitechapel, Chimaira, and I Killed The Prom Queen, this nationwide run will kick off on April 19th, in Wichita, KS.
Hailed as one of the most powerful and commanding live bands in the American metal scene, Motionless In White will be coming off a sold out support tour with
Asking Alexandria
in Europe, continuing their red-hot routing with performances at
SXSW 2013
,
Rock On The Range
, and
Download Festival
alongside rock legends
Guns N Roses
,
Alice In Chains
,
Deftones
, &
KoRn
.
The Pennsylvanian metal outfit will be touring in support of their critically-acclaimed new album
Infamous
, available now on
iTunes
.
"
Infamous
delivers on MIW's promise of a darker future. This is the new sh*t!" - Dee Snider
"Art is what happens when exceptionally talented individuals are so daring and bold they are willing to take a chance. This is art." - Tim Skold
"The best new rock band in the world!" - Kerrang! Magazine
MOTIONLESS IN WHITE
- Chris Motionless (vocals), Ricky Horror (guitar), Angelo Parente (drums), Ryan Sitkowski (guitar), Balz (keys), Ghost (bass) - From underground heroes to internationally acclaimed act, hotly-tipped rockers Motionless In White have slayed audiences worldwide. The band has been featured on the cover of Kerrang! Magazine, AMP Magazine, Japan's Geki Rock Magazine, and TLC's reality tattoo show, NY Ink. Unafraid to make music as intense as it is intricate, their ability to interweave powerful lyrics and strong musicianship with striking imagery that has captivated both fans and media around the globe. Noted as one of Revolver Magazine's Top 10 Music Videos of 2012, the band's cinematic thriller "Devil's Night" and live performance video for "Black Damask" have garnered combined views of over 13 million. Matching the musical elements with equally creative marketing and visual concepts, Motionless In White has constantly challenged the concept of "playing it safe", and on
Infamous
, they deftly deploy their most dynamic and diverse tracks to date.
MOTIONLESS IN WHITE - TOUR DATES 2013
3/13 - Mission TX @ Las Palmas Race Park - Never Say Never Festival
3/15 - Austin, TX - SXSW - The Artery Foundation showcase @ Live Nation Annex
3/16 - Grand Prairie, TX @ QuikTrip Park - South By So What Festival
3/17 - Houston, TX @ House Of Blues - Houston We Have a A Problem festival
3/29 - Mesa, AZ @ Nile Theatre
3/30 - Las Vegas, NV @ Desert Breeze Skate Park - Extreme Thing Festival
w/ Asking Alexandria (radio festivals are highlighted)
4/19 - Wichita, KS @ The Cotilion
4/21 - Lubbock, TX @ FMX Purple Spot Show
w/ Deftones, Alice In Chains, Korn*
4/23 - New Orleans, LA @ House of Blues
4/25 - Tallahassee, FL @ The Moon
4/26 - Chattanooga, TN @ Track 29
4/28 - Jacksonville, FL @ Welcome to Rockville w/ Alice In Chains, Limp Bizkit *
4/30 - Birmingham, AL @ Bessemer Civic Center
5/01 - Norfolk, VA @ The Norva
5/03 - Pittsburgh, PA @ Ice Garden Arena
5/05 - Richmond, VA @ The National
5/07 - Long Island, NY @ The Paramount
5/08 - Stroudsburg, PA @ Sherman Theatre
5/11 - Milwaukee, WI @ The Rave
5/12 - Minneapolis, MN @ Epic
5/14 - Omaha, NE @ Sokol Auditorium
5/15 - Kansas City, MO @ Granada Theater
5/17 - Grand Rapids, MI @ The Intersection
5/18 - Columbus, OH @ Rock On The Range w/ SoundGarden, Smashing Pumpkins, KoRn*
5/26 - Pryor, OK @
Rocklahoma w/ Guns N Roses, Alice In Chains*
6/13 - UK - Kerrang! Awards
6/14 - UK - Download Festival w/ Slipknot, Rammstein, Korn, HIM, Iron Maiden, Queens Of The Stoneage, Stone Sour, Papa Roach, Motorhead, Alice In Chains
---