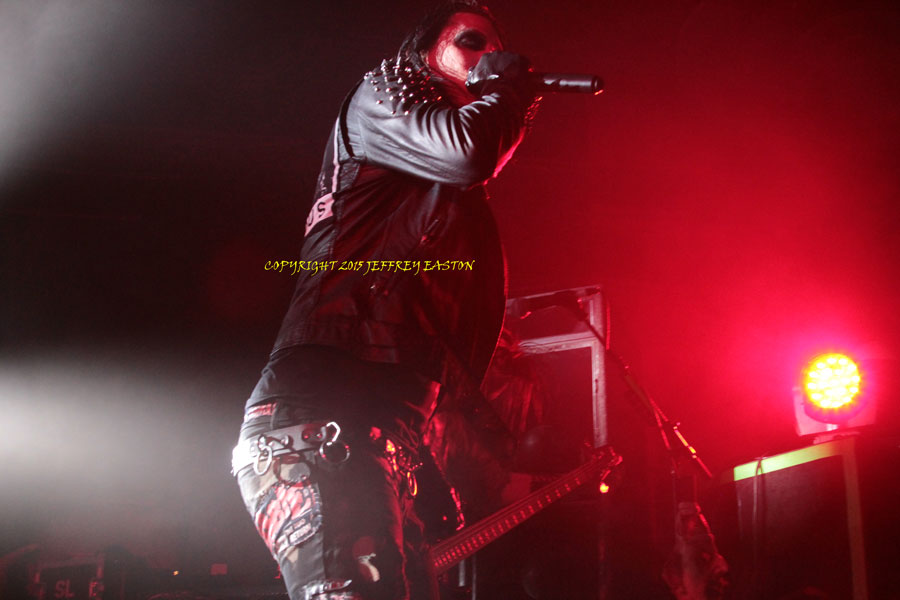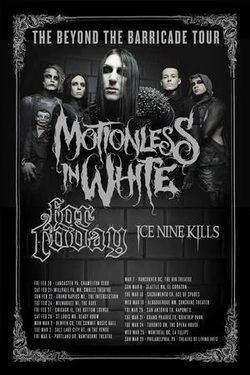 The Beyond The Barricade Tour
Motionless In White/For Today/New Years Day/Ice Nine Kills - Ace Of Spades, Sacramento, CA 3/16
By Jeffrey Easton
By the end of this devastating show I knew exactly why they named this The Beyond The Barricade tour as I witnessed tons of screaming fans breach the barricade trying to avoid security. A band like Motionless In White can stir emotions and live it brings out the beast in their fans, good or not so good. This was a well put together tour as it features the still up and coming Ice Nine Kills who can devastate on their own as well as New Years Day who will one day headline everything with their massive star power and stunning frontwoman Ash Costello. For Today are God's calling card amongst the hardcore set and they brought his message with pummeling power and enough people breaching the barricade to empty the place. And then we have Chris Motionless and his henchmen otherwise known as Motionless In White, one of the most devastating bands on the concert trail as we speak.
Ice Nine Kills are going to be big, they have the music, a growing fan base and every girl screams for Spencer Charnas. Having dropped the immense The Predator Becomes The Prey last year, they have been on the road nonstop in a massive effort to convert everybody that witnesses their show and hears their deafening music. The effort is winning them fans left and right and with one more album, they will be selling out everywhere they play on their own. Predator is a nasty album and it was well represented Connect the Cuts as well as Lets Bury The Hatchet, The Coffin Is Moving as well as Fastest Way To A Girls Heart. I would have liked to have heard their Adele cover as they rip that song a new one but I am sure I will get my chance.
New Years Day is another beast that has a growing legion of fans and will one day be on an even keel fanbase wise with MIW and will command the same respect. Ash Costello is THE consummate frontwoman and can wrap any audience around her finger with just her presence. Her vocals could sing a dictionary and you would be spellbound into disbelief. Out touring in support of the massive EP Epidemic they are converting every fan in the house to one of theirs and there is no turning back. Epidemic is a sick piece of work and to me their best work to date and is nothing but pure venom. With stuff like Defame Me, Let Me Down and Other Side there is not a second of filler and that is just what their show is. Flanked by a sick band that includes the spooky and illustrious Nikki Misery on guitar they banged through Other Side, The Joker, I'm No Good as well as Defame Me, the title track to Epidemic and if that wasn't enough Chris Motionless joined Ash on stage to duet Angel Eyes. If you have not heard of NYD you have been in the woods in a cave and under a rock.
For Today brings power wherever they go and tonight was no exception as they could have brought the roof down with their sound. They come out with a full blown assault and do not let up till the last note rings. For Today have steadily climbed from the unknowns of Iowa to the top of the metalcore heap and there they will stay. Last year they unleashed their career defining album Fight The Silence and all heaven broke loose. Not only was it their best album to date, it contained deeper emotions within the lyrics and the best performances this band has unleashed. Break The Cycle, which features Matty Mullins from Memphis May Fire, summed up the album wholeheartedly with its diversity as well as chest pummeling breakdowns. That track also opened up their set and it did not take long for the crowd to lose its mind. And amongst the fury they continued to tap the new album hard with the Fight The Silence, Molotov as well as Pariah before dipping into the past with Fearless and Seraphim. In between tracks Mattie made sure the fans knew he was on their side and made sure they knew he stood for God and what that meant to him. For Today are leaving a mark and it should be on your soul.
The main course, the sinister feast had arrived and Ace Of Spades fell apart. This is the moment the MIW legion had waited for and they did not waste the moment. The second the band hit the stage the roar was deafening and they soaked it in. Death March opened the proceedings and what followed was pure insanity. Reincarnate is the new album and it is their highwater mark to date. This album is everything they have had the promise to be laid into some sinister grooves. The first single from the album, Reincarnate, was next and the crowd was so loud you could hardly hear the band. Reincarnate is the perfect cut, rolling melody and anger together and making it beyond infectious. Considering that this was their headlining tour they packed a massive set full of darkness to where no one was getting out alive and the fans did not even want to leave when it was over. They packed their set with Reincarnate littering the proceedings with Puppets 3, Everybody Sells Cocaine, Break The Cycle, Generation Lost, Dead As Fuck and returning the favor from earlier by having Ash Costello come out and sing Contemptress with Chris. And as usual the band looked, as to borrow a song title, Dead AS Fuck, dark as always and Ghost went out of his way once again. Every tour sees Devin Sola, aka Ghost, come out as a villain from movies and this time it was the Texas Chainsaw Massacre. These guys pack an arena show featuring props, smoke, amazing lights and image into a club and should be commended for bringing the dark theater atmosphere back to the live show as so many bands are just trying to get by just by showing up. They tapped the back catalog to the fans freakish delight by shredding through Puppets, Abagail as well as the sick closer Devils Night. The fans didn't want to leave, they wanted more but MIW had left them drained. Hails to MIW for packing a great show and having an amazing package for The Beyond The Barricade Tour.
Official MIW Site
Official For Today Site
Official New Years Day Site
Official Ice Nine Kills Site
---