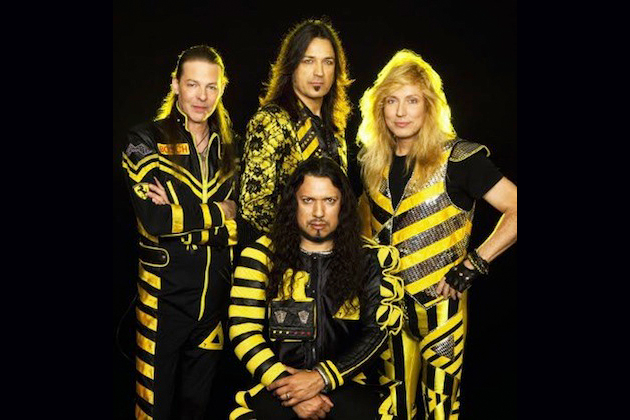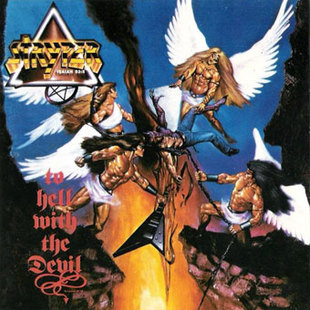 Stryper started their hard rock ministry over 30 years ago with The Yellow And Black Attack but it was To Hell With The Devil that put them solidly on the map and here we are on the 30th anniversary of that landmark album and Stryper are celebrating it. Out on the road with THWTD uniforms from that era and playing THWTD in its entirety, they have rekindled the euphoria of 1986 and have made this a must see tour. Michael Sweet touched base with Exiles to explain why you have to be there to see this landmark event and to catch you up on the world of Stryper.
Interview with Michael Sweet of Stryper
By Jeffrey Easton
Metal Exiles: Stryper has just kicked off the To Hell With the Devil 30th Anniversary tour, how have things started off?
Michael Sweet: Its going, great, people seem to love it so far. We are wearing the old outfits and have the set broken up into two parts, the THWTD set and songs from the other albums for the second half.
Metal Exiles: You guys have toured pretty successfully since you reunited over 15 years ago so what motivated you to do this kind of tour?
Michael: We felt that since this does mark the 30th anniversary of THWTD and it was our biggest album, the most respected and won the most awards so it made sense to go out and celebrate it. Also those outfits from that era are the ones that people remember the most so it made perfect sense to us.
Metal Exiles: Well I could not turn on MTV and not see the video for Free in constant rotation.
Michael: It did go to #1 on MTV as well as Calling On You and Honestly, all big on MTV. It was a great time for us because we were beating out other big bands like Bon Jovi, Motley Crue and Poison, it surprised the industry. We came out of nowhere and surprised the industry.
Metal Exiles: This was your third album and whereas the others did well, this one exploded. What made this one really stick out and touch a nerve with the fans?
Michael: I think this was us coming into our own, we had written, performed and rehearsed for years up to that point but we were honing and perfecting our sound and by the time we went to the studio to record that album the writing came together perfectly.
Metal Exiles: What song on this album still strikes you personally?
Michael: That would be More Than A Man, it is a powerful, anointed song and every time we play that live or I listen to it on the album I feel it all over again. Also Free and Rockin' The World. I tend to favor some of the more obscure less talked about songs and for me it is Rockin' The World.
Metal Exiles: You have some really cool things for the fans on this tour, lets get into that.
Michael: There is an app you can download called The Arc and can vote for the encore from one of six songs and we will come out and perform the winner. We have VIP packages where we give away a one of a kind platinum album to one person and they get a limited edition original vinyl copy of To Hell With The Devil as well.
Metal Exiles: Tell us about The Arc Of Cape Cod that you are supporting.
Michael: The Arc is an organization that deals with special needs people and my wife has been involved with them for a long time. To anybody that donates to that organization we will give them a limited 30th anniversary edition THWTD pocket size Bible. It is a great cause and it is also a great way to get bibles out there to people.
Metal Exiles: That is a good cause and I hope people do support it.
Michael: It is a good cause and we do hope people support it but we have never been a band to push anything on anybody, it is all for a great cause and we just want to help those that are less fortunate than we are.
Metal Exiles: Since we are on the subject of thirty years ago, when THWTD dropped I was in a Christian school and even though you guys were Christian if you talked about Stryper you were in trouble and that was that. Why do you think they were so closed minded about Stryper and not accepted at a lot of churches and other Christian institutions?
Michael: Because we were not the norm and because of that people were fearful of that. They fear the unkown and we came on the scene doing things completely different but 100% based in Christian Faith but we had a different look and presentation. It was so fresh and new and people had no idea on how to accept it. We had picketers and protesters at shows and that became the norm for us. People would eventually read the lyrics, find out what we were about or see a show and find out what we were about and maybe change their minds or sometimes not.
Metal Exiles: Like I said you guys have been touring very well for the last 15 years and your last two albums, Fallen and No More Hell To Pay, are some of your best. What are your thoughts on those albums as compared to the earlier days?
Michael: I'm very proud of those albums and this might upset a few people but I am prouder of those albums than I am of the ones from our heyday. And I say that because I feel as though they are our best records and compared to what we put out in the 80s that is a pretty bold statement. Stryper, to me, are one of the few bands to put out better albums now than in their heyday and it is something to be proud of. There are not a lot of other bands that are doing that.
Metal Exiles: Well you coukd step back from any pressures from the industry and take the time to focus on making a better album.
Michael: We are a band that give a 110% and im not saying others don't but we have a formula that works, we go into the studio we do not mess around, we do not cut corners by writing a few good songs and the rest filler.
Metal Exiles: What do you think fallen did for you as a writer because that is a great piece of work.
Michael: I have been writing a lot lately, Stryper, Sweet/Lynch, solo and I take it as it comes. I only write two or three weeks before we go into the studio because I do not like to have a lot of ideas ready, I do not want 30 or 40 songs sitting around and go in and pick the best, it is a waste of energy. I like to write the next album that way because it is fresh and it comes from the urgency of the album and makes it more exciting. I write every album that way and I write a song every day until I have what we are contracted to record and that's it. To write more than that is a waste of energy, you either know something is good or it isn't. If it is bad or mediocre then why waste your time with it?
Metal Exiles: I used to read that in every interview, how many songs they wrote and what they tossed out, why bother?
Michael: Silliest thing I have ever heard of and bands still do it to this day, labels want 20 songs so they can pick the best and that is such a waste. Just write what is good, do not waste your time on what's bad. If you have the talent to deliver, then you will know what is good or bad and I do not say that egotistically.
Metal Exiles: It has been stated that you guys are taking a hiatus after this tour, do you feel this will be permanent or just for a while to get your thoughts together?
Michael: I do not know and I hope it is not permanent. I know Oz, Rob and myself want to continue doing Stryper and putting out more albums. I do not know what Tim is doing and if you want more info on what he is doing then you have to ask him. I will say this we have taken heat for that statement that was put out and Oz, Rob and I had nothing to do with being forced to take a hiatus, I just want everybody to know that. I know we are going to continue and do what we are called to do.
Metal Exiles: Will you use this hiatus to focus more on your new solo album, One Sided War?
Michael: One Sided War is a very exciting album and the reviews through the roof so I want to go out and tour for that album. There were no plans for me tour and some people have speculated that this hiatus was a plan of mine so I could go out and tour for my solo album and that is just not true. I wanted to do another Stryper album and do more Stryper tours but unfortunately that is how it has worked out, or fortunately, however you look at it. Now since we are doing that I am going to make another Sweet/Lynch album with George and after that I will do some touring with my solo band and hopefully some shows with George as well.
Metal Exiles: You guys started over 30 years ago yet you guys still have a strong devoted following. Are you surprised that they have stayed loyal to Stryper that long?
Michael: I am never surprised about anything these days because I feel we have seen it all. Am I shocked or thrown off sometimes, yes but surprised no. We try really hard to keep our integrity in place and to stay true to who we are and what we are called to do.
With that I know you are compelled to see Stryper on the TWWTD tour and support their causes, do not miss out.
Official Stryper Site
Official Stryper Facebook
BUY THWTHD
BUY Fallen
---