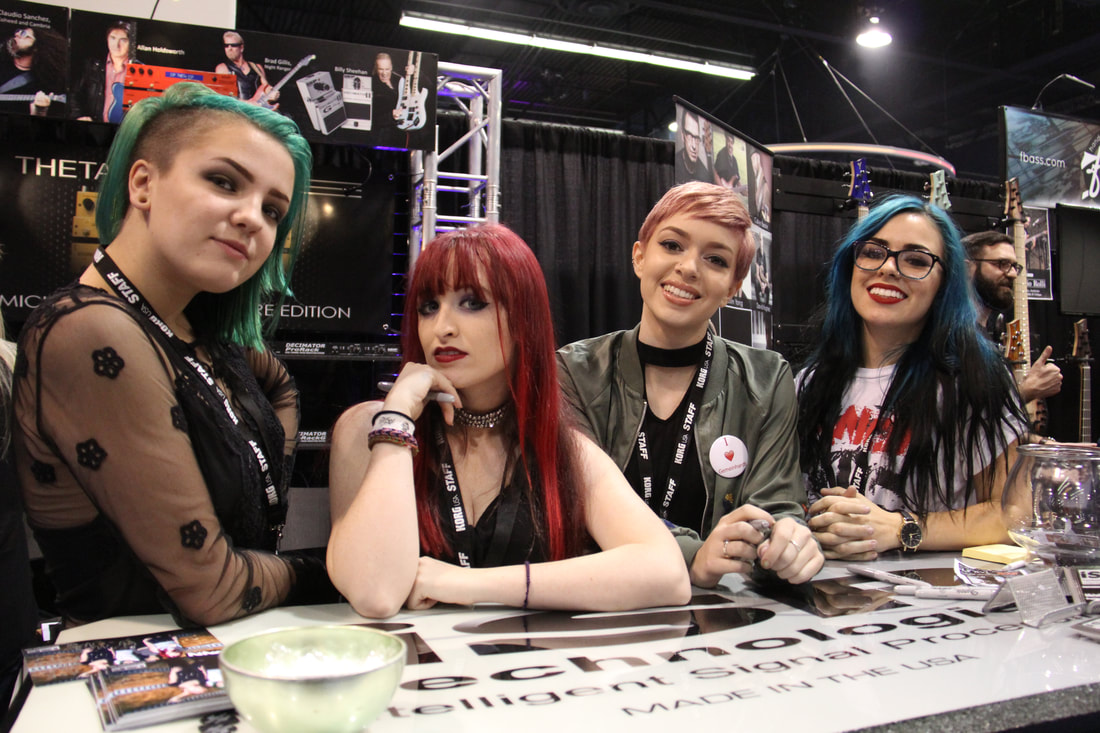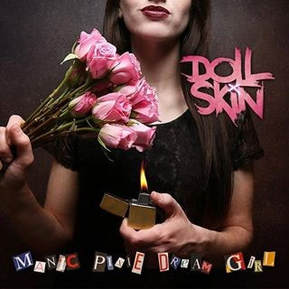 Four remarkably talented young women make up the band Doll Skin. They are lead vocalist, Sydney Dolezal, guitarist, Alex Snowden, bassist, Nicole Rich, and drummer, Meghan Herring. With an age range of 17-20, these girls already pack a hell of a punch with their raw talent. I have been following them since the summer of 2016 when I caught their show here in Macon. This all female band has been chewing at the bits since 2013 when they were founded by David Ellefson of Megadeth, and they've just waiting for their chance to shine. Believe me, they are starting to shine now. I was quite excited to be talking with Meghan, the drummer of Doll Skin today. Drums have always been my favorite instrument in a band, so this was perfect fit for me today. With one album already under their belt, and a new one almost ready for release, it seems that nothing is going to stand in their way. The music world better get ready because Doll Skin isn't playing games. They have a voice and they will be heard.
Interview with Meghan Herring of Doll Skin
Words By: Leslie Elder Rogers
Band Photo by: Jeffrey Easton
Metal Exiles:
I know you all met through The School of Rock but give me a little history about the members that led up to the creation of Doll Skin as we know it.
Meghan:
Well, like you said, we did meet through The School of Rock in Scottsdale. At the time, I was a junior in high school. I wanted to do this Battle of the Bands that my high school was holding. It was a big deal at my high school and I really wanted to do it. Lots of kids at the school take part in it. I got all of my ladies at The School of Rock together and we put together a little short set. It was about 3 songs. We played it and we won the whole thing. It was pretty cool. David Ellefson was the celebrity judge that night for our first game ever. We got pretty lucky.
Metal Exiles:
it's pretty awesome to have someone with that type of background and experience judging. That is truly amazing. I am glad he found you guys.
Obviously you all love to create and perform the same type of music, but what are some of your differences individually?
Meghan:
Oh man. Our differences. If we're all together, we get all yell and scream yeah, that, and this. I think all of us are different enough that we just jell. I know that may sound weird. We all have these really in big personalities. Ha, Nicole said I'm very mean, which is not true. Nicole is this very loud person. She is very bright and vivid. Alex is like the scary, Goth weirdo. She is super talented and dedicated. Sydney is the mom. She knows how to fix everything. Even though she is the youngest of all of us, she is like our mom. It's really great. I just kind of here. Hello.
Metal Exiles:
Since forming in 2013, what obstacles, if any, have you encountered as an all-female band?
Meghan:
We used to ask the fans not to make creepy comments to us on stage. We are young. We did this a lot when we're were on tour with Otep. Some men get really deterred by that. There's a reason we do that though and it's because we have had people act really creepy to us. I've had a few people touch areas that they are not supposed to be touching. Sydney has been hit on by a guy asking her to show him her tits. It was stupid. So when we say that stuff, believe me, there's a reason. Some of us are under 18 and I don't think anyone wants a lawsuit. I'd like to think we are intimidating but I don't know. Probably not.
Metal Exiles:
Maybe you are just a little bit. I think any female in this genre might be a little intimidating. Music in general is all inclusive to me but people tend to feel a little intimidated when a woman kicks ass with this type of music. Female bands always excited me growing up. It was great to see women with so much power on stage.
Metal Exiles:
In your own opinion, what makes Doll Skin relevant in today's fickle musical industry?
Meghan:
Basically, with what is going on in the world right now with certain people, such as those in office, we have a lot to say about current topics, female empowerment, and personal issues. We're not just yelling and screaming at you about how amazing women are but we go through a wide variety of topics. We love being in this band and when we hear that girls are inspired, that is the main reason we do this. It's for them. For women to feel empowered because of us, that is amazing. This new record, people are going to take it and go with it. I'm just so excited.
Metal Exiles:
David Ellefson is extremely passionate and driven. How dis his vision aid to the creation of your debut album "In Your Face"?
Meghan:
David produced that album. We had this group of songs that we showed to him. He loved them and said let's do it. People would ask us if he helped write the songs but he did not. He helped us by letting us know that things could be added here and there. His ideas were great. He helped give us more of a fearless attitude. When you're just starting as a band, it really helps to have him by your side. He's so fearless. He is this wonderful manager and man and we love him.
Metal Exiles:
Discussing writing, is there someone in the band that does most of the writing or do you all collaborate together and put your input in?
Meghan:
It is a big cooperative effort music wise and melody wise. I am the one who writes all of the lyrics. The girls help me come up with topics for the songs and then I basically right all the lyrics to those songs. Everyone else helps form the songs. Some form really quickly. Some take a period of weeks. You can never tell. It's a wonderful adventure and we've gotten really close. Writing new songs has gotten easier for us.
Metal Exiles:
Tell me about your experience with producer/mixer Evan Rodaniche and his contribution to your upcoming album?
Meghan:
Evan it is a genius and we love him more than life itself. We went to record with him at his studio and LA. He gave this album the life it need. He made it sound like this big, beautiful, bright, sonic, aggressive...everything that it needed. If it weren't for him, this album probably would not be in the place that we want it to be. Everything sounds so full and so professional and we just couldn't have picked a better person to record with. He is the best ever. Cage 9 is amazing. He has a dog that is very cute. There's that.
Metal Exiles:
How did you guys get hooked up with him?
Meghan:
We got hooked up with Evan through David. They'd been talking and I guess he was interested in us so we went out to California and gave him a shot and we were so excited. It just clicked automatically.
Meta Exiles:
Your music started off more on the punk side but seemed to leaning a little more to the rock edge but when I heard the new song, "Shut Up (you miss me), I heard that punk shining through again. Is this intentional and if so, what helps you make your decision as far as sound and direction for each song?
Meghan:
What we would do is just say, hey we wanna' write a punk song and then it wouldn't sound punk at all. Then we'd write another song that was supposed to sound like something else and it would end up sounding really punk. Basically our style is really diverse. We like to travel the rock map but punk is closest to our hearts so it's natural for us to get into that niche'. We have this punk attitude and write with the punk attitude and that's really fun for us. It makes us really happy when people tell us we're really punk. We love it.
Metal Exiles:
Now that you have your debut album under your belt and your sophomore album "Manic Pixie Dream Girl" is about to be released, what is your current state of mind as far as the direction you are heading as a band?
Meghan:
Hopefully upwards. With this Warped Tour thing going on, hopefully that should launch us to a whole new level. We feel that this new album should help with that as well. We are so proud of this new album and all of the songs on it. We feel like every single song on it is as strong as the next. I could be very over confident. It could be total crap but we're very proud of it and that's what matters.
Metal Exiles:
2016 was a tour heavy year for you and it looks like 2017 is headed in that same direction with your recent headlining tour. Now you are about to embark on the Vans Warped Tour alongside many great bands. How does it feel to be a part of such an epic festival (even though you won't be on the Atlanta tour so I won't see you)?
Meghan:
I was so sad about that. We were only doing about 9 days and there were only two more days in between. I wanted to play in Atlanta and I wanted to see my grandma but we couldn't. We'd love to play the whole tour…maybe next year.
Metal Exiles:
How does it feel to be part of such an epic festival?
Meghan:
We actually had no idea that this was even an option this year. This blows my mind but Kevin Lyman wanted us on Warped Tour. Through Alt Press and Warped Tour, everyone was talking so we scored a spot. We were freaking out when we found out. We've all been going to Warped Tour for years. I've been four times I think. Sydney has been going a lot too. Everyone in this group has so we are all pretty excited. We're going to be back in like a camp again, with Fire from the Gods. We're so excited about being on tour with them again. I think they were trying to surprise us about being on tour with us again. Sydney said they were trying to surprise me. That didn't work. The secret is out. We love them so much.
Metal Exiles:
In the past you've toured with the amazing John 5, Otep, Lacey Sturm, Fire from the Gods, The freaking Dead Kennedys, and HellYeah, and have shared the same stage as Escape the Fate, FFDP, Seether, and Halestorm to name a few others. These are very successful bands that I am sure have helped you with advice or strategies along the way. What are some of the things have you learned from touring with bands who have the experience that some of these guys have under their belt and are there any specific bonding moments to speak of?
Meghan:
We have toured with so many bands and we are so very lucky. A little tidbit that happened that was funny…we'd just started touring, we went on tour with Metal Allegiance which is David Ellefson's big all-star band. They had Troy from Mastodon and he would be talking to Sydney and giving her relationship advice. It was funny because this was MASTODON. These guys were terrifying but so awesome and giving relationship advice. Troy Sanders is like the sweetest little flower in the whole world. He is so sweet and so gentle. Touring with Fire from the Gods helped us get a lot tougher and more seasoned. Touring with Lacey Sturm from Flyleaf taught Sydney how to scream. One of the top bands touring with us though was this band called Evil Engine, from Chicago. They taught us how to be fearless and more punk and outspoken and how to defend ourselves for anything that comes our way. They've inspired us in this huge level. I feel like more people need to know about Evil Engine. They're so punk and grunge and they're so awesome. We've been inspired by a lot of amazing people. We are so lucky.
Metal Exiles:
I saw you guys last year in Macon, my hometown, and your show was absolutely awesome. Otep was the headliner on that tour, but I was there to see you guys and I was blown away. Knowing that you are all so young and so new to the music industry, I was surprised with how seasoned your stage presence was. What cities have been the most receptive to you so far?
Meghan:
I would say Seattle and California. People on the West Coast love us. We have a big following in Wisconsin. Whenever we tour, we have to play around three shows there. It's so packed and so awesome. Also, Florida, because we did the big Shiprock tour so everyone from that area in Florida loves us. It's really cool. We had a big turnout in Fort Worth one time and also Chicago. So yeah, all of those places seem to like us a lot.
Metal Exiles:
Who would you like to see Doll Skin tour with in the future?
Meghan:
Well of course Evil Engine because we love them and Fire from the Gods because we love them too. My dream would be to tour with Refused because they're one of my most favorite bands ever and they're a Swedish punk band. I hope I didn't get that wrong but they're my favorite punk band. They're fantastic. I'd like to tour with Paramore even though I know that's probably impossible, and Nothing More. We are always talking about what Nothing More is doing. Also would like to tour with The Used.
Metal Exiles:
Of the songs on the new album, do you have a favorite?
Meghan:
My favorites are tied with two. One is the second track on the album called "Daughter". It's about one of my favorite movies called
Aliens
. The one that is tied with it is "Punch a Nazi". That one is so fun to play. Whenever we play it live, it goes over tremendously. People flip over that song.
Metal Exiles:
Well I want to thank you for your time today and I have to also thank you for the way you all handle yourselves on stage. You have such chemistry and the way you smirk and play off of each other gives the fans an unbelievable show. You just get along so well on stage without any noticeable weirdness.
Meghan:
Believe me, there is weirdness. You just don't see it. We are all best friends first and musicians second. If we didn't treat each other like best friends then our music would definitely suffer. The one stage show would be so much more boring.
Band Site @
http://www.dollskinband.com/index.php
YouTube @
https://www.youtube.com/user/dsrich
Facebook @
https://www.facebook.com/dollskinband/
Twitter @
https://twitter.com/dollskinband
Instagram @
https://instagram.com/dollskinband/
---