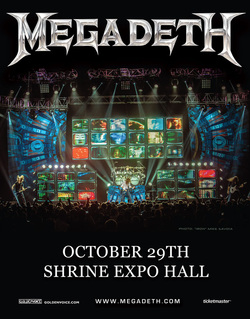 Megadeth – Shrine Expo Hall, Los Angeles, CA 10/13
By John Knowles
Los Angeles fans were given a very special treat on Tuesday night, October 29th, when Megadeth graced the Shrine Expo Hall for a very special and exclusive "evening with" performance. They brought with them their momentum from a recent South American Tour with Black Sabbath, and it was evident that the boys were happy to be home, back to where it all started 30 long years ago. Tuesday also marked the release date of David Ellefson's new autobiography entitled,
My Life With Deth
(see interview with Ellefson)
, a powerful and inspiring read which Mr. Mustaine summarized as "being about how [David] put up with me for the last 30 years."
Fans nearly wrapped completely around the Shrine Auditorium as they prepared for door opening at 7:30 sharp, and it was very evident that these metal heads from all over Southern California were hungry for Megadeth! By show time the venue was by no means packed, but this could have been due to the simple fact that the Auditorium has a very large capacity, and this show was rather unexpectedly announced about two weeks ago. What is clear for this writer's perspective is just how lively and pumped this crowd was. There was still a very large amount of people, and that's saying a lot, again given the short notice fans had to purchase tickets, and the fact that it was a Tuesday night. As a fan who saw these guys towards the late 90s and into the early 2000's before the disbanding, and even shortly after Mustaine reemerged with his new Megadeth, it is very evident that Megadeth is bigger now than they have been in years. The band has found a way to really attract a younger fan base who weren't even alive for the release of
Countdown to Extinction
, while managing to attract the old fans as well. A very diverse crowd was present, all united together for a night of great heavy metal from one of the genre's pioneers.
With no opening act the crowd grew hungrier by the minute as the announced set time approached. Even the guitar tech who wondered on stage seemed to be applauded louder than some headlining bands I've seen lately. Anticipation loomed towards the 9 o'clock hour when Megadeth finally hit the stage and ripped right into "Hanger 18." I don't recall ever seeing these guys more animated on stage, as the three axe slingers in the band constantly moved from one side to the other. Even Mustaine took the opportunity to sing from all three mics on stage throughout the night. Wasting no time, the band followed "Hanger" with "Wake Up Dead," which really got the crowd going crazy. I don't know what it is about bands playing some of their earliest material that really motivates a crowd, but these guys certainly know how to appease their die-hards.
Earlier in the day Ellefson did a book signing for
My Life With Deth
and he commented that for the set list, Mustaine and he texted back and forth about the song choices. Mustaine apparently said that the set list needed to be "fun for the fans, and fun for us to play." The boys must have met that goal, because they looked really excited to be performing for their L.A. fans.
"In My Darkest Hour" was the third song, and the first time I really noticed the recent drop-tuning the band has been using. Only a whole step, but nevertheless it was really noticeable to be me on the intro of this song. You get really used to hearing the opening arpeggio chord sequence in a certain key, and to hear it down a whole step was very interesting. Having said that, the songs still sounded great, and the tuning was barely noticeable after a while. It obviously was a choice the band made to aid the vocals, and benefits Chris Broderick and David Ellefson performing the backing vocals just as much as it does Mustaine. It was very cool to hear both David and Chris in such a prominent backing vocal role, and really added to each song.
"Kingmaker" was the only "new" song of the night, and really stood up well against the older material. "Sweating Bullets" kept things moving with the old school fans, and it was at this time that I really noticed the amazing video displays the band has set up. With three large screens to backlight the stage their overall visual aspect of the show was impressive. The "Sweating Bullets" video was a cool play on the original video. Next, Dave announced a song that has not been played live in a very long time. The atomic bomb effect led right into the signature tremolo picked opening of "Set the World Afire." The wide open venue made for huge mosh pit area, and this song really got the fans moving! The band sounded amazing as they ripped through an old classic. By this time in the show Broderick had played the solos of Jeff Young twice, as well as a solo originally performed by Chris Poland and Marty Friedman. Broderick is an immensely talented guitarist, but his true value to Megadeth comes in not only his ability to write amazing solos of his own, but to perform the solos of now numerous other fine guitarists. He perfectly matches the nuances of the former players, and adds a beautiful finesse of his own.
Intensity slowed down a bit as the band played through such favorites as "A Tout Le Monde" and "Trust," but these songs really allowed the band to show off the diversity of their catalogue. The fans loved every second of it, but were fully ready for a return to thrash on "Tornado of Souls" and "Symphony of Destruction." Speaking of "Symphony," I had recently check out the 20th anniversary
Countdown
DVD performance, and I must say that to fully appreciate the intensity, and energy of a Megadeth show you need to see them first hand. The DVD sounds great, but when you see these guys live it is a whole other ballgame.
The band finished out the night with the obligatory performances of "Peace Sells" and "Holy Wars…The Punishment Due." "Holy Wars" was the encore performance of the night, and I am not sure if anyone else felt it, but I'd swear the volume was kicked up a few decibels for that one. The crowd went nuts for this song, and were left desperate for more before the band took their bows and walked off. This was an amazing show, and one fans should never forget. Megadeth will be hitting the road in the U.S. on a full tour very soon, and will once again stop off near L.A. to play for this group of die-hards. Be sure to experience them for yourself when they play at a city near you. You don't want to miss it, because these guys are playing better than ever!
BUY Super Collider!
Official Megadeth Site!
---