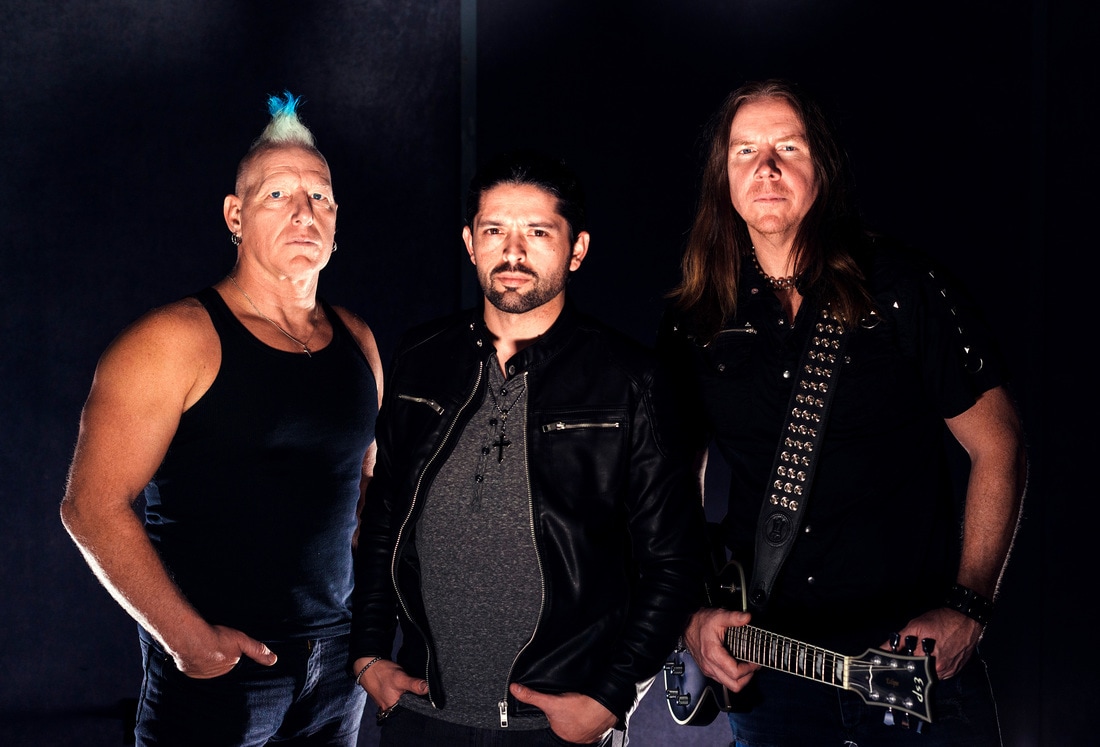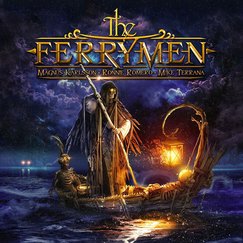 Magnus Karlsson is one of the great virtuoso power metal guitarists in the world today, and one of the more prolific songwriters on the European metal scene. Magnus serves as a guitarist and one of the main songwriters for the German power metal band
Primal Fear
. He is well known as the creative force behind the first three Allen Lande albums, with singers Russell Allen (Symphony X) and Jorn Lande (Masterplan, Jorn). He has also recorded two solo albums under the titles
Freefall
and
Kingdom of Rock
, where along with playing every instrument other than the drums, he performs lead vocals with several prominent rock and metal singers. Magnus is truly a one of a kind talent and has a unique way of combing as he puts it, a modern power metal sound, with the sound of classic heavy metal. From this fans perspective, his new project titled The Ferrymen which features vocalist Ronnie Romero (Rainbow, Lords of Black) and drummer Mike Terrana (Masterplan, Tarja), is one of the strongest releases of his career. A fair way to describe this new band is a modern power metal Rainbow, and this new record is sure to be considered by many as one of the highlights in the metal world for 2017. Metal Exiles had the opportunity to speak to Magnus about this great new project, and it appears at least a possibility, that we could see more albums from this metal super group in the years ahead.
An interview with Magnus Karlsson of The Ferrymen.
By Michael Knowles
Metal Exiles: Love this new project think Ronnie Romero is a perfect fit for your music, how did this project come about, was this your vision, or an idea brought to you by Frontiers Records?
Magnus Karlsson: Yea, usually I get a phone call or an email from Frontiers. I was just finishing my
Freefall Kingdom of Rock
album. They asked me if I wanted to do something new, make a new album with Ronnie, and I just heard him on YouTube singing a Deep Purple cover and I thought he was a great singer, and I said yes right away. I mean if it's a good singer it's so easy for me to work. I know it will be easy and fun, so that means a lot if I like the singer. So, I don't have to think about it I just say yes right away.
Metal Exiles: Of course, you've had the opportunity to work with some of the best metal singers in the world, what is it about Ronnie that makes him unique from perhaps the other singers you've worked with in the past?
Magnus: Yea they are all unique but I have to say that it's hard to explain as he has something that I really like. When I write songs I hear his voice in my head at the same time. I'm pretty sure that when I have a melody, I'm pretty sure how he will sing it so that makes it easy. I know already from the beginning if I play on the piano or on the guitar or whatever, oh this will be great for him, this will sound good, so then it is easier for me to get a good result. And one thing that is special with Ronnie is he's extremely fast too. I talked to him, we met during the video shoot and he said he never warms up or anything and he never took any singing lessons, he just sings.
Metal Exiles: Was this album collaborative at all between Ronnie and yourself, or did you basically handle all the writing including lyrics and melodies?
Magnus: I did all the writing, lyrics and music, but I told him if he wants to change anything he could do it, but he didn't want to change anything. Maybe added some extra harmonies between parts or something, but not the basic melodies.
Metal Exiles: I Feel like this album is consistently heavier than most albums you've done in the past, is that a fair assessment, and how would describe the differences between this album and some of your previous releases?
Magnus: Yea I agree it's a bit heavier than last year's album. I don't know if you remember or you heard my first band
Last Tribe
, this is more in that direction, a little more power metal and a bit more double kick drums. That's also because of his voice I think the style is a mix between modern power metal and old school Dio metal. Some of the songs are old school riffs and some of the songs sound a bit more like new power metal. It's also in the lyrics they aren't that happy, that I usually write. I think it's more dark and about death and yea the Ferryman thing.
Metal Exiles: One of my favorite songs is the track Ferryman, it is just an awesome symphonic heavy metal song with a great chorus that really sparks the imagination. Can you talk about how that song came together?
Magnus: Yea you mention symphonic, I really like to use a lot of those arrangements in the songs. Makes me think of Nightwish or that kind of bombastic sound. That's hard because if you do it too bombastic you can't listen to it, it's too much. So, it's always a balance and in some parts of the song you have to be careful and remove stuff so it's not 100% with everything all the time because then you won't like it, it will be too much for your ears. I think a lot about the arrangement, first I have a melody that I like, a chorus that I like, maybe a riff, and that's the fast thing, I can make that in a couple of minutes sometimes. Then the arrangement, I can work on that for weeks and remove stuff and add stuff, looking for the right sound. I always collect new sounds like string libraries and samples that sound good, and the more you have the longer it takes. You have to look for it, sometimes I can spend a whole day just looking for a sound. The Ferrymen is a good example of that. Also, one thing that is maybe special about that song, I know that Ronnie thought about it too; in the chorus he's singing over a melody, and that's something he's not used to, but he really liked it. The instrument is mixed with the vocals in a cool way.
Metal Exiles: Is there a lyrical theme to the album? It also feels like the music is arranged almost like a concept record, is that the case at all?
Magnus: It's not a concept but they are similar in that they are all a bit darker, they are about what happens after you die and that sort of thing. Not all the lyrics but a lot of the lyrics are in that, have that kind of vibe but it's not a theme, it's not a story.
Metal Exiles: Another one of my favorite tracks on the album is the song Still Standing Up, has a very powerful guitar intro, vocally starts out with a very Dio esque feel, but then goes into the soaring power metal chorus, can you talk about the writing and recording of that song?
Magnus: For me that's one of those power metal songs that it's a typical power metal sound in the chorus with the double kick and the melody. I really like that style of like Masterplan and the old Helloween stuff, that's really cool. Masterplan also had the link between the old school riff and the new power metal that I really like. Sometimes if it's too much power metal all the time, when it's just really fast, I don't like it really. I like to mix it up and have some space for the melody. It's also a mixing thing, if you do it fast too much, you have to make the drums sound smaller, it sounds smaller, and I like to have big drums, and to have that you can't play fast all the time.
Metal Exiles: Of course this album features a monster of a metal drummer Mike Terrana, can you talk about what he brought to the overall sound and feel of this record?
Magnus: Yea, from the start we didn't have a drummer, I had some names and some ideas, but I asked Ronnie what's your dream drummer if you could choose anyone, and he said Mike Terrana. I said let's ask him and see if he could do it, and he could and he liked the music too which was cool. Yea that was interesting because I think this was the first time ever he recorded his drums on his own with some mics in his house and it came out really cool. When I made the demos, I programmed all the drums and I put a lot of work into it so it will sound really good because we are not in the same room when we record so I wanted the demos to almost sound like the album. I told Mike you don't have to copy my programming, I want your style, and he really did. So, when he recorded his drums and I got them back from him, I erased all my guitars and then I recorded them again to his drums, so it will sound like a real band and like we are playing together.
Metal Exiles: I Feel you are one of the most unique metal guitar players, definitely have your own very distinct sound and playing style, who would you say are some of your biggest guitar influences?
Magnus: I usually say Steve Vai, Steve Morse also because he plays blue grass stuff and I really like that. I play a lot of folk music myself. I listen a lot to Allan Holdsworth and that's not metal at all but it's very legato, it sounds like he is playing a wind instrument or something but it's guitar. I like that legato playing that you can hear, I think Michael Romeo in Symphony X has that style, it's a great flow that I really like. And when I play I have rule for myself that I try to follow. Every solo that I make, there should be a part in it that you can sing along or that you can remember so that it is not shred all the time. I like to play fast too but I think the melodies are important. And the sound, I can spend days just tweaking you know guitar sounds to get the right vibe.
Metal Exiles: Do you anticipate recording more albums with this line up, would definitely be cool to get a trio of albums like you did with Allen/Lande?
Magnus: Yea, I think so, the album is released next week but I can already feel the vibe now, I think it will go really well. I've done so many albums and it's not always from the reviews or anything, but I have a feeling it will be ok. So, that's good for the record company then I know they want to have another album (laughs). And I know the other guys want to do it too so I wouldn't be surprised if we make more albums, and even try and play live with it. I think we all want to do it and of course we have to get a bass player but that's not a problem. I have a long list of bass players that asked me (laughs). You know we all have a lot of bands and stuff so, but I really hope so. You know I play in Primal Fear but I'm not touring with them at the moment because it's going really well for Primal Fear and that's good but the tour is getting longer and longer, and they tour forever now. I really can't do it because I have kids and I don't want to be away for 6 months, but if I had a smaller project like The Ferrymen, maybe we could do a couple of weeks and some festivals that would be cool.
Official Ferrymen Site
BUY The Ferrymen
---