Long Beach Comic Con 2009

1st Annual Long Beach Comic Con 2009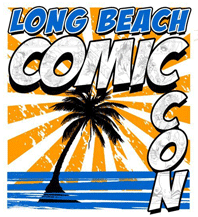 By Jessica Bohatch-Easton
Photos by Jeffrey Easton
October 2nd – 4th, 2009 introduced a spectacular event in Long Beach, CA – Long Beach Comic Con (LBCC). Finally, those of us in Southern California have our own Comic Con, without having to drive to San Diego for San Diego Comic Con or wonder when one of the intermittent touring comic conventions is going to come to Los Angeles or Anaheim.
Stan Lee was at LBCC and he looks like someone's cool grandfather that everyone wants to hang out with, so it was nice to see him at the convention. He cut the ribbon at the opening ceremony and was given a key to the city of Long Beach. October 2nd was also named Stan Lee Day.

LBCC was a nice change of pace from a few conventions that I have recently attended, we could leave if needed in order to eat outside of the convention or eat at a few eateries inside of the convention center that had better than the standard hamburgers and fries fare that is usually inside many conventions. If I am going to pay a lot to eat something, I want it to be good food – is that too much to ask of other conventions? Please do not ask me about the tacos and meat at NAMM...
Checking in and entering the convention went smoothly, the people who work at the convention center and for LBCC knew how to run a tight ship and we got in quickly and so did most of the people in line and in the lobby. Since this was the first year for LBCC, I was impressed that they did not have any major foul ups or problems with checking people in, as one would expect for a first time show.
LBCC was filled with artists drawing and presenting their comic books, art, manga, toys, figurines, movies, books, costumes, and love of fantasy, science fiction, horror, and entertainment. LBCC did not disappoint in its first year with the amount of attractions, guests, artists, and merchandise. Like most comic conventions, the LBCC followed similar formulas, with sections for artists, an autograph alley, video game section, merchandise booths scattered around, comic publishers, movie previews, and various other any industry related businesses and people in many booths.
Of course, another draw of any comic convention is people watching. What would a comic convention be without people dressing up in various characters? It would not be a comic convention! Costumes ranged from Star Wars (of course), Star Trek, Batman, Spiderman, Japanese anime, to Disney characters and horror costumes. The 501st Stormtrooper Legion walked around and took pictures with people and I believe that most of the major and 'bad' Star Wars characters were represented at the show. My son had his picture taken with every character and his day was made.
Upstairs, LBCC had many rooms set up for meet and greets, question and answer sessions, and movie showings. Robot Chicken creators, Berkeley Breathed, Thomas Jane (premiering two movies: Dark Country and The Mist), and Stan Lee. There were also artist sessions and workshops for those interested in becoming a comic artist or writer. The Nintendo center, Jim Lee booth, Jeff Loeb, BOOM Studios, almost recluse Berkeley Breathed book signing, J. Scott Campbell, Seth Green, Mouse Guard series, DC Comics, IDW, Top Cow, Aspen, and many others were popular attractions at the convention.
Personally, I felt that LBCC did a great job at attracting what comic conventioneers want to see at a convention, yet at the same time there was little junk/booths in attendance that do not cater to comic convention enthusiasts. Thankfully, the booths full of overblown playboy-type women selling pictures when they have nothing to do with anything even remotely sci-fi, fantasy, arty, horror, and comicky were not in great attendance and that is a godsend. My question to other conventions: Do some conventions think that their only attendees are going to be men who live in their mother's basements and have never seen boobs before? Seriously, what does a nude 'model' who has not been in anything remotely close to a comic book, movie, or art belong at a comic convention? I have never understood this, it would be as if the cast of Gossip Girl or Beverly Hills 90210 (shows I cannot watch due the urge to vomit and change the channel) had panels at comic conventions - nothing remotely science fiction or comic about those shows. Wait, I see it now........

The amount of people in attendance, over 6300, and the different people of all ages and of both sexes shows how far conventions have grown and become part of many different people's lives. LBCC was a great way to find new authors, comic series, movies, and artists. I have already experienced new stories, art, and authors because of LBCC - what a great way to spend the weekend!
www.longbeachcomiccon.com
---