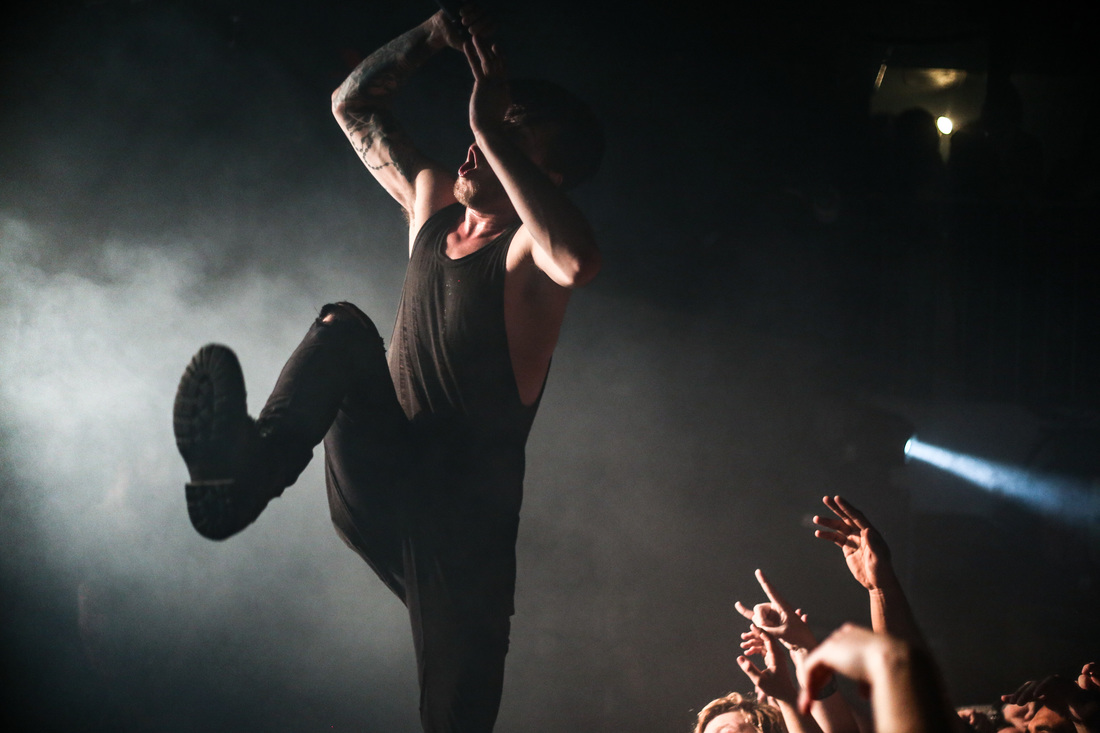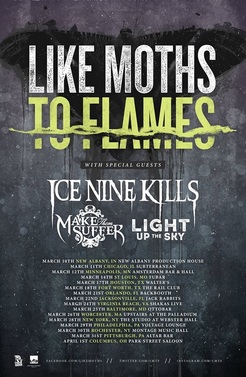 Like Moths To Flames/Ice Nine Kills/Light Up The Sky/Convictions – The Palladium, Worcester, MA 4/16
By Rickelle Tavares
This show unlike any I've attended before, I assumed I knew what to expect. Unfortunately
I couldn't have been more wrong. The Palladium was packed early even before any band
had even touched the stage. Starting the night off was Convictions and I absolutely love everything they've been putting out. Recently they announced they're
releasing a new CD which is extremely anticipated, they have the kind of sound that can
get you hooked just off of one song. Once they took the stage the room that was already
packed got tighter, everyone was fighting to get close to the stage. Their stage presence honestly speaks for them as a whole, everyone was so energetic and involved in the crowd, at one point during the show front man Michael Felker got on top of someone's shoulders and continued to preform the rest of the song on his shoulders in the pit. I'd never seen something like that before and it was honestly so sick to be able to watch, not only that but he gave so many fans the opportunity that we all love, to get to sing along with our favorite artists. Convictions as a band are making such a impact in the music scene and watching them live just makes you like them even more.
Up next was Light Up The Sky, there's not a word in my vocabulary to sum them up to be honest. I haven't heard of them until this show was announced so I did a little listening before the concert came up and I was consumed by their music, it's so heavy but you also want to dance to it. Once they hit the stage it was just a pure injection of energy into the room, it seemed to flow right off the stage into the crowd. Their performance was actually really fun to watch, they all were playing and singing next to each other and you could tell they were just genuinely happy doing something they loved. I wasn't surprised to see how many people knew their songs and were screaming along to every single word. Once they played their fairly new song Breather off their album Nightlife which was just recently released, the pits seemed to get more intense with the fast paced beat and heavy breakdown. All in all I definitely would see them again, bands that can electrify a room are extremely rare.
Now coming up next were some of my guys in the music scene, Ice Nine Kills. Mind you, this show was sold out by this point and there was no room to move, everyone that was in the back just enjoying the music had made their way to the front to see INK. Before coming out the fog machine started pumping and they were playing some very creepy music which is actually expected from this band. They inspired their new album Every Trick In The Book off of multiple twisted and dark tales, it was pure genius and something only they could pull off and execute perfectly. Once they hit the stage it turned into pure chaos and it was absolutely magnificent, I had never seen them live before but it was so much more than just a concert when they came on. It was almost like Spencer's soul left his body and he was taken over by this insane mad man, I didn't know what to expect but I was blown away. By the time Me Myself & Hyde came on everyone cooled off to sing the intro which shows off some of Spencer's incredible vocal skills, but jumps right into the heaviness that only INK can deliver. One after another crowd surfers came just for a chance to touch his hand and he took the time to get to all of them, the pits turned into one enormous pit and everyone was throwing down. Now something unexpected happened, Spencer took a moment before the next song to tell us about the song Jonathan which he wrote inspired by someone who was actually present in the crowd. He took a moment to thank him for everything and for coming out and soon the entire room cheered him on it was such an incredible moment to witness and be apart of. Ice Nine Kills is such a good band lyrically and instrumentally, they are in touch with their fans and they know how to put on a show.
Now the room was pumped, there was actually steam rising from everyone's body because of how crazy things were getting. Personally I am a huge fan of Like Moths To Flames, I had a chance to see them live in the past and it only took that one show for me to buy every album they had out. You can throw on any of their songs and just let it consume you, it's not like every album is the same either each one has its own uniqueness. They're really big in the music scene and it's because they deserve it, they don't just perform on stage, the music and the lyrics strike an emotional cord in you and you can't help but scream along with them.
It seemed like we were chanting "Like Moths To Flames" for an eternity before they came out on stage. As soon as they opened with Bury Your Pain, it was almost a domino effect, anyone that was into the crowd was pushed forward like a wave so the pit could consume 80% of the room. It wasn't just people in the pits going nuts, even the people upstairs on the balcony were leaning over and singing every single word along with them! Once the intro to my all time favorite song by them, The Worst In Me, off of their album When We Don't Exist started everyone screamed with excitement. Now don't get me wrong I absolutely love this venue but I have never been so afraid in my life that the floor was going to collapse, every single solitary person was jumping as high as they could to the beat and it was just so astonishing. Out of all the shows I've attended I've never in my life wanted to put my camera down and join everyone in the crowd. Like Moths To Flames had such an incredible presence they seemed to play as hard and heavy as their music but you could still catch a glimpse of them looking out into the room and just smiling. When the entire band actually loves what they do it shows and that comes out in their music, there isn't a single thing I can say I dislike about them. This I will probably remember forever, they were playing their really heavy song GNF and I put my camera down and I just watched everyone singing along with Chris, he went to the edge of the stage and held the mic over the crowd and everyone pulled in close and sang in unison. There were so many aspects of this show that I've never seen before, but Like Moths To Flames just strikes a cord and it relates to everyone. All in all the line up was flawless, each band contributed to such an unforgettable show.
Official Like Moths To Flames Site
Official Ice Nine Kills Site
Official Light Up The Sky Site
Official Convictions Site
---