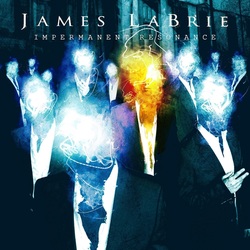 James Labrie –
Impermanent Resonance
– Inside Out
By Michael Knowles
Early last July, Dream Theater vocalist extraordinaire James Labrie explained in an interview with
Metal Music Examiner
in San Antonio Texas, that he and his solo band were working on a follow up to 2010's
Static Impulse
, aiming for a late February release. Just over a year later that moment has finally arrived, and fans of Labrie can rest assured this album was definitely worth the wait. The new record titled
Impermanent Resonance
is the 3rd official James Labrie solo album and 5th overall album collaboration by the nicknamed French connection, consisting of Labrie and keyboardist Matt Guillory. This record features the exact same lineup as
Static Impulse
, so fans should not expect an entirely different sound; however significant strides have been made in the songwriting, most notably melodically, giving the James Labrie band a refreshing new feel. With an album already under their belts, it appears that the familiarity between band mates, as well as the goal of improving upon an amazing record like
Static Impulse
, has allowed this band to produce the best record under the James Labrie moniker.
What stands out right off the bat on
Impermanent Resonance
from a vocal stand point, is the minimal use of the screaming vocal stylings of drummer Peter Wildoer, which was heavily present on
Static Impulse
. At least from this fans perspective that is a considerable plus, as it truly gives James Labrie more of a chance to shine, allowing the album to really blossom melodically, especially on the stand out tracks like "Back on the Ground," "Destined to Burn" and "Lost in the Fire." These songs really demonstrate James' incredibly unique vocal style and unparalleled versatility, due to the huge choruses, hooking melodies, and overall epic feel of the songs.
The tracks "Back on the Ground," and "Lost in the Fire," are examples of the very dynamic structure of the music consistent on the album, as they contain a very mellow string mix or keyboard laden intro, building up to a bombastic guitar riff from Marco Sfogli; which masterfully paves the way to a soaring chorus from Labrie. Very memorable tracks like "Agony," "Slight of Hand," "Amnesia," and "I Got You," contain a very dynamic musical structure of their own, and as is the case in these songs the music breaks down three quarters of the way through to simply a soothing keyboard riff or guitar piece, and then builds back up to the final chorus or a shredding guitar solo. These subtle hooks in the music really keeps the songs gratifying after several listens, and enables
Impermanent Resonance
to truly distance itself from any of the previous James Labrie releases.
What also makes
Impermanent Resonance
such a stand out record is the fact that there are no straight filler songs. Each track is great in its own right, and each song adds a certain special element to the grand scope of the album. "Say You're Still Mine," is the loan sort of ballad on the record, in the realm of the song "Coming Home" from
Static Impulse
, except it kind of evolves into more of a power ballad towards the middle. The song "Letting Go," is one of the more technical sounding songs on the record, especially the chord change from the real heavy verse section, to the much mellower chorus. This song also shows just how phenomenal of a drummer Peter Wildoer is, and why he was considered as a finalist for the Dream Theater drummer auditions. On this track he displays not only unbelievable power, speed, and precision, but also a very technical or virtuoso aspect that makes him so incredibly unique. The final track "I Will Not Break," is without a doubt the heaviest song on the record. This absolute metal head friendly track features a blistering guitar riff; a blast beat drum assault to put lightly, as well as James Labrie's heavier more aggressive vocal style. At the same time, the song still manages to achieve that strong sense of melody, as the anthem like chorus is one that fans will not be able to get out of their heads.
To sum up
Impermanent Resonance
, it is an absolute thrill ride, filled with huge choruses, grabbing melodies, colossal guitar riffs, mesmerizing keyboard licks, clever songwriting, and an aggressively driven drum onslaught. The album is heavy, its poppy, its melodic, and overall just very grabbing. Of course this band is different then say Dream Theater, but that's what is so rewarding about listening to this album, is that fans get to see a whole new side to James Labrie, and can have a new found appreciation for his voice and creative abilities.
Impermanent Resonance
also features world class musicians that are not just great players, but great song writers as well. This latest James Labrie solo release is a must own for fans of Labrie, as well as fans of melodic heavy metal in general.
James LaBrie Official Website
Buy Impermanent Resonance!
---