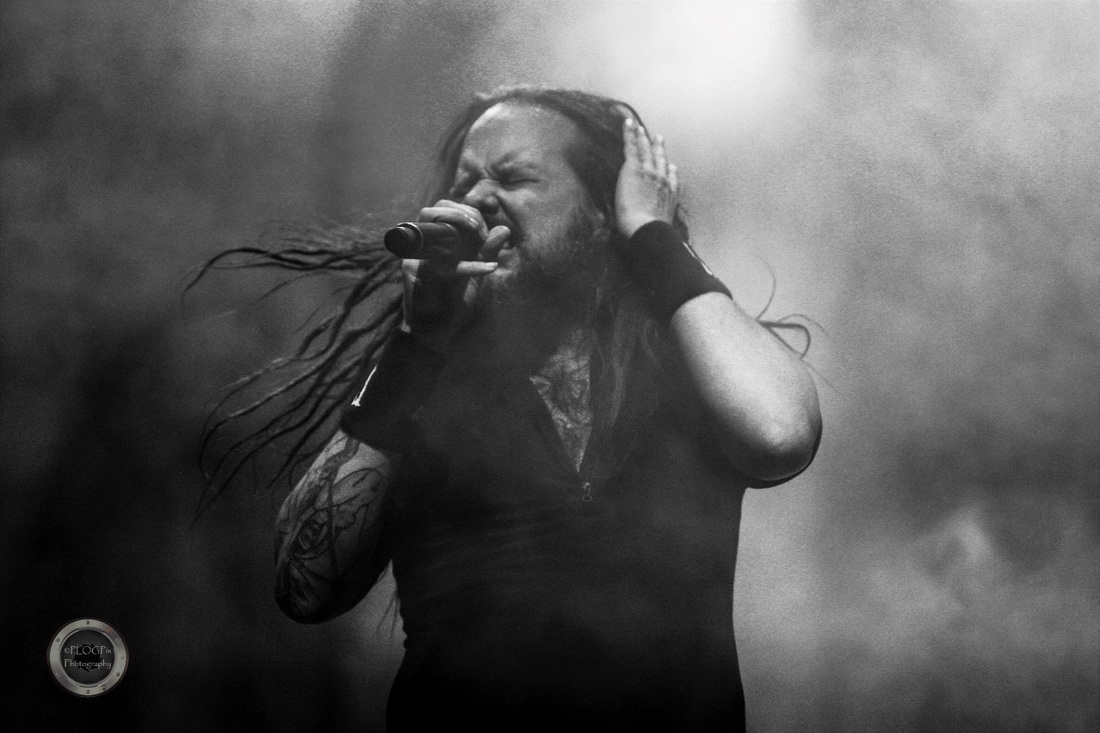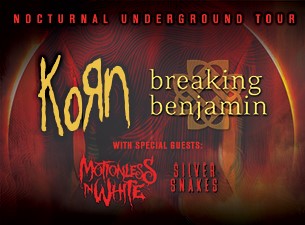 KoЯn/Breaking Benjamin/Motionless In White/Silver Snakes – PNC Music Pavillion,
Charlotte, NC 10/16
By: Leslie Elder Rogers
One of the most incredible lineups this year and I was able to be there to cover it. We had 2 of the most well-known bands co-headlining so this show was destined to be amazing without question. You couldn't flip a coin and find a better heads/tails match than this. The only thing I questioned was why the venue wasn't sold out with a show this anticipated; this big. I feel that the hurricane that was amidst was partly to blame. Even so, thousands of smiling, ecstatic faces with energy for days, lit up the music pavilion ready to rock out with these amazing artists as they gave meticulously spectacular performances.
The openers tonight were Silver Snakes; a band that's been around since 2011. I've only recently been introduced to them and I'm very impressed with what I have heard so far. The band consists of vocalist, Alex Estrada, bassist, Mike Trujillo, guitarist, Jeremiah Bignell, and drummer, Garret Harney. Heavy guitar riffs and vocal strength are only part of what this band brings to the stage. They bring a robust sound echoing that rock music is the soul of many and it truly will never die. Their set tonight allowed us to dive into their new album
Saboteur
as well as some from the prior albums that got them here. It included "Glass", "Charmer", and "Devotion" along with "Red Wolf" and "Electricity". Though the set was short, it packed quite a punch.
Motionless in White was next. What a great band to add to this lineup. They never disappoint. These guys always come at you with power, strength, and overwhelming energy. Chris Motionless is an amazing vocalist. Complimenting him and making it possible for him to do what he does are his amazing band members, Ricky Horror, Josh Balz, Ryan Sitkowski, and Devin "Ghost" Sola. These guys know how to manipulate the stage and arouse the crowd. With their horror, freak show styled costumes and makeup, they give us not only a hellacious tour of their music, but a real show as well. Their set tonight included "Break the Cycle" and "Death March" before an amazing performance of "Contemptress". It led into their absolutely amazing hit, A-M-E-R-I-C-A, which is seemingly one of their most popular songs by far. The crowd was in awe as they screamed and yelled. They are already killing it on radio and the internet with their new song "570", which they sang loud and proud tonight for us all to devour into our souls. It is the lead in song for their upcoming album that should be released early next year. This is no band to ignore. MIW has progressively gained recognition and popularity and it is obvious there is no stopping them. They are driven and motivated to keep pushing out great music; music that the fans consume internally and cannot get enough of. With just over 10 years under their belt, the future for them is limitless. They keep proving this to be true. Fans love them. They love every dark and unusual thing about them. Their personalities on and off stage are admirable. As their set ended tonight, "Reincarnate" blasted through the venue. Their voices loud. The instruments telling the story behind the lyrics without fail. Fan screams engulfed the Pavilion, resonating off the walls with great appreciation. Though this was already an amazing start to the night, it was only about to get better.
Breaking Benjamin…what? This is a band that has had its' trials and turmoil; through sickness and determination, they have come back full-force, showing strong resilience and motivation. Front man, Benjamin Burnley leads this amazing band which also includes, bassist, Aaron Burch, guitarist, Keith Wallen, guitarist, Jason Rauch, and drummer, Shawn Foist. With a history of nothing less than amazing songs on each album to date, their most recent album has propelled them right back to the top; a place they know well and deserve to be. Breaking Benjamin consistently provides music that invigorates the soul and they produce the paths for the journey through our emotions and feelings. These journeys continue to enlighten and strengthen us. As the stage was set up for their appearance, I noticed quickly that there were large, high powered fans placed in the very front, positioned directly toward the microphone. I was hoping it was something to do with the performance itself, but as the show progressed, it seemed to be there for a purpose that revolved around Ben. This was just an observation. The crowd screamed with desire as the band entered the stage and Ben appeared at the mic, holding it tight, ready to hit the first note; the note that would create madness. Screams and shrieks of ecstasy seemed to echo wall to wall in surround sound as they band performed "So Cold", "Angels Fall", and "Sooner or Later" along with more roaring howls during one of my all-time favorites "Polyamorous". I'm certain the fan-girl in my came out quite a bit. The mellow, heart tugging "Ashes of Eden" gives the crowd another deep look into their softer, inner core. Ben's vocal is always outstanding though he does turn over the mic to Keith and Aaron several times throughout the night. It gives us an extra look into the chemistry between these guys and what makes them so amazing together musically. "Breath" was one of their biggest hits and tonight they showed us why again. "Failure" and "Until the End" preceded the huge and highly awarded final songs of the night "I Will Not Bow" and "The Diary of Jane". These songs always invite massive crowd participation. The satisfied look on the faces of each fan is confirmation that BB delivers perfection.
Now it was time to welcome Korn, fronted by Jonathan Davis. They are releasing their 12th album which is a tremendous accomplishment. This is a band who have dealt with drug, alcohol addiction, and abuse on extreme levels. Through renewed faith, they have soared over those hurdles. It has strengthened their relationships. It has broadened their ability to write and interpret their music. The band, consisting of guitarist, James "Munky" Shaffer, bassist, Reginald "Fieldy" Arvizu, guitarist, Brian "Head" Welch, and drummer, Ray Luzier, taunted and teased the crowd from behind the curtain. Through the darkness and the fog, a glimmer of faint shadowy light molded around their bodies outlining each one. The screaming got louder; stronger. The begging persisted. Patience was becoming nonexistent. This crowd was thirsting for Korn to appear. Finally, they did just that and the crowd went freaking nuts. Starting with "Right Now", Jonathan immediately took control. His ability to command the damn stage is unreal. Fieldy played his heart out to the crowd, edging toward the stage and then jumping to the drum stand, strumming that bass like the master that he is. He grins, smirks, and gives a bizarre lip-lifted snarl to visually excite the onlookers. Watching the interaction between the members gives immense value to why everyone loves these guys. So many great songs were played tonight. Jonathan belted out "Here to Stay", and "Rotting in Vain" from the new album
The Serenity of Suffering
. This new album will be just as huge as the preceding releases. "Somebody Someone" and "Coming Undone" were delivered immaculately as the fans grew even more wild. As promised, another song from the new album was introduced. "Insane" is pretty bad ass and validates further why Korn continues to top the charts. There were several circle pits and mosh pits throughout but the venue kept these under control. Fans were franticly swinging their arms and throwing their bodies across the isles as they danced during each and every song. From where I stood, one female security officer was dealing with several fans that could've easily gotten out of hand had she not made an attempt to interact by playing in to their "dance battle in the isle" dancing toward each other and then reversing. It was actually pretty entertaining all on its own. Brian "Head" has a charisma on stage as he plays each chord. Women are crazy about him. Maybe it's the hair, but he dominates on that guitar. Add in Munkys' ability to kick ass and it's apparent that Korn genuinely has the exact guitarists to create the perfect sound. Being a drum fan, I realized even more so tonight as Ray tore up every beat on drums, that he is a truly gifted drummer. I don't know if he gets as much appreciation as he deserves. His hands are quick and his control while perfectly delivering those beats is almost unnatural. "Y'all Want a Single", and fan favorite, as well as my own "Shoots and Ladders" (which ended with a sampling of "One" by Metallica) aroused the focused crowd. "Blind" and "Good God" seemed to be the exiting songs but we all know you can't leave a show like this without the ever so requested encore. As the crowd yelled, growled, stomped, clapped and begged, the growing force of the sound being created to beg Korn back to the stage was massive. As Jonathan led the band back on, "Falling Away From Me" and "Freak on a Leash" were delivered in grand form. These guys do not seem to tire on stage. Each song was played and sung with as much enthusiasm and strength as the previous one. Being able to attend a concert with such amazing talent was an honor. It was, by far, one of the most entertaining shows I've been to.
Band websites:
http://www.yearofthesnakes.com
http://www.motionlessinwhite.net
https://breakingbenjamin.com
http://www.korn.com
Follow the bands on Facebook:
https://www.facebook.com/yearofthesnakes
https://www.facebook.com/motionlessinwhite
https://www.facebook.com/BreakingBenjamin
http://facebook.com/korn
Follow the bands on Twitter:
http://www.twitter.com/silver_snakes
https://twitter.com/MIWband
https://twitter.com/breakingbenj
http://www.twitter.com/korn
---