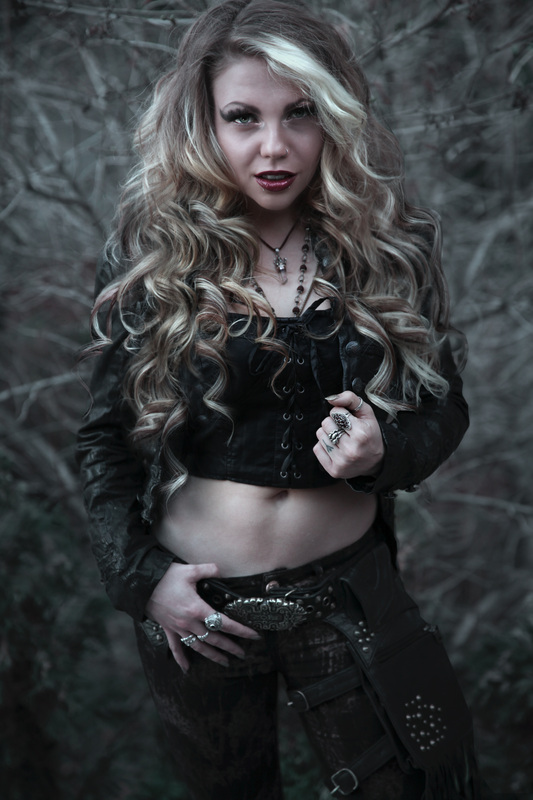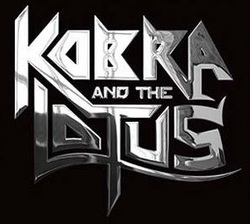 Metal fiends, you are about to have your heads ripped off in a major way. This summer sees the release of Kobra And The Lotus' High Priestess and it scorches. Not since Doro came out roaring with Warlock has a female singer made such an impact in the world of metal. Now on the verge of touring with KISS and Def Leppard Kobra Paige herself took the time for a Q & A with Metal Exiles to give her fans into what is making Kobra And The Lotus happen.
An interview with Kobra Paige of Kobra And The Lotus.
By Jeffrey Easton
Metal Exiles: First off, congrats on opening the biggest tour of the summer. As a young performer, what did the powerhouse likes of KISS and Def Leppard do for you?
Kobra Paige: Thank you, I'm still trying to wrap my head around it. 10 years ago I was
saving all my money to buy a ticket to see the likes of a KISS and Def Leppard concert! I could never have imagined the day would come where I would get to share the stage with these rock and metal giants. It is such an immense honor.
Metal Exiles: Considering your sound is heavier than KISS and Def Lep, what do you think you will bring to the tour as a table setter?
Kobra: We plan on coming on stage and kicking the night off with some high energy impact. It's going to be one hell of a KISS and Def Lep concert so we must set the tone for that… it's time for some rock'n roll mayhem!
Metal Exiles: High Priestess drops at the start of the tour. Was that sheer luck or marketing genius?
Kobra: Everything is intentional.
Metal Exiles: You were a part of Simmons Records, what did you learn from Gene about the music business that you are still taking with you?
Kobra: The biggest piece of advice I have carried forward from Gene is to be authentic and stick to/represent your individual brand consistently at all times no matter where or what you're doing. As well, TOUR! The touring can never stop.
Metal Exiles: You are constantly celebrated worldwide as a major female idol for singers. What does that do for you and how does it keep pushing you?
Kobra: That is such a crazy but incredible thing for me to read actually. The biggest part of that for me is the way in which I influence a person. I'm always thinking about what kind of mentor I want to be and how do I convey that to the best of my abilities. It's a profound honour to be in an impressionable career position. It pushes me to keep reaching outside the box, growing as an artist and trying to invoke courage and feelings of empowerment in other people. I owe them gratitude as their support does the same for me. I don't want to abuse it.
Metal Exiles: Your voice has evolved a long way since the first album. What do you do to keep pushing yourself as a singer?
Kobra: It's important to never stop growing. I continually listen to other music, all genres. There's an endless amount of things to learn but a very fine line in how it can be used productively to serve my music. On the new album "High Priestess", there are quite a lot of different vocal textures being used as dynamics throughout the different songs. The purpose for that is to hopefully enhance the mood and flesh out the sonic story as much as possible.
Metal Exiles: High Priestess is a big step from your S/T debut, What did you learn from doing that first record that maybe you did not want to repeat with High Priestess?
Kobra: Hmm, this is tough to answer. There's nothing very specific I could say other than continuing to improve the song structure and trying to find ways to invoke more emotion in people. I'm constantly paying attention to what specific songs, pieces or elements of our music grab people the most during a show or raise their energy. Then, it's finding a way to bring more of that into the next album and serve the fans. I always want to strive to evolve, whether it happens or not, I must try! It's difficult to be subjective on how much evolution actually happens; I'm locked inside my own process and too close to it, but the world always tells the truth once you release the music.
Metal Exiles: Johnny K has a big rap sheet with some high profile bands. Why did you
want him as a producer and what did he bring to the albums sessions?
Kobra: Working with Johnny K was an unbelievably inspiring experience. I was
initially intrigued by him specifically because of the roster he has produced. They were heavier bands but they played for the masses, not for a small niche. They all had a big production with big sounds which I LOVE. To me the music isn't just about the notes, it's about the details, dynamics, texturing, and the "far from earth" place it takes you to when you listen to it. Johnny has an amazing vibrancy fuelled by his passion for music and the process of creating music. His excitement is infectious and made me even more excited each day we worked. Not only that, he challenged the shit out of me. Really pushed me outside my envelope and stretch my brain in ways I hadn't done before. It was a completely frustrating yet beautiful experience.
Metal Exiles: High Priestess is a very dark affair lyrically, where did you go mentally to bring the material out of you?
Kobra: There is a lot of darkness in our world today. I truly don't think anyone needs to look further than themselves to see and feel how this darkness affects them personally or comes through them personally. We all experience it, we are all influenced by it, we all carry it. High Priestess is really a dialogue of the truth we all know.
Metal Exiles: What do the songs mean to you personally?
Kobra: There are so many themes and messages in the songs, this would be a long answer! Every song tells a different story and carries a different message but leaves room for the listener to slip their own life relation into it. They all carry personal emotion in their roots and convey subjects I'm very passionate about and identify with.
Metal Exiles: You do have dark themes of war running through some of them. What side of you does this represent?
Kobra: This represents war on the micro(internal) and macro(world) scale. Shit is happening everywhere and because we are human, things continue in vicious cycles. War Horse, for example, could be taken as an expression of political oppression on a nation to something more personal like a domestic abuse situation…any oppressive force really where an individual abdicates all of their feelings of empowerment. That war horse will trample mercilessly through.
Metal Exiles: The album cover is dark and very old school metal. Who did the art and how much was the bands input involved?
Kobra: I was very particular about what the imagery was to be. I took my idea to a great tattoo artist in Chicago named Joshua Clay who I met while recording the album. I wanted the cover to be a Kobra and the Lotus version of a High Priestess tarot card. I needed it to have very specific elements from the world such as: the cobras of India, the trishula war weapon of the ancient mythological gods, the prayer beads of a shaman, the fierce ally of the falcon, the broken temple walls by tree roots found in Cambodia, a third all-knowing eye, the antlers of a Canadian rein deer wrapped around her head etc. She needed to be "outer worldly" brought here to serve the world and open our eyes.
Metal Exiles: KATL have come so far so quickly, playing with some of the biggest metal bands in the world. Do you ever pause and take stock or do you just rest assure yourself this is where you belong?
Kobra: The thing is, it may seem quick but it has taken so much work to get here. We have played hundreds of shows and have been touring continuously for the last 4 or so years to reach each milestone. I've been doing metal/rock alone for almost 9 years now! I find a lot of work is often overlooked for bands as most people don't notice them until a bigger thing takes place. At the same time, each experience and opportunity is vital, each playing a role in creating a platform for the next level. Each experience never ceases to blow my mind and I have endless gratitude for everything that has happened and is happening.
Metal Exiles: KATL have done a lot of touring as well as play every major metal festival in Europe. Do you think America is the next domino to fall and is the KISS tour the one to do it?
Kobra: I hope so!! We have had some great tours through the USA so far but nothing with this level of exposure.
Metal Exiles: What will be next for KATL after the summer run?
Kobra: Time to tour!! We will go through the other territories overseas with
the new album. Then we will come back through the states and do it a
second time again!!
If you have yet to discover Kobra And The Lotus you are seriously missing out on some seriously disturbing metal.
Official Kobra And The Lotus Site
BUY High Priestess
---