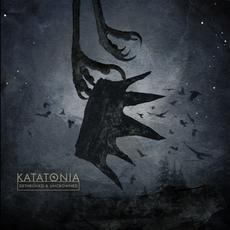 Katatonia – Dethroned & Uncrowned – Kscope/Peaceville
By John Knowles
Calling all "Katatoniacs," prepare yourselves for an aural assault like no other from the Swedish kings of gloomy melodic metal. The bands latest offering is
Dethroned & Uncrowned
, a reimagining of their acclaimed 2012 release,
Dead End Kings
. Die hard fans of Katatonia are no strangers to the band's use of mellow arrangements, slower tempos, ethereal soundscapes, and programming brilliance; so naturally the material on
Dead End Kings
lends itself nicely to a more "unplugged" format. Founding member Anders Nyström perfectly sums up the idea behind this project by stating, "The synopsis is simple and album title won't lie; the drums will be dethroned and the distorted rhythm guitars will be uncrowned! Instead, we'll place the emphasis on the many layers of ambience, with the melodies staying central and the vocal harmonies representing the heart of the album." The band's website has further stated that the idea was to "revoke the loud and aggressive sound picture dominant on the album and instead give way to the atmosphere and tranquility lurking beneath."
Overall, the band's efforts on this project have given way to some beautiful results. I was pleasantly surprised for the most part at what they were able to accomplish. Lush acoustic guitar and piano arrangements dominate the record, while the vocals of band leader and principle songwriter, Jonas Renske, are given even more room to fill the entire sonic spectrum. What I was really hoping to discover before my first listen was to see if the tracks that did not necessarily stand-out as much on
Dead End Kings
might be accented and highlighted in such a way as to make them stand-out a bit more. Well, for me those tracks were "Hypnone", and "Ambitions," and I am pleased to share that my expectations were definitely exceeded. Their brilliant song structure and emotional depth are captured in a new and exciting light. The first previewed track, "The One You Are Looking For Is Not Here," is the highlight on the album for me. Maybe this is thanks to the beautiful female vocals of Silje Wergeland (The Gathering), which are now even more prominent, but overall this track really makes the best use of amazing instrumentation, and a clever differentiation in arrangement from the original featuring some amazing string work, and Jonas' haunting voice which becomes even more so than before the focal point of this track.
"Buildings," the single from
Dead End Kings
, just might be the most deconstructed on the album. As one of the heaviest tracks on
Kings
, this one must have posed quite a challenge to "dethrone." But Katatonia have met this challenge with stunning results. This track features the most complex piano arrangement I have ever heard from Katatonia. Dissonant staccato parts also accent the track throughout. For the heavy breakdown of this track, the band makes use of haunting strings, vocal overdubs, and brilliant piano runs. This is followed by some very interesting chord voicings for the ending chorus, showcasing the bands diverse knowledge of melody and harmony.
There is so much beauty in the melodies that were arranged for songs like "Leech" for example; a song that on
Dead End Kings
had a much harsher melodic contour, but is now showcased with a nice string and piano arrangement. "Lethean" now features some great hand percussion and some cool Mellotron usage on the instrumental section, which is something I do not recall on the original. "First Prayer" just might be the one track that most easily allows itself to be rearranged in a more simplified, acoustic-based arrangement. "Dead Letters" seems to have been made for this type of arrangement, and flows perfectly from start to finish, leaving me desperately wishing the
Dead End Kings
bonus tracks had been included and "dethroned" as well.
A small bit of criticism though, because there are moments on this album where I had to ask the question, "why bother with this project?"
Dead End Kings
is a very significant and special record for Katatonia. There is a vibe and raw vulnerable energy that is matched only by the best moments of their previous works. Additionally, that record showcases a more subtle and melodic side of the band. There are many moments on
Dead End Kings
where Jonas is backed by only a programmed track, and the metal guitars and drums are absent or heavily subdued. And for this reason, there are some tracks like "Undo You" and "First Prayer" that do not necessarily benefit from their treatment on this release. Other songs like "The Parting" and "The Racing Heart," do on the whole manage to capture a very cool and special representation – "The Parting" contains some brass instrumentation in the bridge which is surprisingly great – but there are other times where they are lacking some key elements that made them the stand-outs of
Kings
; and, I am not referring only to the "heaviness." What's missing on these tracks has more to do with their effectiveness at conveying the appropriate mood. Having said all of that, the appropriate mood I just mentioned is certainly highlighted and accentuated on most of this release. Like all of the band's work, this is a record that packs a strong, heavy-hearted emotional punch, and all-in-all this is a must own for Katatonia fans, and fans of great music in general. With the band now having explored this new territory, I'm sure fans can hardly wait for the next album of all new material, which hopefully will incorporate some of these newfound elements.
Katatonia Official Website
Buy Dethroned & Uncrowned
Buy Dethroned & Uncrowned on Vinyl!
---