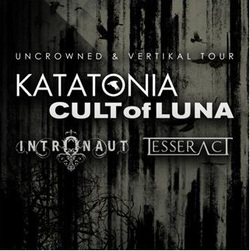 Katatonia/Cult of Luna/Intronaut/Tesseract – El Rey Theater, LA, CA 10/13
By John Knowles
It seems like just the other day I was standing in the Roxy watching Katatonia rip through an amazing set in support of Opeth. That was just this past May, and here we are in the Fall season with another Katatonia tour. This time however, the band is serving as co-headliners to fellow Swedes Cult of Luna for a short 12-show run. True "Katatoniacs" will take any opportunity to see the band live, so Sunday night surely served as a welcomed endeavor from the band. Joining both bands on this tour as support are Los Angeles' very own, Intronaut and Britain's Tesseract. The El Rey served as the perfect venue for the evening's performance. The lengthy concert floor accommodated fans comfortably, and the vintage styled interior was a good fit for the haunting and moody melodies fans experienced from each band. Energy was not the focus of the evening's performance. This was a show devoted to a deeper sense of reflection and mood, and each band brought their best to the table.
Opening the show was British prog metallers and "djent" pioneers, Tesseract. These guys have somewhat recently released their second studio offering,
Altered State
, and I'd say overall they were received well. They certainly sounded great, and played through a very polished and tight five song set featuring new single "Of Mind – Nocturne". Lead vocalist Ashe O'Hara has to a certain extent been receiving mixed reviews for his vocal delivery. He is by no means a bad singer, but the way in which he sings has caused some controversy about whether or not his voice is the best fit for Tesseract's brand of metal. I have to say though, I was blown away by his range and stage presence. He did a great job on songs from the band's first release
One
, including "Concealing Fate, Part One – Acceptance". The band as a whole, accompanied with the twin-guitar attack of Alec Kahney and James Monteith, put on a great show, and really showed that they know how to capture the attention of a crowd.
It was next time for Intronaut to take the stage and a certain element of virtuosity was introduced to the evening. For a four piece these guys are incredibly versatile. For the most part, the crowd was presented with just all around great jazz-influenced progressive metal. They opened with "Killing Birds With Stones" and "Milk Leg" off their latest release for Century Media,
Habitual Levitations (Instilling Words with Tones)
. The crowd seemed very pleased with the performance, as the cheers and excitement following each track gave off a real sense of urgency for more. The polyrhythmic elements were present throughout their set, but none more so than on the set closer, "Any Port." Guitarist Dave Timnick performed percussion on a small drum set and the band ripped through some seriously complex stuff. It sounded amazing, and the crowd ate it up.
After a brief pause Cult of Luna took the stage. It has been many years since this Swedish post/prog metal septuplet played to an L.A. crowd, and there was a very eager vibe that hung in the air. The curtains were pulled to make way for a thunderous subsonic pulse to serve as part of the band's intro music. This was where I gained my sense of appreciation for the band; they coordinated their lights to illuminate with each lower bass tone of their intro, which was an amazing way to watch 7 band members fill the stage. The band went right into "The One" and fans began to move and sway to their effects-laden and emotional brand of post metal. I can't say the crowd ever really gained any sort of momentum to their energy. What you have by way of a crowd reaction for this band seems to be more of a combined sense of awe, and in no way rowdy or energetic. "Ghost Trail" and "Passing Through" were performed, and the latter seemed to be a crowd favorite. Lead vocalist Johannes Persson is quite the showman. He manages to convey a lot of emotion and sincerity in what he does, and there was no doubt he and the rest of his band are passionate about what they do. For a band with three guitarists and two drummers, their sound never sounded too convoluted or messy. These guys are certainly great at what they do, even though this is not for everyone. I must say that the appeal of this band was mostly lost on me, but what can't be denied was the fact that there were many, many fans here for this band, and it seems for this band only. At the conclusion of their set following a performance of "In Awe Of," I looked back on a huge void in the floor where many fans had been standing. Some may have just been grabbing a smoke or a t-shirt, but I know the floor around me cleared of many fans who did not return. Their loss for sure, as Katatonia was about to deliver an incredible set.
Katatonia took the stage and presented their first in a series of bold moves that night. They opened with a b-side to the
Night Is the New Day
record, entitled "Ashen." Enough of the crowd seemed to get it however, and the band moved on to more recognizable territory with "Hypnone" off of their latest,
Dead End Kings
. I had the chance to speak with guitarist Per Eriksson before the show, and he commented on how he believes he and his band may have overplayed the American market a little bit. However, they had the opportunity to join this short tour, and just went with it. Based on the set list for this tour I get the impression that the band gets bored easily with playing the same songs over and over, despite what might be the fans preferences. This evening's set was colored with two other b-sides, including "Quiet World" and "Unfurl." Three obscure songs out of a short 70 minute set is pretty substantial, but the band pulled it off with conviction and the crowd overall seemed to enjoy the change of pace. Highlighting the band's look this evening was their cool, dark, and slightly creepy back drops featuring artwork from
Dead End Kings
. As always the band, Jonas in particular, performed with their signature drawn-inward approach, and coupled with the subtle "mood" lighting and aforementioned backdrops, the band's set was as much visually appealing as it was sonically. Crowd favorites like "My Twin," "July," "Forsaker," and "Soil's Song" also filled the set, much to the approval of the fans. Overall this was not what I would call my favorite Katatonia set, but it was certainly a pleasure to watch a 15-song set this time around. Even with that, I felt, as I'm sure many others did too, hungry for more.
This was certainly an amazing night of music, and without a doubt one of the most unique metal tours of 2013.
Official Tesseract Site
Official Intronaut Site
Official Cult of Luna Site
Official Katatonia Site
---