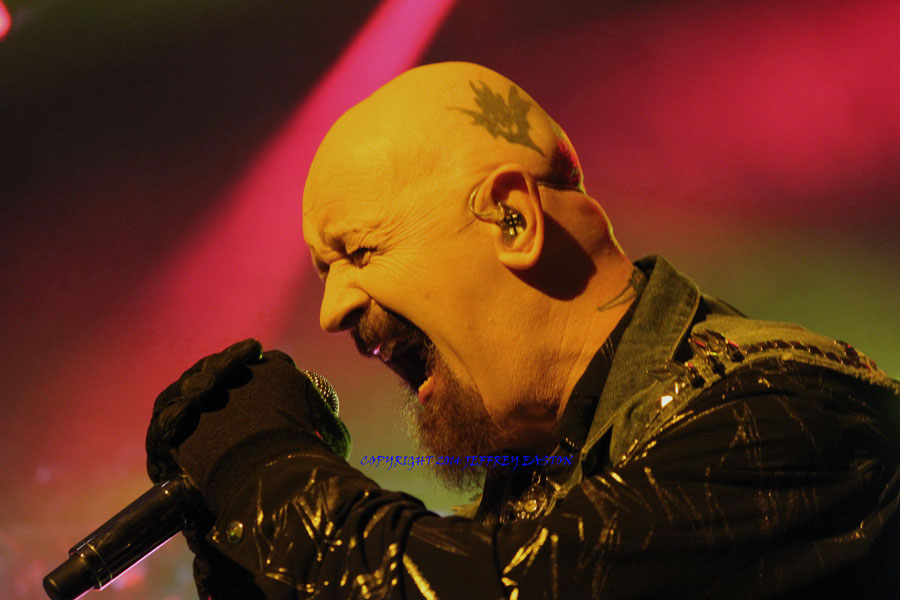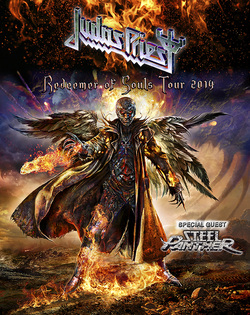 Judas Priest/Steel Panther – City National Civic, San Jose, CA 11/14
By Jeffrey Easton
Judas Priest over the last 40 years have defined what a metal band should be. Whether it be by look, sound or feel, Judas Priest have led the way with many bands in their wake thanking them for their influence. So when they tour, it is a spectacle of how to do a live show right and when they hit the first note there is no mistaking, its Priest. So when it was said that the last album and tour was it, fans were disappointed but we all know that this is the music business and we have KISS as a role model so when a band says they are done, there is usually one more tour coming.
That being said Priest have dropped a new album in the form of Redeemer Of Souls and went out for another world tour and they chose Steel Panther of all bands to tour with them. Now I have a guess as to why with Russ Parish formerly of Fight filling the role of Satchel in SP but still, they should have given a real band of Priest magnitude a shot. Yes, Satchel is Russ Parish, formerly of Fight. Go watch some old Fight videos and let that sink in. I am not saying they aren't talented, Russ/Satchel is a jaw on the floor guitar player, his skills with an axe are unreal but they are idiots on stage, period. The songs are dumb and I honestly can't tell if they are paying homage to the glam of the 80s or making fun of it. They have a few albums out and I can honestly say I have not had one ounce of interest in listening to either after perusing the titles. I will give them once thing, they are funny even if it's staged to a fault.
The intro was very flowery representing Priests' past but that was then, this is now. Priest hit the stage to a thud after an intro of War Pigs which to me made no sense. After that intro the fans were treated to Dragonaut, the opening cut from Redeemer Of Souls. That was a strange opening because to get the fans on their side they usually open with a classic then give the fans the new stuff they don't want to hear. The fans were given Metal Gods to satisfy the early urges for older material as well as the Screaming For Vengeance classic Devils Child. Some of the better moments of their live set was including Turbo Lover but I would have rather heard Out In The Cold from Turbo and Jawbreaker. The standards were belted out of course with Living After Midnight, Breaking the Law and Hell Bent For Leather getting the loudest sing a longs. The only drawback to the set is the fact that to me they looked like they were going through the motions. I know they were playing a smaller venue than they were used to and the vibe I was getting from the stage is that they were there for the paycheck and that's about it. It's not the same attitude I saw in earlier years and if you can't carry the same spirit, then do as KK did and stay at home. This is just my opinion and you could have seen a totally different Priest but this is what I got from the set.
Official Judas Priest Site
Official Steel Panther Site
---