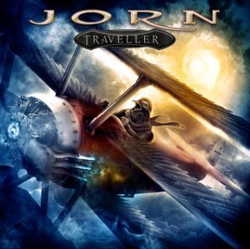 Jorn - Traveller – Frontiers
By Michael Knowles
After only a year since the release of the well-received classic metal sounding Bring Heavy Rock to the Land, the Norwegian king of Metal Jorn Lande picks up where he left off with his 8th solo output Traveller. This new record of course contains that classic Jorn feel, and in many ways is an extension of BHRTTL, as a result of the band truly discovering their identity over the last couple albums. As lead singer, creator, and namesake Jorn Lande has said in past interviews they weren't trying to reinvent the wheel. However, Traveller also has a fresh nuance to it as there are two new faces that have joined the Jorn clan. Trond Holter takes over as the lead guitar player for the band, providing co-writing duties along with Jorn Lande on most of the tracks, while Bernt Jansen takes over as the band's new bass player. Both new members provide an abundance of methodical heavy riffs throughout the record, giving Jorn a very modern-like metal sound to go along with the classic metal composition of each of the songs. The two new members of the band certainly make their presence known on the opening song "Overload," as it contains to put bluntly one of the dirtiest sounding heavy riffs of any past Jorn track.
As always singer Jorn Lande consistently provides powerful emotionally charged performances that literally no one in the metal business can match. The album features what are certainly soon to be considered Jorn classics. There is the title track, "Traveller," "Make Your Engine Scream," and "Carry The Black." These songs really showcase Lande's once-in-a-generation voice, as these epic tracks are heavy, soulful, and filled with the spirit and emotion of rock n' roll and heavy metal. Like other great Jorn releases Traveller is also very diverse in the way it exhibits the many different styles of Heavy Rock music. There are those very groove feeling soulful rock tracks like "Rev On," and the retro Jorn feeling track "Monsoon." The latter features one of the most memorable guitar solos I have ever heard on a Jorn track. Holter really outdoes himself on that one. There are also those more up tempo heavy songs like "Legend Man" and the aforementioned opening track "Overload." The album even contains a very heavy mid tempo almost Dio-like song "Cancer Demon," which contains a riff very reminiscent of one found in "Holy Diver" – It's alright to borrow ideas when they're great ideas! The album concludes with an initially acoustic-laden, heartfelt tribute to the late great Ronnie James Dio titled "The Man Who Was King." What each of these tracks all have in common however is that they all display Jorn Lande's unsurpassed ability to write such memorable melodies and captivating lyrics, truly echoing the genius of the metal poet himself Ronnie Dio.
Overall Traveller really holds its own against any previous Jorn releases, and really encompasses a level of heavy rock brilliance that only Jorn can muster. The band is truly firing on all cylinders and seems rejuvenated with the new additions, while Jorn Lande continues to display not only his incredible vocal prowess, but his tremendous passion for producing unique songs that capture the real essence of heavy metal. This album is a must own for Jorn fans and all heavy rock fans alike.
BUY Traveller by Jorn
Jorn's Official Website
---