Jagermeister Music Tour - Northern Lights - Clifton Park, NY 2/11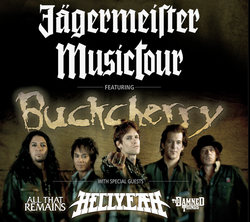 Jagermeister Music Tour - Northern Lights, Clifton Park, NY 2/11
By Mary Richardson
Local band Hygeer opened up the show while most of the patrons were still outside. They did some very good covers of Godsmack's "Cryin like a Bitch" and Rage Against the Machine's "Killing in the Name Of" along with some original material.

The Damned Things were up next. Lead singer Keith Buckley and company got the crowd rocking with "Black Heart", "Grave Robber", "We've got a Situation here" and appropriately enough "Friday Night". At the end of the set guitarists' Scott Ian, Joe Trohman, Rob Caggiano treated everybody to guitars only jam session.
All That Remains, hailing from Springfield, MA, brought out a heavier sound. "Now let them Tremble", "For We are Many", "Aggressive Opposition" all from their We Are Many album. Lead singer Philip Labonte told the folks that the security was there to keep them safe and that the crowd was there to keep security busy. Which they then proceeded to do all evening. It's always fun to dodge crowd surfers and security while I'm taking pictures. They also played "Overcome" and "Forever in Your Hands" from the Overcome album to a completely frenzied crowd.
Third in the lineup was Hellyeah. Chad Gray told the crowd he considered these shows a "therapy" session. I think the crowd was getting just as much therapy as the band if not more. How can you rock the night away to "Hell of a Time", "Alcohaulin Ass", and "Better Man" and not leave feeling a hundred times better? Hellyeah always puts on a great show. Also I'd like to thank Stevie D for coming out before the set and taking a picture of the photographers. If you haven't seen them before then get out and do so as soon as possible. Just a little free advice, next time there will be a bill.
Buckcherry rounded out the show. Folks squeezed in extra tight just to get that much closer to the stage. You needed a can opener to move even a foot. Josh Todd, Keith Nelson, Stevie D, Jimmy "Two Fingers" Ashhurst, and Xaiver Muriel kicked Northern Lights' ass. They started off with "Dead", "Rescue Me", "Everything", "It's a Party", and "All Night Long". Song by song Josh and Stevie seemed to lose more and clothing. Halfway into the set Josh was shirtless and Stevie was sporting a leather vest over his tattoos. Not that any of the girls were complaining. They ended the show with everybody's favorite song, "Crazy Bitch", with a little touch of "Sweet Emotion" and "Get Down Tonight" by Aerosmith and KC & the Sunshine Band respectively.
This was a great show all around; I can't wait to see any and or all of these bands again soon. I recommend that you do the same ASAP!
Home - Buckcherry.com
HELLYEAH | The Official HELLYEAH Site
All That Remains | All That Remains | For We Are Many // In Stores Now
http://www.thedamnedthings.com/favicon.ico
---