Piggy D - Rob Zombie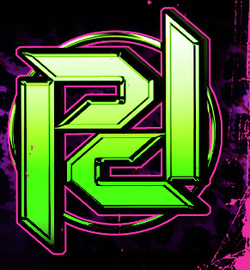 A Rob Zombie live show is a beast to be reckoned with and this summer with Slayer will be no exception. Now, Rob isn't the only eccentric person in the band, Piggy D, his off the wall bassist, also sits on that mantle. Piggy has his own world happening as it revolves around Rob's and the following is exactly what is happening.
An interview with Piggy D of the Rob Zombie band.
By Jeffrey Easton
Metal Exiles: First of all, congrats on getting a new single out. Where did God Save The Queen Bee come from?
Piggy D: I am one of those guys that wakes up and does whatever the hell they want to do. I write for different artists plus myself and that was the first time I experimented with stream of consciousness writing where you write with no pre conceived ideas. I was sitting up in the dark at 4 am with my laptop and I said "I am going to write everything that comes to mind". You turn your brain off so it is subconscious, just your brain to your fingers. I will let people decipher how they want to decipher it but it spoke to me from a sociological standpoint. People assign themselves a leader whether in a relationship, society, pop culture, whatever. At a certain point after whatever happens happens people say "whatever you say is bullshit and we are tired of it". This is what I got out of it when I read it back, ok, there is something there. So I went in and tracked it in about an hour and it was done.
Metal Exiles: Since you are the kind of person that wakes up and does what he wants, is that how you feel about putting out singles? Just throwing them up on your site?
Piggy D: I just march to my own beat on everything. Rob Zombie is honestly the only structured thing in my life. I have a certain time that I show up and work in his band. It is just not the music, it is the art, the photography, the videos, the clothing etc. I am fortunate to wake up and say "what do I feel like doing today." I try to paint as many different colors as I can. One day it is songs, one day it is rock music and another day it is anything but rock music. When I finish something, whether it is a painting or a photo I say "somebody somewhere might like this, if they don't I don't care". I
Metal Exiles: I spread it around the social networks, hopefully some people snagged a sick new tune.
Piggy D: I think music is just a commercial for whatever you are doing at the moment.
Metal Exiles: Like a tour?
Piggy D: Yeah, whatever your thing is, whatever your art is. I see all the time with new bands, they say "We have to get a deal". It is the most archaic philosophy because if you create something and it is good, key word is "good" and put it out to the world, people will find it. Waiting on the magic tourbus with a big check to come save you from your crappy job, well, it's just not going to happen. You just have to do it for yourself.
Metal Exiles: Well you are one of the most "do it for yourself" people I have come across. You do your own custom shirts, where do you find the time to this elaborate work on your t shirts?
Piggy D: I have a great partner with a company called Black Victory and Karen is a t shirt guru. She does band merch, high end fashion etc. We cover all bases with video, music, merch, it is all about having a good team.
Metal Exiles: As far as touring, you guys are going out on the road with Slayer. Whereas most people are toning down while on the road you guys are always going out with the huge production. What does it do for you guys to put more and more into the show?
Piggy D: Especially in today's climate it is not the most economically smart thing to do. Most bands cannot afford to do the production we do and the ones that can just do not. This is what is amazing about Rob, he has to do everything to the best of his ability. It does not matter if it is a money making venture, it does not matter. It is all about giving the fans an experience they will always remember, whether it is film, music or with the show. That to me is art. It is not a preconceived thing where you ask how much am I being paid, he is doing it because he has to do it. We are going out and constantly out do ourselves, the show has to be bigger than the last time. If there is a ton of pyro, it is not enough, if there are three Robots on stage, there should be six.
Metal Exiles: How much of your input goes into the show?
Piggy D: When you work with someone like Rob he is like a Tornado of creativity and you have to let him go, just let him do his own thing. Occasionally he will swing by and ask Should we do it here or there?" I will say we should do it here and he will say "Cool, that was the exact opposite of what I was thinking". That is why the band is called Rob Zombie and he has been around all these years.
Metal Exiles: You have Ginger Fish onboard, how is he clicking with the band now?
Piggy D: It is great, I have never been onstage with an aquarium before. The castle, rocks and the fake plants do get in the way but it works. I am sorry, that's not funny but its all I got today. He is awesome, so by the book. He learned to the T and he learned how to play them like every other drummer that has played the just in case something sounded weird on stage. He is out of his tree, possibly one of the strangest people I have met in my life.
Metal Exiles: So he will fit right in?
Piggy D: Exactly, he fits right in because I think on some levels we are all insane.
Metal Exiles: You have your Tour Packs that you sell after shows that contain your stage worn clothing. Do you have fans that want to be that close to your sweat?
Piggy D: It has worked so far, I am not really sure why. When I was a kid going to shows if Alice Cooper did something like that for a tour I went to I would lose my mind, I would be so excited. I am constantly thinking about what people want and they seem to want it so far.
Metal Exiles: Speaking of, you did some great work on that clip for Alice Cooper's Along Came A Spider as well as the Halloween single "Keepin' Halloween Alive". Is there any talk of you doing an album with Alice?
Piggy D: There is one, it exists, a full Alice Cooper album that I did with him. I do not know when it will come out but hopefully it will come out one of these days. So yes, there is new Alice music that nobody has heard. Alice is one of those working relationships where he is like me. "What am I going to do today, let's do something creative". He is obviously a huge influence on me and I have constantly been trying to pay back that debt. We have done his merch, tour wardrobe, music videos, art, promotional things; anything for Alice has been a no brainer.
Metal Exiles: Last words for your fans?
Piggy D: We are very excited for the Slayer tour this summer and I want to thank everybody for sticking with Rob, John, Ginger, myself and Joey, thanks for having our backs. It has been a lot of fun and it is about to get better.
Piggy D has been a driving force on the Bass for Rob Zombie for the last several years but he is a true artist unto his own right.
OFFICIAL PIGGY D WEBSITE
OFFICIAL ROB ZOMBIE WEBSITE
BUY HELLBILLY DELUXE 2
---