Chibi - The Birthday Massacre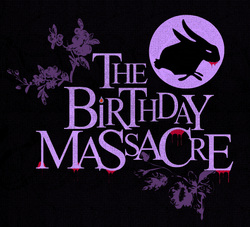 The Birthday massacre have been touring a releasing stellar records for over a decade now but Pins & Needles is the one the fans have waited for. This combines the best of what they have been known for with a more aggressive approach with guitars. Chibi, their alluring and vocally gifted singer, took the time recently to talk to Metal Exiles about the creation of this amazing record and what it took to get here.
An interview with Chibi of The Birthday Massacre
By Jeffrey Easton
Metal Exiles: You guys have been around for a decade now. What do you think the Birthday Massacre is about now?
Chibi: We have been around for a while and we have been through some ups and downs so I think we know who we are at this point. I do not know what we are doing at this point but we have found each other as performers. We are more of a family than friends and to me that is very valuable. We have toured a lot and we have figured out how to find the happy equilibrium between all the good and bad things that happen.
Metal Exiles: Where are you at mentally?
Chibi: There are a lot of sacrifices when you tour as you can understand and at first it was a struggle but you have to say "We are doing this band now". I am very comfortable with where we are at now because a few years ago I did not know what I wanted. I was turning 30, do I want to do the band anymore but now I am content and just letting it go like the worries about what I should be doing and just doing it.
Metal Exiles: It has been three years since Walking With Strangers. Audiences are fickle so how do you keep your fans enchanted with you over that period of time?
Chibi: Some fans are going to jump from one band to another, they are not committed but there are always those who really love music and there are those who connect with our music. . We also try to cultivate a community with our fans and we do not putting any arrogance on, we are just ourselves.
Metal Exiles: What did you want to do with Pins And Needles that you could not do with Walking With Strangers?
Chibi: We toured so much behind that record, I loved that record so much and when we were writing Pins And Needles I said we were not going to do anything nearly as good as Walking but we did. We wanted it to reflect the live sound in terms of using more cohesive guitar and drum sounds and on the last few records we did different things and it was cool and good for us but we wanted to be more cohesive an do songs that would be fun to play at shows.
Metal Exiles: Atmosphere is everything on a record, you want to be able to feel it. What makes this record so atmospheric in your opinion?
Chibi: A lot of the lyrics reflect a lot of the stuff we went through over the past few years. I know they do because I know what's going on and I know what we were trying to say with the music. To me the atmosphere is who we are now and who we are going to become and I do not want to say this album is angrier than before but maybe it is.
Metal Exiles: What is one of the things that happened in the band that made you want to push harder on this album?
Chibi: This is our fourth full length release and there was a lot of pressure from the label. There was no pressure from the audience but you know there is because you want to make an album they will like.
Metal Exiles: Of course so they will buy it.
Chibi: People expect a certain thing from us right now and you do not want to disappoint them by putting something out that does not sound like a birthday massacre album. At the same time you want to grow musically and I have heard people say it just sounds like us and at the same time I have heard it is a newer bigger Birthday Massacre. That was what we were going for, a bigger newer Birthday Massacre. We are different people than when we did Walking With Strangers and I want people to get that impression when they listen to Pins And Needles.
Metal Exiles: There is a lot of mental imagery on the album, especially with the title track. What were you trying to get across?
Chibi: The whole expression Pins & Needles has many connotations. We are waiting on Pins and Needles, we are anticipating, we are edgy as well as pins & needles that you stick into a voodoo doll. The song encapsulated everywhere we were at with this record, numbness and excitement.
Metal Exiles: There is some anger in there as well.
Chibi: Yes but we are happy to be here, there are so many good things there. You know how it is when you are growing up when one person tells you that you are ugly but a thousand tell you you are pretty? You always remember that one person that said you were ugly, it is hard not to retain the bad stuff.
Metal Exiles: Rainbow and Michael produced Pins & Needles. How do you separate the producing side of you from the music side of you?
Chibi: It is so impossible and since we are perfectionists it is almost like you need someone to be objectionable and say "It is done, it is good you have done the best you can" to us. If it was up to us we would still be working on the album but we had a deadline. The two of them they are very particular but with me I am more involved in lyrics so I can be more "happy with this" and not but heads but it is a grueling process. Sometimes you need objectivity which we do not have but we do have deadlines which are the next best thing.
Metal Exiles: What pushes the band besides deadlines?
Chibi: Our love for working together and being with each other and being part of something that people care about. It is something that we thought would never happen. We have been friends for years and it is our desire to do something special.
Metal Exiles: Where do you pull your lyrics from?
Chibi: In fairness, I work with Rainbow on a lot of the lyrics. It's the common human experience, we all go through the same crap. We go through the same heartbreak, anticipation, regret and excitement. It's the sentimental looking back on everything wishing things were different or happy with the way things are. We also never wanted to the lyrics to be like "Oh my heart is broken, I am sad", like a diary. I love writing, I do short stories and I did write a novel, I just love words and metaphors. I want to write things that people can relate to, not just "I am sad".
Metal Exiles: You mean like the typical gothic theme?
Chibi: There is that kind of stuff in there and I do like that part of the music but you cant have it all like that, there has to be some fun songs in there. That was what we have always tried to do with the music, we have had songs like Lovers End, Happy Birthday, little fun horror movie songs with some positivity in the lyrics.
Metal Exiles: You guys are very creative and the video for In The Dark is uber creative. What was your creative input?
Chibi: Michael Falcore directed it and my input was channeling all of the reactions and emotions while kneeling on a cement floor for hours. I am not an actress but I guess by default I am in there.
Metal Exiles: Since the first album to Pins & Needles you have progressed to a more guitar heavy band. Is this the band's progression or has it happened automatically?
Chibi: I think it is because as we toured we have written songs that translate well live and with rainbow and Mike, as guitar players writing music, they have been writing more guitar oriented stuff. The melodic synth material will always be there though as it is a part of us.
Pins & Needles is the ultimate exercise of guitar driven rock fused with atmospheric melodies and Chibi's dream state vocals, a record not to be missed.
Official Birthday Massacre Website!
BUY PINS & NEEDLES!!
---