Sami Yli Sirnio - Barren Earth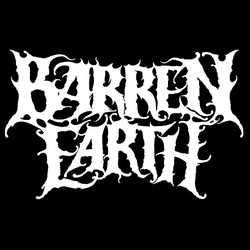 Barren Earth are a super group in the metal world so to speak. They come from the mightiest of metal bands, including Kreator, Amorphis, Moonsorrow, Swallow The Sun amongst others.
Sami Yli-Sirniö
, one of the amazing guitar shredders, took the time to do a piece on the final run supporting the incredible Curse Of The Red River.
An interview with
Sami Yli-Sirniö of Barren Earth/Kreator.
By Jeffrey Easton
Metal Exiles: First of all, congratulations on releasing a masterpiece with Curse Of The Red River. All of you guys have been and are in other great bands but this is a monumental piece of work.
Sami Yli-Sirniö: It exceeded our own expectations to tell you the truth.
Metal Exiles: The record has been out over a year now. What are your thoughts when you look back on it now?
Sami: As a musician, when you are working on an album you are so into the process that you do not pay attention to it but when it is done I only listen to it once or twice so I cannot listen to it again.. Do not get me wrong, I am very happy with it but I do not listen to it. We do play the songs live and they do change during the live show although up until this tour we have only played them at festivals.
Metal Exiles: I know you are contained to a certain environment on CD but how do they feel live?
Sami: They are great to play live and we do jam them out so they are not the same each time we play.
Metal Exiles: You have been involved in some great bands like Kreator and Waltari. Do you think those bands and the experiences you gained from them led up to doing Barren Earth?
Sami: The guys from Kreator live in Germany and I live in Helsinki so when they do an album I have to go to Germany which is harder to do but with Barren Earth we all live in Helsinki so it is easier to go and jam together.
Metal Exiles: Barren Earth first formed in 2006 with your first full length finally surfacing in 2010. Why did it take so long for your first full length to see the light of day?
Sami: For a while we did not have a singer but around 2008 Marko Tarvonen, the drummer, suggested Mikko Kotamaki who came in and did our demos. It all fell into place after that with demoing, setting up websites and trying to secure a record deal which of course all takes time. One of the other reasons it took so long is that we did a lot of preproduction for it and of course we were in no rush. When you are making your debut album there is no rush.
Metal Exiles: Do you think all of that extra time helped the band to gel more because you guys have the feel of a band that has been together for a long time.
Sami: I have known most of the guys in the band for almost 15 years with some of us going to school together. Besides, Helsinki is a small city so you are bound to know everybody.
Metal Exiles: The record melds a lot of moods of metal together ( progressive, black etc) with many aspects to it but it seems so seamless. How did you forge this record together without it sounding like a car wreck?
Sami: There are five songwriters in this band and we put it all together and hope that it will work and it looks like it did. (Laughter) It all came naturally and there were no concepts from the beginning of what it should sound like. It is hard to explain how it happened.
Metal Exiles: The song writing as well as the guitars are intricate. How much of you did you put into the record?
Sami: Most of the songs were written by Olli and Kasper, the bassist and keyboardist but I came up with some riffs and some lines as well as doing the arrangements with the rest of the band. It was a very democratic process in making the record so everybody contributed to the recordings.
Metal Exiles: It seems like you have expanded your guitar vocabulary with this record. Do you agree?
Sami: With the title track there is a longer solo because with this kind of music you have more time to express yourself. You can build it up and let it go out much slower. It is not like it is with thrash metal where it is nothing but speed. It is a slightly different approach with both but I do enjoy doing both just the same.
Metal Exiles: What influenced you growing up that makes you comfortable playing this music?
Sami: When I was a kid I started playing classical guitar but then I heard the solo from Deep Purple's Child In Time that made a difference in my life and I had to go electric. After that I started getting into more brutal metal as well as the progressive stuff life Floyd and Tull. So it was prog rock then more of a metal thing which came later in my life for me which is usually the other way around.
Metal Exiles: What did you use on this album as far as guitars and Amps?
Sami: I used Engle Amps as well as a 5150 and I also used a distortion petal that Gary Holt gave me on tour once called the Doomsday Device. It gives the sound a little bit more edge. I had an acoustic 12 string and I am also endorsed by Ibanez and I have a model out for me which I used on tour as a prototype.
Metal Exiles: How did the new Ibanez sound?
Sami: Ibanez has been offering me a guitar for quite some time so I thought it would be interesting and they even asked me if there would be anything I would like improved on the guitar but when I got it, played it and it was great. Funny thing, I got the guitar for free but I had to pay for the case.
Metal Exiles: Like I said there are many moods and the record sets those moods. How does the album cover reflect the title?
Sami: Curse Of The Red River in one way deals with binges of Alcohol abuse and the foolishness of the human race and since we are a metal band it also deals with the end of the world and death. (laughter)
Barren Earth have conquered the world finally with Curse Of The Red River and the subsequent tours and have finally put themselves on a pedestal with their peers.
Official Barren Earth Website
BUY CURSE OF THE RED RIVER!
---