Don Jamieson - Comedian/Co-Host That Metal Show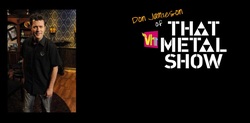 Don Jamieson has already more than proven his ability to deliver quality entertainment in more than one form, not only as a wildly popular stand-up comedian or analyst for Inside the NFL, but also as one third of VH1 Classic's top program That Metal Show. Now, with his career in just the right place, it's time for Don to take the next step in solidifying his legacy by releasing an album. However, it isn't just another comedy album that Don plans on releasing, and it definitely isn't on just another label. In fact, the upcoming album "Live and Hilarious" promises to be some of Don's most outrageous and abrasive material to date, and it will all be delivered to your tender little eardrums courtesy of the mighty Metal Blade Records. Metal Exiles caught up with Jamieson to chat about all of the things up the comedian's sleeve, including the record and season seven of That Metal Show. Here is that conversation.
Interview with Don Jamieson (Comedian/Co-Host - That Metal Show)
By Bubbs Harris
ME: First, I guess we should talk about the new album deal with Metal Blade. How did that come about? Are you and Brian (Slagel) old pals or something?
Don: Actually, we're new friends. When we met, I was sort of starstruck. Seeing as how I've been a metal head since I was around nine years old, Metal Blade has been a big part of my life, as well as many of the bands from the label, both past and present. I went out last year and toured with his band Charred Walls of the Damned, and Slagel liked what I did, so he offered me a deal to release an album on Metal Blade. How could I refuse that?
ME: That's right, you did go on tour with them. How was that? I love that CWOTD album, and pretty much everything with Ripper (Owens).
Don: It was cool. Yeah, Ripper is a hell of a talented guy, but after riding around in a van with the guy for two weeks, and after tons of bad gas station food, I now know why they call the guy Ripper. He has a very sensitive stomach, that one.
ME: I imagine his stomach is all messed up with all that Monster Energy crap he drinks. He probably pisses fluorescent green too.
Don: (Laughs)….probably.
ME: You say you've been a metal head since you were nine. The genre had undergone many small and large changes over the years and decades. How important to you is it to keep up with what's going on and coming out these days, as well as hold true to the classics that brought the genre to this point?
Don: Well, first off, I think it's important, when seeking out new bands to listen to, that the bands show an appreciation for the classic bands like Black Sabbath, Judas Priest, Iron Maiden and so on. The ones that really broke new ground. When you hear a band that has that love and appreciation for the genre as a whole, you can tell, and it's great. There will always be bands that push the boundaries of speed and heaviness, but when you hear it, you know where it came from. However, there are a whole new generation of groups and fans coming out that care nothing for the fathers of the genre and do it for money and what's popular. This also is very noticeable, and I tend to stay away from that stuff. I love it when I hear a new band and can pick out where they drew their sound from. I'm forty-four, so my love of music will always be rooted in the classics, but there will always be cool new shit coming out that deserves attention.
ME: To touch on the new generation that you spoke of, I was passing out flyers for a show a while back when I came across this young numbskull who asked me "What kind of metal is it? Is it good metal like (insert paragraph long band name here), or shitty metal like Black Sabbath?", I swear, I wanted to take that little dip-shit's eye out and skull fuck him right there. Your thoughts?
Don: Well, what you should have done was tell that kid to go listen to the first three Sabbath records then come back and try to have the same conversation. It doesn't matter how fast or how heavy any band is. Nobody is heavier than Sabbath. That guy obviously had no ground to stand on there.
ME: Right. After all, there would be no new bands playing heavy music if bands like Sabbath, Priest and Thin Lizzy hadn't written everything first for them to elaborate on.
Don: Exactly! I did a rant on That Metal Show about "metal snobs". For the most part, metal fans are very open minded people. We are constantly seeking out good new shit to listen to, and we expand our horizons to find them. However, there are people, like that kid, who are metal snobs and only think that one style or sound is the only way, when they couldn't be more wrong. Like I said on the show, metal is metal. I can listen to RATT, Type-O-Negative, Motorhead and Amon Amarth one after the other, because they are all good metal bands. They play the hard and heavy music that I love, and they all have unique styles all their own. You have to have that open mind to truly enjoy music. Otherwise, you're no better than the people who only tune into the radio and hear singles. They have no idea how much they are missing out on.
ME: You guys feature a wide variety of stuff on That Metal Show, which really goes along with what you're saying here. When the show first came out, a lot of people were put off by all the attention to bands like Aerosmith and Rush. Don't get me wrong, both are solid bands with ties to the heavy metal community, but hardly what a lot of metal fans are hungry to see on the tube these days. However, you guys go deep into the roots of metal and help give these fans a taste of history, so to speak, and it has really worked nicely.
Don: The show is on a channel called VH1 Classic. You have to take that into consideration. You know, it's not a "dis" to any of the newer or more extreme bands, but come on, we're talking about the classics here, at least, for the most part. We always try to have something in there for fans of the more extreme stuff with our picks of the week, or even our clothes. For instance, I wore an Amon Amarth shirt when we did the episode with Alice Cooper. I wasn't doing that because I was asked or told to. I wore it because I love that band, just that simple. Little things like that let everyone know that we are fans of all types of metal and hard rock. Who knows? Now that the show is an hour long, maybe we'll get to bring some different things to the show.
ME: You did have Phil Anselmo on there a while back. He's an originator and fixture in extreme metal. I'm not sure if he knew he was there, but it was a good show.
Don: He was all there, actually; of sound mind and body. Phil is just that way naturally. He's a one man, walking entertainment company. I love that about Phil. Whether you like him or hate him, you'll tune in when he's on, because he's going to say exactly what's on his mind anytime, anywhere. Sure, he is one of the pioneers of the heavier styles of metal, but he'll wear it on his sleeve that he wouldn't be around if it hadn't been for bands like KISS, Van Halen or Judas Priest. Therefore, bands that draw influence from Pantera, or Down, or whatever band Phil has been in, they ultimately draw influence from the bands that laid the groundwork for Pantera.
ME: With Judas priest announcing their final tour ever, are there any plans on doing a special That Metal Show to say fare thee well to the Metal Gods?
Don: That's a good question, man. We haven't actually gotten everything all the way planned out for the new season, but that's not a bad idea. Sometimes there are things that happen in between the tapings of these shows that have to be addressed, like the passing of Ronnie James Dio. I'm not sure if Priest is retiring from just touring, or music altogether, so we'll have to wait and see, but you can bet That Metal Show will be doing something special for Judas Priest to say goodbye and thank you for all the great music.
ME: You mentioned the passing of Ronnie James Dio. The metal community is still reeling from that loss. He was truly a powerful force in our world.
Don: Yes, he was. Ronnie was the most giving and loving person you could ever hope to meet. He gave his fans, his friends and family everything he had and touched every person he met. I feel honored to have done the last interview with him, along with Jim and Eddie. Ronnie was always excited about sharing with his fans and letting them know how much he appreciated them. We lost a real metal icon there, and there will never be another like him.
ME: So, how did you and Florentine hook up with Trunk? You all seem to be pretty good friends, but he is definitely the straight man in the bunch.
Don: That's exactly what it is. I mean, you can't have three complete goofballs up there. Eddie is the professional one. Jim and I, we just like to break balls a little bit, especially with Eddie, but he's the anchor for the interviews. He is one of the best in the business when it comes to that. Shit, I get to work on a show with my two best friends, talk about good music and get paid for it. God Bless America, man!
ME: So, you guys go way back then? I know you and Jim are old pals, but have you known Eddie forever too?
Don: We were fans of his radio show for a long time before we met him. We go back a ways now, but we have known about Eddie and liked what he did. When Jim and I first started going out and touring as comedians, we would end up in these tiny little towns in the middle of nowhere, full of mullets, missing teeth and that sort. We would be driving back from those shows, and we couldn't wait to get close enough to where we could pick up Eddie's show. I mean, Eddie can sit there and talk about Accept for twenty minutes, without taking a breath, so we immediately loved that quality about him. Plus, he is a real straight shooter. If he doesn't particularly care for a band or album, or song, he'll tell you. That doesn't mean that he turns on bands he likes because they put out something he doesn't think is all that great. He truly cares about all of the bands that he loves, but he's not gonna sit there and say that everything is good, because if he did that, he wouldn't have any credibility. When we came up with That Metal Show, we felt that was really important to have that aspect, even at the risk of maybe pissing someone off. You have to have honesty when talking about music. If you like something, say so. If you don't, say so.
ME: Let's touch on the record. What are the details on that one?
Don: Well, it'll be called "Live and Hilarious", and it'll be a forty-five minute special of my stand-up stuff, which will include some good stuff about metal and all. Metal Blade is releasing it in April, and it'll be loud and aggressive, as you might expect from a Metal Blade artist. I'm excited about it, and I think it'll be one of the heaviest Metal Blade releases of 2011, but it'll just be comedy. The material is there. The attitude is there. It's going to be wonderful.
ME: Thanks for your time, Don. Things definitely seem to be working out nicely for you these days. Keep up the good work, dude.
Don: Thanks a lot for the support, man. I really appreciate that. That Metal Show is coming up on Season 7, and the album will be out shortly. Things are looking up. Thanks a lot.
Don Jamieson Online
---