Emir Erkal - VTT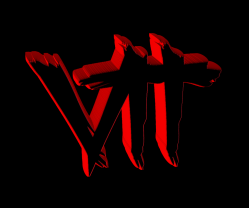 New Jersey Alt-Metallers, Voodoo Terror Tribe, have been on the grind and in your face for a while now. With Symptoms of Sin getting rave reviews from the media, these unsung, and unsigned, heroes are carving out their own niche in this fickle bitch of a rock scene, and not doing too bad of a job. VTT guitarist and founder, Emir Erkal spent a few minutes taking questions for Metal Exiles.
Interview with Emir Erkal (Guitars) of VTT

By Rob "Bubbs" Harris
Metal Exiles: Your guy's sound has a very modern rock meets metal vibe, which is very different from a lot of the current trends, which is good. What was the main musical goal when starting the band?
Emir Erkal:
Thanks man, glad that you hear the difference in our sound. Well, of course like every other band, we started to be as original as possible, but also as good as possible at whatever we come up with. And also we like to create and play what feels good.
Metal Exiles: Did you go through a lot of musicians when looking to put the lineup together, or were the choices fairly obvious?
Emir: We went through 5 bass players before our current bass player(Primer), which was frustrating since we were still trying to do our shows. And worse than that was looking for our current singer (
Gil PZ)
, since we probably tried out around 30 singers (or singer wannabe's) until we found him. And our lineup can't be any better than it is right now!
Metal Exiles: Why did you settle on the name, Voodoo Terror Tribe? Are you into Voodoo culture at all?
Emir: Actually our drummer, T–Bone, came up with the name first and we all liked it. Even though we don't practice any Voodoo or Hoodoo, we believe and respect both, since it's not only a culture but also a religion.
Metal Exiles: You've been pushing Symptoms of Sin for a while now. What's going on in the writing/recording department?
Emir: Yes, we've actually been writing new material for a while and preparing our new album for 2011, but can't say when exactly. I can assure you it'll be very different, crazy and will blow everyone away.
Metal Exiles: Why are there two MySpace pages for the band? Is one unofficial?

Emir: They're both official, but we cannot merge or combine them on MySpace, so both of them are out there now. The acronym better represents our new approach, and is iconic in its own way. While in a way we're a tribe, the term 'terror' doesn't usually apply and VTT is also easier to spell, and makes for better graffiti. So the most official and updated one is myspace.com/vttrocks
Metal Exiles: I only saw a couple of dates for you guys live, and all in the same region. Are you working up any kind of tours or anything?

Emir: We've done a lot of shows since we released our latest CD. We had an amazing US tour thru mid west and southern states and we can't wait to get on the road again, but we don't have any plans for another full length tour at the moment, however we're still doing some shows in East Coast for a while.
Metal Exiles: What is the one thing about being in a band and making music that keeps you chasing the dream?
Emir: Performing live on stage!
Metal Exiles: Have you had any luck with endorsements, or perhaps label attention?
Emir: We're currently endorsed by Clayton Custom Picks and more endorsements are pending. We also got some offers from labels, but they were not good enough to take us to the next level, so the search still goes on.
Metal Exiles: I'm sure you've shared the stage with plenty of awesome bands, but have there been any personal heroes that you were super stoked to play with?
Emir: Yeah, actually the best was sharing the stage with Billy Graziadei of BIOHAZARD at our CD release party.
Metal Exiles: The video for "The Victim" is not too shabby, considering it was likely shot on a low to nonexistent budget. How did it come together, and where did you shoot the footage?
Emir: Thank you. Yes we did it on a real tight budget and limited time. We think "The Victim" was the best way to present our new voice and kind of new approach. We and our good friend/director "Shottie" (Shotwell Productions) came up with the ideas together, did some preproduction and planning and then we shot it in one day at a steel pipe warehouse in New Jersey and then worked on it probably for a month to finalize it and everyone seems to like it.
Metal Exiles: Have radio stations been picking up on the single very well? It seems like a pretty good cut for the airwaves.
Emir: Totally. It's like everyone's favorite and we play it live at every show.
Metal Exiles: Thanks for your time. Best of luck with everything!
Emir: Thank you. Metal Exiles rules! Hoping to see you at our shows sometime!
Buy Symptoms of Sin
VTT Online
---