Wednesday 13 - Murderdolls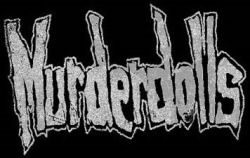 The metal scene has been stagnant in the "show" department lately with very few bands giving a good visual anymore. Reenter the Murderdolls and their extreme brand of metal infused with the look and the visuals that are set for the stage. Metal Exiles recently caught up with Wednesday 13, the darkly enigmatic singer of the Murderdolls, to get his thoughts on the new Murderdolls record, Women And Children Last, and what it was like to get back with Joey Jordison.
An interview with Wednesday 13 of the Murderdolls.
By Jeffrey Easton
Metal Exiles: It has now been eight years since your last release. How do you think that the fans that you got the first time around will accept the Murderdolls now?
Wednesday 13: I think a lot of them are gone but a lot have stayed. The ones that were there at the beginning have probably grown up as much as we have so I think it will probably still fit in their realm of what we were about. I think it was important to keep a lot of the elements of what we did in the beginning but also go way beyond that and show a different side of the band. We try to keep the sense of humor; the image is still there to a certain extent because we are not doing the same type of theme. It would have been easy to do the Murderdolls the way it was in 2002 with the same makeup and the same hair with the horror movie songs because that would be easy to do but this time we stepped out of the box. Lyrically for me this record is all over the place, there are no horror movie songs, there are more stories and personal songs which for me is a lot darker and has a much more evil element than I could ever write from a movie. I hate to use the word Mature and grown up for the record but it is because back then we were in our mid 20s and now we are in our mid 30s. Things change and I have been on tour for the last 8 years and 13 for Joey so that is a lot of living off of the bus and this record is a product of that living. We got a lot of demons out with this album and we are still getting them out. This record was very important for us to do and I feel that we could have not done this album any other time.
Metal Exiles: Why is that?
Wednesday 13: It would not have been the same, it was the vibe and the fact that the relationship between Joey and I is so much stronger than it ever was back in the day and that was what brought out the dynamic in this record. Joey and I connected with each other so differently and a year ago it probably would not have come out the same way.
Metal Exiles: In between the last Murderdolls record and now you have released three great solo records. Do you think the fact that you stayed out there performing kept the want for the Murderdolls to stay there?
Wednesday 13: I do not think it hurt but I do not know if it helped. It kept the fan base there that was wanting it for awhile, maybe people thought I was just trying to continue on and do the whole Murderdolls thing but if people knew my history before the Murderdolls they would know I was doing this for years. I was just continuing what I was doing before the Murderdolls and I was not trying to overshadow them. I always hoped we would be able to come back and do another record and the mindset that Joey and I was in, we put the right band together and we did everything right this time as opposed to last time. I think that the first time we did this it was thrown together like "what would make this work?" This time we wanted to make sure it was fun and functional for us because when you are out on the road you have to make sure it works for you.
Metal Exiles: The world is a sick sick place if you watch the news so how will "Women And Children Last" top what you see in the news?
Wednesday 13: I think our record is about as vile as turning on the news, it is a dark, sick record. I think when we were listening to the playback of the record we got a comment that they wanted to "Punch babies in the face after hearing the first two songs." I got the same feeling when I heard the record so it is good to hear the same thing. We do not want to go out and hurt people but the aggression that was coming off of this record was so honest and it was not like we said that "We are going to try to be heavy" it just came out how it came out.
Metal Exiles: I know that your last solo record, Skeletons, was very personal so with this Murderdolls record, where did the content come from?
Wednesday 13: The demos started for this in 2002 so it was a process for over eight years. You have songs like Pieces Of You and Hello Goodbye Die that were written about the time that Murderdolls were coming off tour and it sounds like that time but then you have songs like Chapel Of Blood and Bored To Death that come off more aggressive and in your face. The record is so diverse and the lyrical content is all over the place to with personal stuff like with the song My Dark Place Alone and Nowhere.
Metal Exiles: The song Nowhere has a lot of keys and a lot of moods to it.
Wednesday 13: It is a fist in the air kind of rock song, not very depressing. It is kind of like my Rocky theme. That song is about people who told me that I would never amount to any thing or it could be about anybody that's listening to it. It is about sticking to your guns and making it.
Metal Exiles: My Dark Place Alone, where did that come from?
Wednesday 13: It is about a lot of things that have been going through my head for the last 6 years and that was the last song that we wrote for the record. The last three days in the studio I did not have any lyrics for it but Joey came up with the riff to it and I wrote the lyrics in the shower. Not that I did not spend time on the song but the record did need that song because it exercised that part of my head that I needed to get out. Every night that we play that song, I can focus on getting it out of my system, like a therapy type of song.
Metal Exiles: How much time did you have to finish writing the album and record it?
Wednesday 13: We had a month to record and we had about 8 years of songs to record, it was over 60 songs. We went into the studio with 30 that we wanted to record and we whittled it down to 19, it was just picking out the best ones. Joey and I sat in front of each other with his drum set and a guitar and we watched each other as we played along to see what would work. It may sound crazy but that is how it worked, it was nonstop and it worked. It was a natural progression for what worked, there were no hardships in the studio, no yelling at each other about what did not work or what did.
Metal Exiles: When you were writing your solo albums were you writing for the Murderdolls to or just strictly solo material?
Wednesday 13: I never decided to write anything for anything. I just write music, if it comes out heavy or if it comes out sounding like an old school Sex Pistols song, that is what comes out. There is a separation that I realize and after I heard the new Murderdolls record and the mentality of it and what I put into it I know now that they are different. It is a different thing and a different approach. I hate to use the word serious but this is not a side project, we are really serious band this time. It is not something that we do a record and it goes away for eight years, it is on full throttle. I could not be any happier than I am right now.
Metal Exiles: Going back to the earlier comment about the sick world, I am looking at the song titles and I am wondering if you are trying to amuse or shock people?
Wednesday 13: I do not think you can shock people anymore, I think entertain is the word you would use now. When I was a kid I would go buy a record, I would want to be blown away by the album cover and flip the record over and be excited, in the record store, to hear a song like "Summertime Suicide", "Dark Place Alone" or Death Valley Superstars". What are those songs about as opposed to songs like "Punishment", "Hate" or "Anger". It is great for people who are into that but for me it is not where I come from, I just like to put more into it. It is a visual thing for me as much as audio. I have all of the old Cooper records, KISS records and Twisted Sister albums. To open them up and see everything that they put into it was stimulating.
Metal Exiles: Like the Billion Dollar Babies alum with the Billion Dollar bill inside with the cards.
Wednesday 13: And don't forget the wallet, it was everything, it was something I wanted to do with my own releases. Also I was told that we had the first album to get two warning labels.
Metal Exiles: What were they for?
Wednesday 13: There is a parental Advisory sticker and there is an extra one to let you know that "Hey, we are really serious". (laughter)
Metal Exiles: I have seen in some other pieces that the band is more cohesive now so who is joining you in the Murderdolls?
Wednesday 13: The original line up was great for what it was at the time and we had some of the best times of my life but it was one of those things where people have moved on and are in different places now. We had to put a different line up together to fit where Joey and I were in our head space. To work with those guys again would not work out now. There was nothing wrong with them we just needed new blood, something new and fresh to carry out the vision of the band. So on guitar we have Roman Surman who did most of the lead work on the album. He was not even going to be in the band he was just out to hang out in the studio and check our tunings but here he is. We have Jack Tankersley on bass from the band Bullets And Octane who I was a fan of. He is a killer guy and a killer bass player. On drums we have Racci Shay hart. He played in my solo band for awhile and he has been around the scene for awhile. He is an underrated drummer, last of a dying a breed, just a demonic Keith Moon. We have a strong line up and we cannot wait for the world to see it and see what should have happened the first time.
Metal Exiles: There is not a lot of "show" in music anymore so how are you going to inject "show" in the live show when you are out on tour?
Wednesday 13: I observe a lot of bands and I am not closed minded to say that every band should be the same but I come from a certain school of entertainment and I know what I want from a show. For the Key Club show that we did we just came out with a backdrop and energy wise we did more of a show than I see most bands doing. Visually just us alone without a lot of productions sets a bar above what I see most bands doing. Nobody does anything, just bands noodling and staring at their shoes and we are out doing a rock show. Put a budget with that and we will do something with that and we can take the band further than we have before.
Metal Exiles: Are you going to leave your solo career with Skeletons or is there a future for Wednesday 13 the solo artist?
Wednesday 13: I leave the door open for anything but Murderdolls is happening right now and if it goes on for ten years and Joey and I are happy with where we are at then that is what I am going to stay with. It was cool to do the Wednesday 13 thing but when I stepped back into the Murderdolls I realized what I missed the most and that was making music with Joey and that bond of a band. As a solo guy I did everything on my own, you had nobody to bounce ideas off of. I was the boss and that's great but at the end of the day it was just me. At the end of the day when you have that partner to create with it just pulls more out of me and that was what I forgot about until we got back into the studio together.
If you like the dark side of metal and you have not picked up THE metal comeback record of the year then you are sorely missing out. Women And Children last put the darkness and humor back in metal and it is not to be missed.
http://www.murderdollsband.com/
BUY WOMEN AND CHILDREN LAST!
---