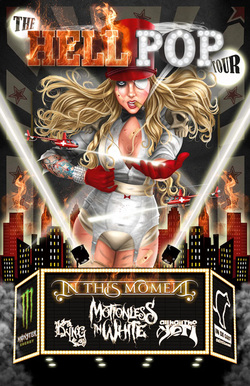 In This Moment/Motionless In White/Kyng – The Regency, San Francisco, CA 11/13
By Jeffrey Easton
Darkness descended on San Francisco and when that happens, the freaks come out and in this case, the freaks really did emerge in the form of three amazing bands embroiled in darkness. The Regency is known for hosting some of the best touring bands so it was of course appropriate that In This Moment made their presence known here along with their sickening touring mates, most notably Motionless in White. The Show opened with down tuned monsters Kyng and their massive album Trampled Sun. These guys are legit and one of the next big things. It is hard to categorize them, they are dark, heavy with a murky sound that still cuts decisively. They stay on the road, opening for all of the big bands because they know what they get with Kyng and they fuckin deliver. Their set included the massively accomplished Burn The Serum, I Don't Believe, Trails In Vein as well as Bleed Easy. These guys are making a mark and they need to be recognized.
So in comes Motionless In White, Chris Motionless at the helm and looking spooky as shit. Whenever I see this band, its Halloween all over again because they are darkness personified and it does not hurt that they opened with the hallowed sounds of Type O Negative. With the band assembled on stage they blew the doors open on the crowd and raged on Synthetic Love and it was on. The crowd was there with them and through each song, they were one with MIW. Infamous is the album they are touring on and they made sick use of the pulpit they were given to push that album down the fans throats by screaming out Underdog, Devils Night, America as well as the sickening title track. MIW deliver a show, Chris Motionless is the frontman every band wants, very engaging, bringing the crowd into their world which is very disturbing. By the time the last note the crowd was drained, they were given an experience which I have yet to forget.
In This Moment, Maria Brink has left this world and created her own. She has taken the stage and turned it into a creative art project, ejecting her demons onto the fans. Making use of the stage is important in pushing your record and Blood was on the plate for ITM as they engorged the populace on the tunes. The set opened with Rise With Me and the fans were all in, the die was cast and the feast was delivered. Delivering from Blood, they dealt Adrenalize, Beast Within, Burn as well as the latest sickening single Whore and set stopper Blood. With each track Maria finds a new personality, taking their live show to the next level and giving more reason to see them live because it is hard to explain to your friends what you saw, you have to see it with your own eyes. What Maria and her band is getting out of their system is behind the cloak but I would hate to be that reason because I would fear for my life. If you have yet to see In This Moment live, don't worry, Maria will find you.
Official In This Moment Site
Official Motionless In White Site
Official Kyng Site
---