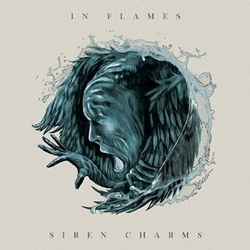 In Flames – Siren Charms – Sony Music
By John Knowles
In Flames continue to grow and develop with each release and their latest offering, entitled Siren Charms, is no exception. The band's output has been increasingly polarizing, arguably ever since their 2000 release, Clayman. In truth, fans of the band likely hold no qualms with the band over the fact that they have grown and matured, it's the direction in which they have done this that has caused so much division amongst their fan base. To their credit, In Flames and their peers of the early Gothenburg melodic death metal movement forever changed the landscape of heavy metal. Countless bands have been influenced by their innovation in songwriting. Even in their early days, however, In Flames chose to reinvent themselves with every release; stagnation was never part of the equation. This trend has continued through numerous line-up changes to bring the band to where they are today – a band that continues to offer their fans innovative and unique approaches to their craft on every release. On Siren Charms this sentiment is truer than ever.
I'll cut straight to the point, we love this album, and it is overall one of the highlights of 2014. This album is being unfairly judged by the fact that it sounds nothing like the band's early output. How unfair is that? It's best to look at this record on its own merits as a heavy metal release. Taken at face value, this record is not only one of 2014's finest, but it's In Flames most adventurous and diverse album since 2006's Come Clarity, though it in fact surpasses its predecessor on the scale of uniqueness and creativity. But overall, Siren Charms is In Flames' best work in years.
Many fans reading this will take the claim of "best" to mean that this album is the closest thing In Flames has done to their older material in years as if the band's merits must only be judged based on how well they can replicate their former output. Since when was art judged by how well it succeeds at demonstrating a lack of creative growth? No, this is In Flame's best work in years based on the strength of the songwriting, performances from all members, and in its diversity of sounds and composition. Tracks like "Paralyzed," "With Eyes Wide Open," "When the World Explodes," and "Filtered Truth" are all examples of this. Each of these four songs are vastly different from each other, uniquely strong in their own way, and yet they share a consistent vibe and presence on the album. Therein lays the highest praise we can give this record. Siren Charms is a truly eclectic and varied mix of songs that still manage to somehow work very well together as one complete package. Looking at the band's post-Clayman era, Come Clarity aside, it's clear the band really stuck to a fairly consistent formula on each individual release. This is not the case on the majority of Sounds of a Playground Fading, and with Siren Charms In Flames have managed to fully realize an album in which the variety of songs is matched by the quality of the album as a whole.
Lead vocalist Anders Fridén showcases his incredibly dynamic range, and ability to transition in and out of many vocal styles throughout this record. He has strayed from his more renowned screaming approach more so on this record than on any of the band's previous work, but he has not abandoned that style. Tracks like "When the World Explodes," which also features an incredible guest female vocal performance from Emilia Feldt, opens up with a raw, explosive performance from Fridén. He manages to pull off a more modern metal screaming style that even at his age still manages to surpass his younger peers. As for the other signature In Flames elements, they are certainly there; you just have to listen carefully. Twin guitarmonies are still prevalent on this album. Guitarists Björn Gelotte and Niclas Engelin have put together a flawlessly executed and amazingly tight performance on this release, as has been the In Flames staple for years. The harmonized riff mid-way through "With Eyes Wide Open' sounds like a classic Jester Race moment, albeit at a slower tempo. Siren Charms also features some of the band's heaviest and most prominent keyboard use. The band have always utilized keyboards in some capacity, but with Siren Charms they have managed to incorporate them in a way that remains fitting and appropriate at all times on each song. They've managed to almost write around the keyboards, allowing the instrument to find its own space where it can complement and even enhance the overall song. As for the overall package, we'd be remiss to not mention the artwork. The cover, beautifully rendered by artist Blake Armstrong, is one of the most interesting, yet chilling depictions In Flames have ever used. This artwork will look amazing as a stage backdrop for the tour.
It would be unfair to overlook this record's greatness due to the fact that it is an In Flames release, as if the band made an oath to fans years ago that they would never stray from their Gothenburg melodeath style, or that at the very least they would certainly return to that sound. Folks, In Flames never made such a promise, and it's totally unfair to hold them to that. And to be fair, they moved on from their 'classic' sound well over a decade ago. It's time we all moved on, celebrated their creative maturity, and appreciate them as creators of great music rather than a band that was once [insert personal definition of Colony-era sound here]. Furthermore, to the band's credit their influential early sound, along with contemporaries At the Gates and Dark Tranquillity, influenced a plethora of today's greatest metal bands. One can still hear and discover Jester Race and Slaughter of the Soul copycats until their heart's content. That being said, there are far fewer releases out there that match the courage and eclectic creativity that is Siren Charms, and that record could only be perfected by a band like In Flames.
BUY Siren Charms
here.
BUY Siren Charms on
Vinyl!
Visit the OFFICIAL In Flames site
here.
---