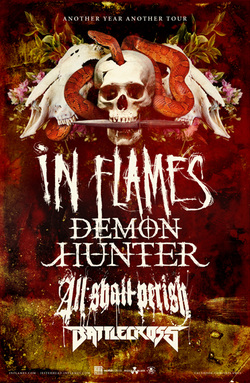 Another Year Another Tour feat. In Flames/Demon Hunter/All Shall Perish/Battlecross - House of Blues, San Diego, 2/13
by John Knowles
Another Year Another Tour is the can't-miss metal event of the year so far. Heavy and aggressive metal music is well represented on this tour featuring an eclectic mix of artists of varied styles and history. Energy was the key theme this evening, as each band showcased their best, and delivered to the crowd a very satisfying night of aural brutality.
The evening opened with Canton Michigan 5-piece, Battlecross. These guys are touring the States for the 6th time since 2011 for their Metal Blade debut,
Pursuit of Honor
. Unrelenting touring and showcasing their brand of blue-collar thrash metal is a way of life for these guys, and the crowd ate it up. Their passion, dedication, and simply pure enjoyment for what they do was not lost on me, and I think the crowd as a whole felt it as well. This was the first time I had seen these guys and after watching their very impressive music video for "Push Pull Destroy", I knew I'd be in for a memorable experience. "Breaking You" was the opener, and the band did not let up one bit through the remainder of their set. They closed out with their SiriusXM Liquid Metal chart-topper "Push Pull Destroy," which I'm sure has led to a growing fan base on this, and every night previously this tour.
Next up was California natives All Shall Perish, tackling the U.S. touring circuit for a third time in support of their fourth record,
This is Where it Ends
, released on Nuclear Blast. This tour for All Shall Perish is following a very successful run as main support for Hatebreed and Whitechapel that took place last fall. Led by vocalist Eddie Hermida the band hit the stage and immediately delivered their brutal deathcore sound to a hungry audience. I found it interesting that they opened with a track from their second album, entitled "There is No Business to be Done on a Dead Planet," but the crowd seemed to really dig it while circle pits and moshing immediately ensued. In my observation I'd have to say that it was tough for All Shall Perish to follow Battlecross. Granted, ASP has the greater longevity and arguably larger fanbase, but their energy and that of the crowd was not quite up to the same level as with Battlecross. I also did not sense the same passion as in the latter. Nevertheless, the band delivered a great 7-song set, with new tracks "There Is Nothing Left" and "My Retaliation" following their opener. The crowd overall really seemed to enjoy what ASP brought to the stage.
The band I had truly come to experience was up next, Seattle's Demon Hunter. Now incorporating more Gothenburg-style metal influences on their two most recent albums it makes total sense stylistically why these guys could tour as main support for In Flames. However, DH are the obvious stand-out on the bill for a few reasons, primarily being that they are the one band from a notably Christian based label, and are a band of faith themselves. It is no secret that Christianity, or any faith for that matter, is not exactly well praised by metal bands overall, and even hostility towards such beliefs is not uncommon in the metal community. With that thought in mind I was very curious to see how this crowd would receive DH, and I was blown away at the support they were shown. Having seen them on their previous U.S. tour in support of 2012's
True Defiance
, I noticed some very deliberate choices made by the band to show the crowd and fans they were not messing around and certainly not shying away from any bold statements. Band leader/founder Ryan Clark demonstrated an intense amount of energy and attitude, losing the mic stand and embracing a powerful and commanding stage presence. The band sounded better than ever, in part due to some new vocal arrangements, allowing for most if not all of the studio vocal parts to be showcased. Each band member had a microphone, allowing songs like "My Destiny," and "We Don't Care" to be heard at their full potential. The set list itself made clear their ministry and mission, while also being void of any ballads, or even mid-tempo tracks. Lyrically the band chose some of their boldest tunes, opening with "Someone to Hate," "The World Is A Thorn," and to close, "Storm the Gates of Hell," with its very empowering refrain, "Hell hath no fury at all!"
Finally it was time for In Flames to hit the stage. By the time the intro music hit, I had never seen this venue so packed. The Swedish metal legends delivered an amazing 16-song set in support of their 2011 release on Century Media,
Sounds of a Playground Fading
. It was clear to me from the opening song, the title track to
Sounds
, that In Flames is one of those bands that has a serious, die-hard, and incredibly diverse fan base. The crowd erupted into one voice every time vocalist Anders Fridén would point the mic in their direction. I listened to hundreds of fans yell out the chorus to their third tune, "Pinball Map." Watching closely to the sincerity and passion in Anders face, and the constant smiles on Björn Gelotte, it was evident that these guys truly love what they do, and even after twenty years will continue to do so for many years to come. About mid way through the set, Anders took the time to very genuinely thank the crowd for spending their evening at the show. As much as their fans love In Flames, the band is truly grateful and appreciative of them in return. Every album since
Whoracle
was represented in the set list, allowing for the fans to hear a real continuity between the entire In Flames catalogue including the most recent album - which was the first to not feature founding member and co/main songwriter Jesper Strömblad. The band sounded tighter than ever, and I'd like to point out that Anders vocals sounded exceptional; they were clear, precise, and incredibly powerful. The very heavy and aggressive "Take This Life," followed by the emotional "My Sweet Shadow" closed out the night and concluded an amazing evening of music. Metal fans are definitely getting their money's worth on this tour.
http://inflames.com/
http://www.demonhunter.net/
http://www.allshallperish.com/
http://battlecrossmetal.com/
BUY Sounds of a Playground Fading
BUY True Defiance
---