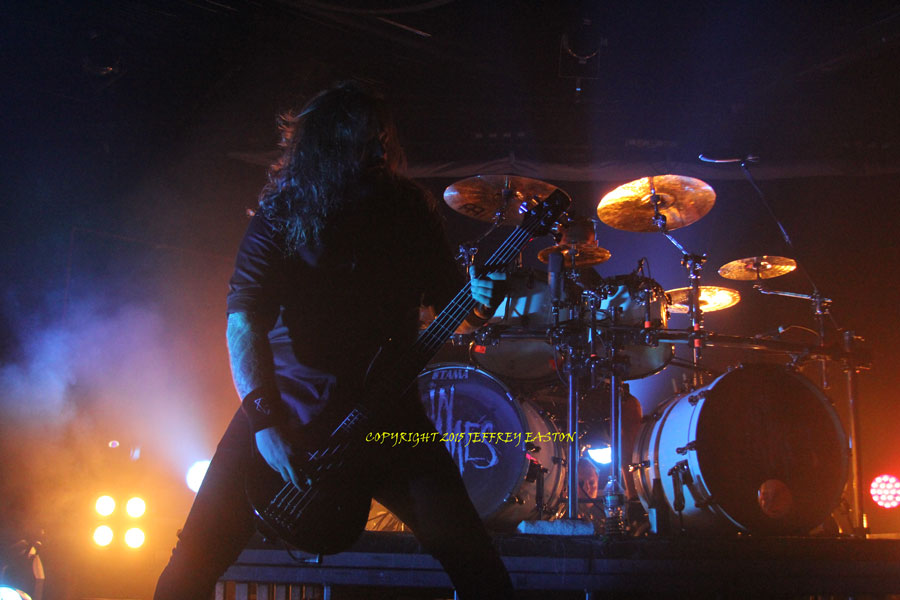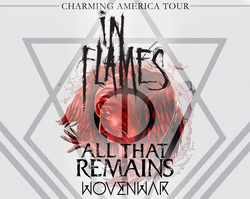 In Flames/All That Remains/Wovenwar – Ace Of Spades – Sacramento, CA 3/15
By Jeffrey Easton
In Flames have come a long way and their current evolution features one of their best albums to date in the form of Siren Charms, a brilliant stroke of genius that shows the true depth of their artistry. With that album in hand they have been on the road nonstop with this being their second trek through the states and with their second go round they meant business. Taking on newcomers Wovenwar and longtime road warriors All That Remains they were set for nothing short of metal domination.
Wovenwar have come up through the ranks pretty fast having formed just a few years ago out of the dust of AILD and already have a support slot with the mighty In Flames. With this they are assured a packed house every night to watch them drop the hammer on the unsuspecting crowd. Mixing true aggression and an urgent sense of melody, their S/T debut album, recently dropped on Metal Blade, is a great statement about where heavy music is right now. Given their short set they had to make a quick impact and that they did by unleashing the unrelenting cuts All Rise, Death To Rights as well as Tempest and Profane, all perfectly representative of what they really are.
All That Remains, what can be said about them that has yet to be said. They came out of the new Wave Of American Metal and they are still grinding hard. They just dropped their seventh album in the form of The Order Of Things and considering they had to follow up the massive A War You Cannot Win I think they trumped it just fine. Speaking of grinding, that is just what they did in their set, a pure grind. They came out with both revolvers drawn and let the fans have it hard. Phil Labonte always owns the crowd and as they launched into No Knock from The Order Of Things he had the fans in his grasp. The new material flowed well and the fans tore into it as they offered up This Probably Won't End Well along with Pernicious to complement No Knock. They have a powerful new album and in my opinion they should be mixing more cuts from it into the set to comploment the older stuff. Phil introduced their ballad Hold On by saying they were told they shouldn't have done it but being metal, they shirked that idea and did it anyway. Their brutal past came alive as they dealt Now Let Them Tremble, This Calling as well as Six. By the time they left the stage the crowd was sweaty and ready for the main course.
As stated, In Flames are out for another round of supporting the massive Siren Charms and their live show never fails. With their catalog being what it is, what genre of fans do you please? Do you go back to Clayman or Colony or do you appease the transitioned fans with Soundtrack To Your Escape along with Reroute To Remain? The answer is you cant because everyone is going to show up because its In Flames and they are going to deliver no matter what they play. They did do a massive sweep through their catalog by unleashing the insanity that is Bullet Ride, Clayman, the Quiet Place, Take This Life as well as Everything's Gone and the show opener Embody The Invisible. Considering the loud feedback, nobody was disappointed and insanity did rule the pit. They did tap the career transitional track Cloud Connected and that elicited the loudest response from the mob, I guess it isn't true that Cloud Connected is one of the most reviled cuts in their discography. I will state here that I was hoping for more from Siren Charms than I got. I was looking forward to hearing Rusted Nail or Dead Eyes but had to be satisfied with With Eyes Wide Open and Paralyzed which came off great in the live setting and had a great reaction. If you have yet to buy Siren Charms, why haven't you? Open your mind and your ears and take it in. In Flames once again came, saw and kicked ass as their live show is not to be missed.
Official In Flames Website
Official All That Remains Website
Official Wovenwar Website
---