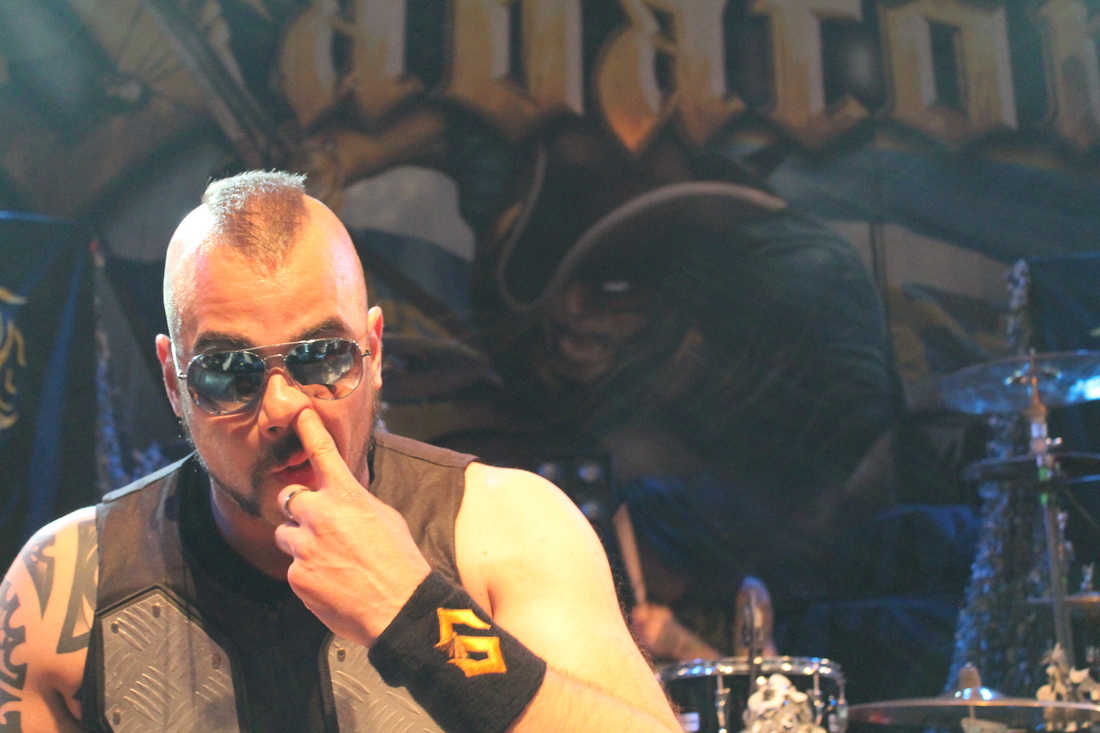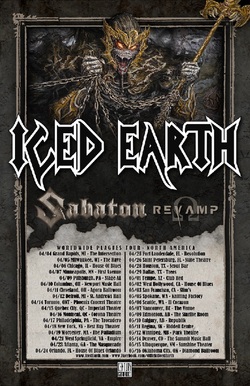 Iced Earth – Worldwide Plagues Tour w/ Sabaton & ReVamp – House of Blues Sunset, Hollywood, CA – 5/14
By John Knowles
Earlier this year, Iced Earth released
Plagues of Babylon
via Century Media, an absolutely stellar follow-up to 2011's
Dystopia.
In no time Iced Earth went out and did what they seem to do best these days: Tour, tour, and tour! The "Worldwide Plagues Tour – North America" kicked off on April 4th for a 34-date run. With Stu Block at the helm, Iced Earth have been unstoppable lately. Jon Schaffer has been willing and eager to take his band to the far reaches of the earth for a long time now, and with the current line-up all things are possible. Joining Iced Earth for this tour are Sabaton and ReVamp, offering fans a nice variety of metal for their evening. On May 2nd, the tour stopped off in Los Angeles at the House of Blues Sunset Strip, and what a memorable night it was.
Speaking with ReVamp main-woman, Floor Jansen, in an interview recently I was well aware that this tour was a huge deal for the band. Mainly, this is the first time ReVamp has toured the U.S., and it follows closely behind a very successful tour of Europe with Kamelot. With only 30 minutes to show the crowd what they are all about, ReVamp executed this call brilliantly. The opening band always ends up with the smallest stage space, but ReVamp made great use of what space they had as soon as they hit the stage. All the band members looked pumped and totally enthused to be on stage and performing the new material. Wasting no time with a lengthy introduction, the band ripped right into "Wild Card" – the title track off of their latest release on Nuclear Blast. The stunning Floor Jansen performed in top form, and quickly demonstrated to the crowd that there's more to her voice than what they may have heard before. Floor performed her unique death-growl stylings to a very welcoming response. You could definitely notice a few head turns when she initially ripped into a more aggressive singing style. Unlike many bands with a front-man whose name is bigger than the project they're attached to, ReVamp is most certainly not Floor Jansen and five hired guns. They are band in the truest sense, and Floor's backing men performed each song with amazing precision and attitude. The band continued their set by touching on the first album, and even played "Neurasthenia," the latter of which was pulled off amazingly well despite lacking the vocal contributions of the Devin Townsend who performed it in the studio. "Wolf And Dog" closed out the brief, but effective set. This band is more than just a side project for Floor. This is a band all members are extremely dedicated to, and I have no doubt they will continue to grow as they stay active and play new markets.
Set List:
01. Wild Card
02. The Anatomy of a Nervous Breakdown: Limbic System
03. Head Up High
04. The Anatomy of a Nervous Breakdown: Neurasthenia
05. In Sickness 'Till Death Do Us Part: Disdain
06. Wolf And Dog
Purchase Wild Card on Amazon here.
Lyric Video for "Nothing"
Revamp official Site.
Sweden's Sabaton are clearly on a quest for world domination. These guys get bigger and bigger with each tour it seems, and as fans eagerly await the release of
Heroes
the highest of expectations are surely to be met if the first single, "To Hell and Back" is any indication. Following recent North American tours with Evergrey, and even Iron Maiden, it was clearly evident that there were many, many Sabaton fans in the venue, and many were perhaps there only for them. Once again the camo-clad warriors did not disappoint, and erupted on to the stage with the head banging "Ghost Division" off of
The Art of War
. The whole band are such a thrill to watch live. Band leader and vocalist, Joakim Broden really knows how to engage a crowd, and absolutely brings it with each song. To say this band brought an energy to the venue this evening is an understatement. They completely shifted the vibe, and in all honesty, stole the show before Iced Earth could even say hello. As the band continued their set songs like "Gott Mit Uns" and "Carolus Rex" became a battle cry for hundreds of fans, and the band performed these favorites with such a good, positive vibe, that it was hard not to sit back and smile. The band's new single was performed, and lent itself to a rousing cry for the U.S.A! "To Hell and Back" is dedicated to the most decorated soldier in U.S. history, Audie Murphy, and the crowd really loved this new track.
Throughout the set, the band often allowed a bit of light-heartedness to sift itself through the heavy metal riffing. Joakim's onstage banter was priceless, as were the contributions of the other members. However, what took place towards the end of the set was nothing short of the most moving thing I have ever witnessed at a metal show. Throughout the set you could see two young kids being held up on their parents shoulders as they rocked out to the set. Before ending the night with "Metal Crüe," vocalist Joakim Broden took the opportunity to engage with the older of the two kids. Apparently this young man had attended Sabaton's show in San Bernardino with Iron Maiden, and had been given Joakim's signature shades. Not only did Joakim recognize the kid, but he recalled where he had seen him, and also gave him a Sabaton wristband. The kid was ecstatic! And to further tug on the crowd's heartstrings, Joakim and the band then focused their attention on the younger child. The kid was invited to come on stage where he was given the chance to introduce himself. Already rocking a Sabaton t-shirt, the thing this kid really needed to complete the look was a pair of Joakim's sunglasses, which the singer kindly took off to offer to the child. The band then invited the young boy to remain on stage for the last song as they performed as a "six-piece." This kid was really quite the showman, headbanging and raising the horns throughout the entire song. For the solo break, lead guitarist Chris Rörland handed the child his pick, and had him strum the chords over Thobbe's guitar solo! Surprisingly, the rhythm was pretty spot on.
Not only did Sabaton deliver the goods live with their music, but they brought with them an unquestionable energy and positive vibe. They are a band that really know how to perform for a crowd, and I doubt there were many present at this show who will not be seeing Sabaton in the near future. These guys once again left a lasting impression.
Set List:
The March To War (intro)
01. Ghost Division
02. Gott Mit Uns
03. Carolus Rex
04. Swedish Pagans
05. To Hell And Back
06. White Death
07. 40 : 1
08. Art Of War
09. Primo Victoria
10. Metal Crüe
Purchase Heroes on Amazon here.
Official Music Video for "To Hell And Back"
Sabaton Official Site
As the clock approached 10:00, Iced Earth finally hit the stage. The ominous power chord intro to "Plagues of Babylon" filled the venue with expectation as the band hit the stage. Thanks to an amazing stage backdrop featuring the latest album art [stunning art work to say the least] the stage had a truly haunting look to it. Of the many things to appreciate with Iced Earth, one of the new things now in the Stu Block-era is the fact that the band has opted to hire a stylist for their on-stage attire. This might seem very un-metal in some ways, but in many ways this is what so many metal bands are missing these days. Hundreds of great bands have forgotten the element of "show," "performance," and "art." There's no mistaking that the band looked absolutely badass in their new blackened stage clothes.
"Plagues of Babylon" was performed with top-notch intensity, and was followed by the "Apocalypse Segue," which can only be heard on the deluxe edition of the latest record. The segue blended perfectly into another new track, "Democide." The new record is incredible, but for a band that has been as active as Iced Earth, there is now the challenge of selecting songs from a vast catalogue. Speaking with Jon Schaffer before the show, it was noted that Volbeat's Michael Poulsen had a hand in the song selection for the set. I think the crowd was fully on-board with all of his suggestions. The band performed the obligatory "Burning Times" before moving on to more recent territory on "V." "V" is such a crowd favorite. Hearing hundreds sing as one of the end of tyranny is quite an experience.
Dark Saga
and even
The Glorious Burden
were featured this evening as the band ripped though "The Hunter" and "Red Baron/Blue Max." By the time the latter song ended it struck me that lead vocalist Stu Block had just performed songs originally recorded by two other singers, and also songs he originally recorded. This guy has a real knack for finding his own voice in any song, and he has the range to pull off all of it. It has been so cool to watch him grow as a singer and front-man since the first
Dystopia
tour, and with his level of enthusiasm and commitment, Stu Block will continue to be a force to be reckoned with in the metal vocal world.
"If I Could See You Now" was the perfect change of pace about mid-way through the set. This is the kind of balladry that Iced Earth are known for, and it's a moving tribute to lost loved ones. The intensity and furry quickly returned with "Boiling Point" and "Vengeance is Mine." It is really too bad that fill-in drummer for this tour, John Dette, will not be considered as a permanent member. I am unaware of the specific reasons, or whether or not John has other commitments to fulfill, but he proved to be an absolute beast on the drum kit, and really breathed a new intensity into an already powerful set. He plays with such ease and finesse, it's no wonder he was asked to help out the tour. This was easily the most I have ever enjoyed the drums at an Iced Earth show.
"My Own Saviour" closed out the night before a very satisfying 4-song encore comprised of "The Coming Curse" and the band's namesake, "Iced Earth." Iced Earth always delivers a memorable performance and tonight was no exception. The band is on fire, and hitting new markets with each album cycle. Jon Schaffer continues to be a man with an unwavering commitment to taking his band and music to the top, and it seems that now more than ever before the band is capable of making it there.
Set List:
01. Plagues Of Babylon
02. Apocalypse Segue
03. Democide
04. Burning Times
05. V
06. The Hunter
07. Red Baron / Blue Max
08. If I Could See You
09. Boiling Point
10. Vengeance Is Mine
11. Cthulhu
12. My Own Saviour
13. Coming Curse
14. Dystopia
15. Watching Over Me
16. Iced Earth
Purchase Plagues of Babylon on Amazon here.
Lyric Video for "Plagues of Babylon"
Iced Earth Official Site
---