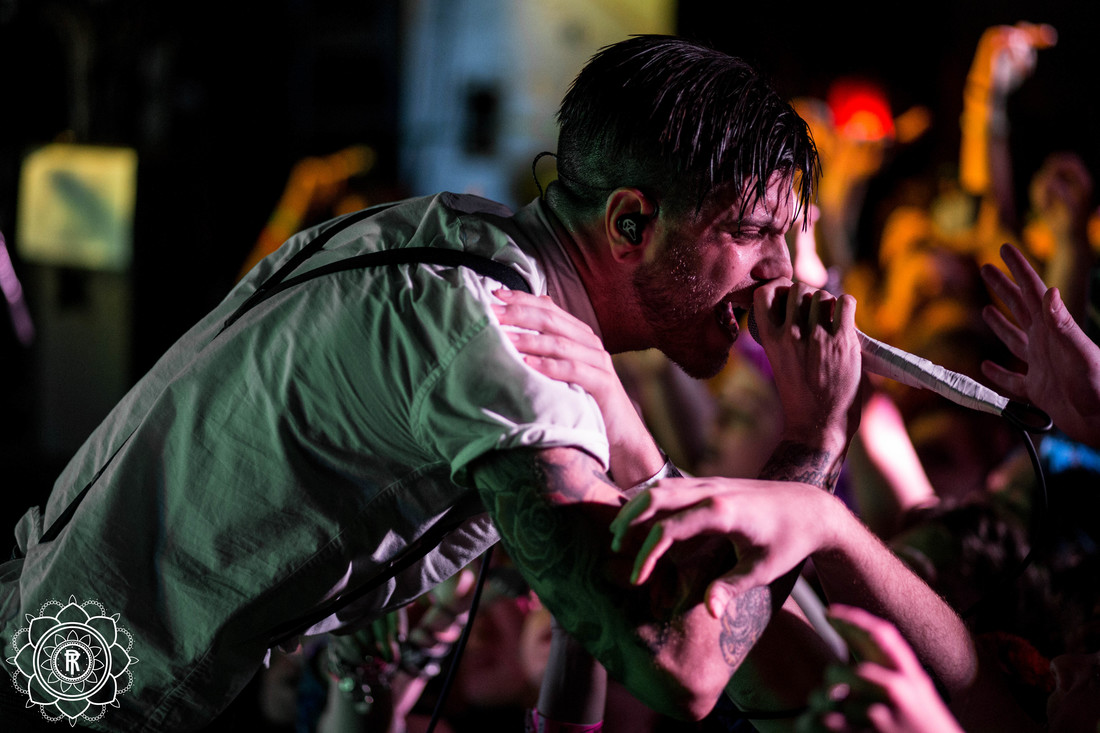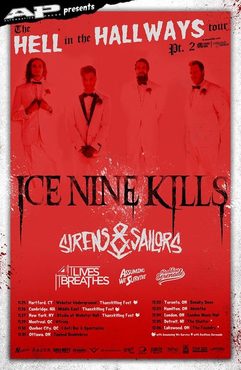 Ice Nine Kills/Sirens & Sailors/It Lives It Breathes/Assuming We Survive - Middle East, Cambridge, MA 11/16
By Rickelle Tavares
Personal intimate shows are one of my all-time favorites, when Ice Nine Kills announced the Hell in the Hallways tour pt2 I was wicked excited. Assuming We Survive, It Lives It Breathes, Sirens & Sailors, and Ice Nine Kills, it was for sure going to be a good night.
Assuming We Survive caught on to everyone like fire this summer and they're the sweetest guys and such incredible musicians. Once they hit the stage I realized why they're so popular, their stage presence is phenomenal. Not only that but they took time to meet the people in the venue, so when they were playing everyone was upfront jumping along with Adrian. They played a song called "18 Days" that really shows off their vocal and instrumental skills, every member just zoned out to the surrounding and jammed out. With enormous smiles on their faces they high five'd and fist bumped every fan that made their way to the stage, they played the stage like it was their home town, it was incredible. They've got that almost hyper active stage presence that just keeps you off your feet the entire time.
If you're from the MA/RI area and support the metal scene than you know all about It Lives It Breathes, they're signed to Stay Sick Records and they know how to throw down. They have been dominating the local scene and the way they get a room up and moving is a key factor to that. Now the Middle East is a seemingly small venue with no barricade, but that didn't stop the crowd surfers from stage crashing one after another. I was really impressed with Kevin's high vocals and the entire bands enthusiasm on stage, while more than one fan came flying towards them.
Since the night was getting to the peak it was time for some New York heavy hitters take things over, and
everyone was beyond stoked for Sirens & Sailors to start playing. They bring their own flare of metal to
the scene that I cannot get enough of, they continue to grow and fight to the top. Since it is as a shorter
night they did not hesitate to start playing, immediately you could see the center of the room open up
and a giant pit forming. They played a few songs off their newest album Rising Moon: Setting Sun and
those songs are so heavy and raw, literally everyone was singing along with them. S&S has such a killer
vibe while playing, they all get up in the crowd and high five fans and fist bump them, Kyle can also jump
about 10ft high. Mid set they took control and had everyone get down then jump as high as they could
when the song kicked in, they even did a 2 step and encouraged everyone to get down with them in
unison. For my first time seeing them I was extremely impressed and I was pretty upset I waited so long
to come out to a show they were playing.
They dominated a headline tour earlier this year, released one of the best albums of 2015, they drew
enormous crowds at Warped Tour and they're hometown heroes. Ice Nine Kills has been around for a
while, they really have their own unique sound, they are all original and not a music carbon copy. From
their outfits, to their lyrics, and the peculiar intros to their songs, everything they do is their own and
fans cannot get enough of it. They opened with "The Nature of the Beast" and things went from calm to
just pure chaos, Spencer is such an incredible performer and he used every inch of the stage like he was
at a theater putting on a show. They came out in suits and tuxedos so match the "Hell in the
Hallways" prom theme, and so did the audience. When I say everyone knew the words to every song, I mean
everyone, I knew a few songs and it made me feel like such a slacker. Then they slowed down a bit and
played "Star Crossed Enemies" and it was the moment I live for in shows, when things slow down and
everyone just sings slowly with huge smiles. INK is great at creating fun and intense moments during
their set but this one was sentimental and something to remember. Then they ended with "Me Myself &
Hyde" which is one of my favorites from their gory story inspired album Every Trick in the Book, I put the
camera bag away and jumped into the crowd. It was such a good vibe and such a good show, not one
band disappointed me, each band is super unique and offers something completely different but having
them all play a tour together was perfect.
Ice Nine Kills Official Site
Sirens & Sailors Official Site
It Live It Breathes Official Site
Assuming We Survive Official Site
---