Hinder/Saving Abel/My Darkest Days/Kopek - Northern Lights - Clifton Park, Ny 2/11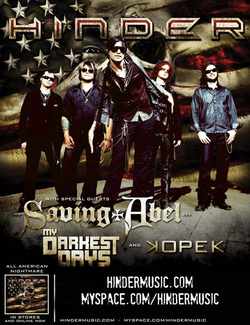 By Mary Richardson
So what if there's a snow storm blanketing 30 some odd states? Two feet of snow or more? Sleet, freezing rain? Bring it on!!! It's going to take more than that to keep the fans from filling up Northern Lights to rock out to their favorite bands. ( just for the record, we only got about a foot and half of snow) First up was Kopek. This band from Dublin, Ireland got the crowd going with tunes from their new cd, White Collar Lies. Lead singer Daniel Jordan sporting red dreadlocks, drummer Shane Coney and Brad Kinsella on guitar warmed things up with the title track of their soon to be released cd along with "Cocaine Chest Pains", "Love is Dead" and "Bring It Home". Note to the local radio stations...play more Kopek please!
Canadian based My Darkest Days were up next. "Porn star Dancing", "F'd up Situation" had the crowd all fired up. These guys put on a good show and sound great in person. Nothing worse than enjoying a band's song on the radio then seeing them live and they just don't bring it. My Darkest Days brought their A game and the crowd loved it. Of course guitarist Sal Costa's bare chest, leopard print pants, and guitar sporting "orgasm donor" might have been the reason the girls were screaming. Matt Walst, Brendan McMillan, Doug Oliver, Reid Henry round out the rest of the band. They played a version of Duran Duran's "Come Undone", although my favorite of the evening was "Move Your Body".
Saving Abel was third in line. I have seen them several times before and they always give the crowd a good show. The Mississippi based band mixed hits from their self titled album with new stuff off Miss America . "Addicted", "New Tattoo", blended well with "Stupid Girl", "Sex is Good" and Contagious". Saving Abel also gave a shout out to the troops before launching into "18 Days". Lead singer Jared Weeks sang his personal favorite "Drowning Face Down", while sitting with guitarists Jason, Scott and Eric. The crowd settled down a bit with Saving Abel, although they were singing word for word with them.
If folks weren't packed in tight before there was no moving once Hinder took the stage. Austin, Joe, Mark, Mike and Cody were just what the crowd had been waiting for. And they didn't disappoint. Hits like "Lips of an Angel", "All American Nightmare", "Striptease" ,"Hey Ho", "Use Me" just to name a few blew the doors off of the club. Hinder sweated out an active set to an appreciative crowd then they also treated the crowd to a small encore of "Put that Record On" and "Get Stoned".
All the bands sounded awesome and put on a great show. Not an easy feat in general, but in this case the weather could have ruined things easily. Thankfully neither the bands or the fans would let that happen . I highly recommend seeing all of these bands if you get the chance. If not then go buy "White Collar Lies", "My Darkest Days", "Miss America" and "All American Nightmare" at your local music store. While Hinder and Saving Abel might get more radio play, keep an ear out for Kopek and My Darkest Days these guys are going to be coming up fast!
KOPEK: THE OFFICIAL WEBSITE
http://www.mydarkestdays.com/
Saving Abel - Miss America - Available Now
HINDER - THE ALL AMERICAN NIGHTMARE
---