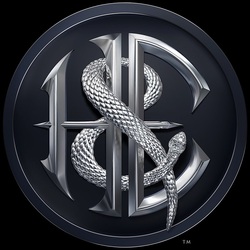 Rock goes in circles, from one scene to another but classics always remain and always influence. The new Heaven And Earth release, Dig, is just that, a future classic that will influence the bands of the future. With its heavy guitar driven sound and thick Hammond organ, Dig is a masterpiece. Stuart Smith, enigmatic guitarist and founder of Heaven And Earth, took the time with Exiles to showcase this massive endeavor for his fans.
An interview with Stuart Smith of Heaven And Earth.
By Jeffrey Easton
Metal Exiles: It has been quite a while since you did your last Heaven And Earth album. What was the prime motivator to do Dig?
Stuart Smith: When we put out Windows to the World we were starting to get traction in the states but Kelly Hansen was given the offer to join Foreigner which he could not pass up so everything just came to a halt. So after that Steve Priest from The Sweet called me up and asked if I wanted to put the band back together and we ended up doing live shows and a live record as well. We then got an offer from Quarto Valley for a new Sweet album and Steve did not want to do one so I talked to Bruce Quarto, the owner, about giving the deal to me for a new Heaven And Earth album to which he agreed. At that time I quit Sweet because things just got too busy for me and there was too much going on in the business side of that band.
Metal Exiles: Why did Steve not want to pursue a new Sweet album if the deal is there?
Stuart: I don't know, too lazy? We could have and should have, it was a good band.
Metal Exiles: Some recent quotes has you stating that you finally have a real band. I know in the past you have worked with these guys so what makes it a real band now?
Stuart: Money… You wanted an honest answer so there you are. For the first one I did not have a band but since I had such a good deal from Samsung I asked all of my friends to come in and play on the album. Samsung had a rich distribution deal but halfway through recording the album the Asian economy collapsed and they lost their deal so it just got released in Korea. I ended up getting the rights back and licensed it to a few different labels. So with this album we could afford to have whoever we wanted to have on it without just asking favors from friends.
Metal Exiles: It's good to have friends but it's also good to have people committed to the project.
Stuart: They are committed because there is money there. It has a chance because it is being handled by the top people.
Metal Exiles: To me this record could have been released in 1971 or now. Do you think that rock in general has lost focus and this will put it back on track?
Stuart: That is the hope, it is what we are aiming for because rock has lost focused. A lot of it is down to the fans and spreading the word. Everything has been done first class, everything from the artwork to the videos so if the major record companies see that this works, if it gets traction and starts selling they will say that there is money in this music. We all know that record companies are not known for their creative thinking so they will end up signing every rock band with a Hammond organ. It would be great to have this music back because there is so much rubbish out there.
Metal Exiles: My first tastes of hard rock was Deep Purple along with KISS and Angel and every body listened to it then it all just went away, nobody wanted to buy that style of heaviness anymore. But to me if it was to come back, this is the album to do it. It can wake people up to say that guitar/organ driven hard rock is still great and its heavy.
Stuart: You have these music scenes that go in circles. A lot of the music got over the top and people got bored with it so record companies moved on to the next thing like they always do. As far I am concerned, there is not a lot of talent out there. There is not a singer or guitarist that people are going to remember in ten or twenty years. There are no Jeff Beck's, Jimmy page's or Eric Clapton's out there. With the younger generation it is "I have learned three chords, I am ready to be famous now."..
Metal Exiles: I think that because there are so many bands and so many other things out there for kids to lose focus on. It's not like when I was a kid and you did not have the distractions like now. You had bands with larger than life band members and not a lot of other things to take you away from the music.
Stuart: You are right and the scene needs something to tip the scales and bring this music back to the front.
Metal Exiles: I know that the album was written as a band and recorded live as a band. How important was that to the feel and outcome of the album?
Stuart: It was very important. We were all in the same room together although the amps were isolated but we were together and you had the communication and it was a very live album.
Metal Exiles: There are a lot of different feels on the album as well as some dark edges. What were you trying to get out of your system to fuel the album?
Stuart: I just got through with the horrid break up with the mother of my child and I was in a very dark place. So the first ideas I had were House Of Blues, No Money No Love and Back In Anger. So you see where this is going but music heals you and you get over things so it did turn lighter like with the track Rock & Roll Does.
Metal Exiles: With the tracks Back In Anger and House Of Blues, how did it feel to get these out of your system and how was Joe Retta able to convey your feelings so well?
Stuart: Joe is an amazingly empathetic person. He moved in with me after the break up so he saw what I was going through on a daily basis so he knew how I felt. I basically gave him the title to no Money No Love and the lyrics he wrote totally describes her. He said I was not thinking that when I wrote it but he is like I said a very empathetic person. I can write the whole song myself but I do value other people's input.
Metal Exiles: With the exception of a few ballads, the new album is very heavy and then you have a song like A Day Like Today. It sounds like nothing else on here, it makes me feel like I am at a Ren Faire. Where did that come from?
Stuart: Funny enough that song was written for the original planned Heaven & Earth when we still had Kelly Keeling on vocals. Howard Leese asked me what I was doing with it when we were halfway through the album. He said that it was one of the best songs I have written and that it should be on the album.
Metal Exiles: It brought out a different vibe to the album, it totally shifted the gears.
Stuart: It brings back what the bands did in the 70's on their albums. They never stuck with one style on their records. Purple would do a country and western track or Zeppelin would do a reggae cut. It just showed the diversity of the musicians, they just did more than the same old same old.
Metal Exiles: As far as having this great band, you have to tour and with this money behind you, will there be a live show?
Stuart: We did a showcase for booking agents so we could get all of that sorted out and get something going on. I am looking forward to it, I want to get on the road.
Stuart Smith has indeed created a monstrous rock album in the form of Dig with his band mates and it will put you in another zone with its intensity. If you love the classic feel of Purple, Zephyr, Zeppelin, Rainbow ect then this is your next record.
Official Heaven And Earth Site
BUY DIG!!
BUY DIG ON VINYL!!!
---