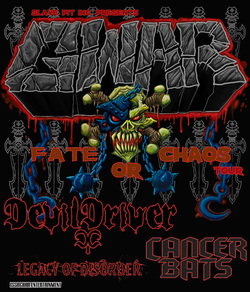 GWAR/DevilDriver/Cancer Bats/Legacy Of Disorder – Ace Of Spades, Sacramento, CA 11/12
By Jeffrey Easton
When GWAR goes on tour, I do not know who is worse off, the people in the front rows or the people who have to clean up after. But since GWAR fans are die hard and want to be there I will go with the cleanup crew.. GWAR live is an experience that should never be passed up and considering that Ace Of Spades was packed once again I would say that the hundreds there with me would agree.
This time around they brought some great opening acts and opening up the show was the brutal offering of Legacy Of Disorder. Continuing the insanity of heaviness that is the dark metal scene lately, they marched to the stage on the strength of their nasty new album Last Man Standing and they did not disappoint. Thorns, lead track from the new Cd, was the first volley fired at the crowd and they ate it up. The new CD is riveting and it was well represented as they flamed the crowd with Came To Fight, which to me should be their theme song, Punish All, Last Man Standing as well as Hell Tonight and Threading The Tainted Path. James Robinson has a massively powerful voice and his stage presence leaves you in awe and fear.
Cancer Bats came up next and honestly they should have stayed at home. They lacked any kind of originality and it seems as if the singer was just trying to hard and they did not earn any points when they butchered the Beastie Boys Sabotage… If you have nothing but mediocrity to offer stay away and give your slot to a better deserving band.
The mood lifted quickly when DevilDriver hit the stage as they can deliver the goods in a filthy way. Dez is the consummate front man, never fails to get the crowd on his side in a hurry. The bulk of the set came from the first few records which had the early fans in an inferno on the floor as the pit got nasty as hell. I Could Care Less, Clouds Over California, Horns Of Betrayal as well as Hold Back The day and End Of The Line made the set a wet dream for the freaks of their darker offerings. The Fury of Our Makers Hands is still one of my fav metal albums and to hear stuff from that again made me want to get in the pit. I do like their last record, Beast, and I would have loved to hear more than just Dead To Rights from that record. They are in the process of starting their debut from napalm so I am sure they have something sickening up their sleeves.
GWAR, nothing new I can say, they are just GWAR and their show is unforgettable. You go to their shows, you know you're going to be offended in a good way and you will leave wet and smelling like a soaked cat but sweet shit you cannot resist going. GWAR have outlasted every trend, pack the clubs and theaters everywhere they go and have the ability to tell all the naysayers "I told you so.." They are out on another round supporting Bloody Pit Of Horror, their last studio record but sometimes does it matter? GWAR release a record as an excuse it seems sometimes juts to go out on tour which we are all suckers for but they did give us Hail, Genocide from it which is disturbing in its own right and belongs in their set. It was surrounded by the mainstay tracks Horror Of Yig,, Bring Back The Bomb, The Years Without Light, Whargoul as well as Saddam A Go-Go and the show closer and anthem Sick Of You. As far as who they tortured this time? Well, God opened the show in this booming voice that once and for all He is going to kill GWAR no matter what by the end of the night. So we start off with Mitt Romney and his 47% comment before he is beheaded and we end the show with Obama announcing his new term (it was election night you know) and he got whacked. But in between a priest was anally raped with a crucifix with blood spurting from, well you guessed it, Jesus was crucified, jesus came back as Robo Jesus and was beheaded and Hitler was mangled which of course all drowned the crowd in blood. So if you have morals and this description offended you I am not sorry and you should have seen it for yourself.
Official GWAR Site
Official DevilDriver Site
Official Legacy Of Disorder Site
---