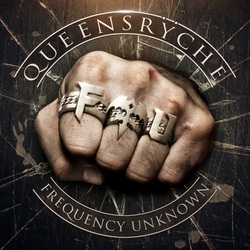 Queensryche – Belly Up, San Diego, CA 5/13
By Heather Vandemark
When I pulled up to the Belly Up in San Diego, the line was around the building for this Sold Out show. I stood in line and overheard conversations around me. One group of people in front of me talking about the first time they saw a Queensryche show. Another group was talking about the split between Geoff Tate and Queensryche. There were a couple of guys behind me talking about the new album, Frequency Unknown and speculating about the meaning of the initials.
The new line up is amazing. Not one but two Sarzo's! Robert Sarzo on guitar and Rudy Sarzo on bass. If you have never seen Rudy Sarzo perform, where have you been? He has the bass all over the place, above his head, upside, and he doesn't miss a beat. Robert Sarzo is all about the fans. Kelly Gray ( guitar), Randy Gane ( keyboard) and Geoff Tate have reunited for this tour. The trio played together in the band Myth in the 1970s. Simon Wright ( drummer) joined the band this January.
This year marks the 25th anniversary of the release of the Operation Mindcrime album, the album that really catapulted their career. The lights dim " I remember now. I remember how it started". The band takes the stage and starts the show with Anarchy X, followed by Revolution Calling, Operation Mindcrime and the rest of the album in it's entirety. The crowd singing every word to every song sends chills through my body. There is nothing better than watching a legendary band and the crowd singing with them. One dedicated fan, Rich Howe, stood out from the crowd. He was front and center, knew ever word, and sang with such passion. Check out his tattoos on his right arm in the photo. Now, that's a dedicated fan.
We got a nice surprise guest appearance from Nina Noir. Noir is the lead singer for the all female Queen tribute band called The Killer Queens. Noir and Tate did a duet for Suite Sister Mary. Two amazing voices brought together for this song.
Queensryche ended the show with some songs from the Empire album released in 1990. For me personally, Jet City Woman is one of my favorites. I went to see them at Monsters of Rock at Castle Donnington, London 1991. I had taken planes, trains, and taxis to get there. When I walked through the gate Jet City Woman was playing.
Geoff Tate and his Queensryche band performed an amazing show for this sell out crowd. All of these musicians have gone through the ups and downs in this music business. The passion for what they love to do shows through their performance. This is a must see show. Get your tickets early.
Official Geoff Tate Site
---