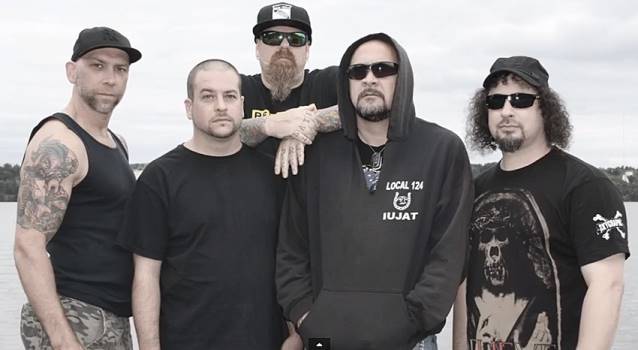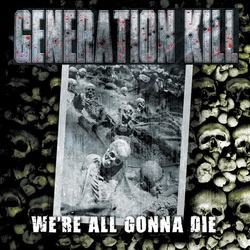 Generation Kill – We're All Gonna Die – Nuclear Blast Records
By John Knowles
For those who are unfamiliar with Generation Kill, here's what their official Facebook page has to say: "Generation Kill is a Metal band based in NYC which features EXODUS Singer Rob Dukes, Rob Moschetti Ex Pro-Pain, M.O.D., Jason Trenczer Ex- Mutilation, Jason Velez and James DeMaria (Gunfire-N-Sodomy and ex-Merauder, )." Additionally, "Generation Kill is not a side project." On the surface these details are pretty straightforward. However, as Aristotle said centuries ago, "The whole is greater than the sum of its parts." This couldn't be any more true than with Generation Kill.
Following a successful debut, entitled
Red, White, and Blood
in 2011, the band seemed anxious to produce a follow-up. Apparently Season Of Mist was no longer the right record label fit for the band, and they opted to self-finance and record
We're All Gonna Die
themselves. With veteran metal producer Zeuss at the helm, the band has released a true gem for the thrash metal vaults. While not exactly reinventing the proverbial thrash metal wheel, the band has still found a way to serve fans a somewhat fresh sound, while incorporating their trademark ingredients from the first record, and at the same time showing signs of growth and maturity. The writing is notable more melodic, encompassing a stronger "album" feel than their previous offering. According to the press release, the band got together with Zeuss and layed out all of their biggest influences in order to discus what their album would be. In doing so the common thread was found to be that many of thrash/extreme metal's greatest albums consisted of only eight or nine tracks. The band decided to follow suit, and low and behold there is not a true dud to be found.
One can't help but notice how Rob Dukes' vocal performance on this project is noticeably different from his work with Exodus, and the previous Gen Kill album. While the album opener "Born To Serve" requires Rob to maintain his signature in-your-face aggression, it's the following tracks, "Prophets of War" and "Death Comes Calling" that truly show his melodic side. Rob proves melodic singing is within his capabilities and is in no way beneath him. Thrash metal ballads of sorts, "Prophets" and "Death" show a more human and relatable side of the band. You can feel the pain and intensity of every word as Rob cycles between soft melodic singing, to an enraged roar, to finally a Phil Anselmo-inspired raspy snarl. Musically these opening tracks set the mood for the entire record. The all out thrashers like "Friendly Fire," "There Is No Hope," and "We're All Gonna Die" are reminiscent of "Born to Serve", while the mood of the 'mid-level to brutal beat-down' of "Prophets" is seen later on "Vegas." "Friendly Fire" serves as a true picture of the monstrous chops of Jason Trenzcer and Jason Velez. The ferocious opening shredding is one of the things that make this band special, and not just another band lost in the sea of sub-par thrash metallers.
Things take an interesting turn on "Carny Love," a song that serves as a twisted ode to all things weird. Musically, the tempo slows a bit, and the vibe morphs into downright disturbing, which no doubt was the intent. On first listen, and based on their debut, the album's opener "Born To Serve" seemed like the direction the band would take for the entire record. However, they quickly mixed it up and added interesting elements throughout on previously mentioned songs. The ending of the record looses a bit of steam due to the lack of a new idea, but if listeners are hoping for thrash metal purity, they will not be disappointed by many of the albums more predictable moments.
While it may be a bit of stretch to call these guys the "final answer to all that tedious talk about a comeback of Thrash Metal," they are certainly worth noting. This album is certainly a step forward for these guys compared to their debut, and if they continue on this path they will surely be a more menacing force to mess with in the years to come.
BUY We're All Gonna Die here
Official Generation Kill Website
YouTube Clip – "Prophets of War"
---